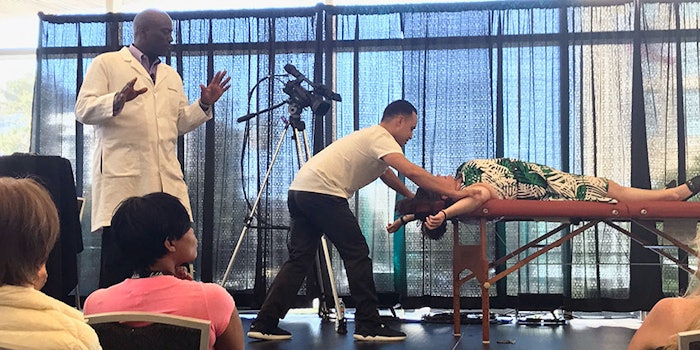 Skin Inc.'s Face & Body Northern California marked the return of Skin Inc. LIVE! stage, where industry experts shared their insights and demonstrations on topics that spanned esthetics, such as seasonal treatments, microblading, non-surgical options and business.
Hello, Autumn
April Mitchell from Lira Clinical helped Face & Body attendees welcome the new season by demonstrating a facial inspired by autumnal elements, including the ever-popular pumpkin (and a little spice) in her "Elegantly Autumn Facial Treatment" demonstration. Products with pumpkin enzymes can help to refine pores, retain hydration and serve as an anti-inflammatory agent, along with hints of cinnamon that can benefit the microcirculation and rejuvenates.
Stretch It Out
Another popular presentation featured Aaron Parnell, from Reposturing, demonstrating how to get serious results without an invasive procedure in his session "Non-surgical Bust Lift Massage." Reposturing uses strategic massage and stretch techniques in order to relieve pain while also lifting and manipulating ribs, shoulders, etc., in order to look better. The treatments can also be performed on the face for anti-aging results.
Massive 'Micro-' Treatments
The legality of some trending treatments was the topic of discussion in "Microblading and Microneedling: What Can an Esthetician Legally Do," presented by Alex Thiersch, J.D., from the American Med Spa Association. Unless otherwise licensed, estheticians cannot legally perform these treatments if they have been classified as medical—which the two treatments sometimes are due to the metal instruments used. Options for estheticians in such states include silicone instruments that do not enter the skin.
"Estheticians still have a very important role in med spas with the services they provide," said Thiersch.
Millenial Marketing
When competing with Amazon and other online shops, spa owners carrying product lines should focus on millennials to give a fresh boost to their business, according to Melanie Timms, director of marketing innovation and education at CBI Laboratories, in her session "Building Your Skin Care Brand to Connect With Millennials."
This generation loves visual marketing, such as demonstrations and photos of products, especially those with a novel or memorable feature, such as bubble masks. Other avenues to explore include short-lived promotions, calls to action and "hero" products to center lines around.
According to Timms, "[Millennials] not only want to feel like their product provides a benefit, but they want to have fun."