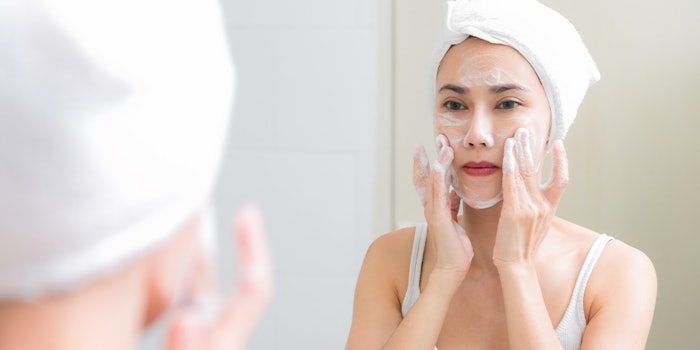 The year 2020 was bursting with new trends, from prickly pear cactus to skin care capsules and even interesting trends that emerged during the pandemic. 
A trend that has been prominent the last few years is K-beauty and it isn't going away anytime soon. Refinery29 spoke with Sarah Lee and Christine Chang of the skin care brand Glow Recipe, who talked about the 2021 K-beauty trends to come. 
Related: Latest From K-Beauty: "Cloudless Skin"
Mirror skin
Mirror skin is like glass skin and follows suit with the silky and reflective skin look we've seen throughout quarantine. One product that helps achieve this is niacinamide.
"Niacinamide is a brightening powerhouse that combats dullness, hyperpigmentation and dark spots, and minimizes the appearance of pores while soothing, hydrating and plumping skin," said Lee. 
Related: Why Niacinamide is Very Now
Double Serum
To achieve that "K-Beauty" look, making sure the skin is moisturized and hydrated is key.
"Double seruming is an amazing skin care hack where you use two serums to target different skin concerns at the same time," says Chang.
"Layering hydration is a huge cornerstone of K-beauty so we advise to properly layer skin care from the thinnest to thickest consistency. The key to layering is to ensure that the ingredients in your products are gentle and compatible with each other," said Chang.
A recommended combination includes a vitamin C serum with a hydrating serum, such as hyaluronic acid and finishing with a moisturizer, if needed. 
Related: 3 Tips to Keep Skin Hydrated this Winter
Gel Products
Again, moisturizing is key in K-beauty, but thick creams can irritate and clog the skin causing acne for some users. That's why Chang and Lee have spoken about gel-textured skin care. 
"Unique textures and enjoyable skincare experiences are super important to us and we believe in finding textures that are wearable for all skin types, while not compromising on real results," says Lee. "Traditionally, thick creams were perceived as moisturizing but only suitable for dry skin, and some cause clogged pores for those with oily and acne-prone skin."
Watermelon
Watermelon is having its moment in skin care products because of its benefits such as hydration and moisture, as well as its antioxidant properties.
Lee and Chang have created their own Watermelon Glow Sleeping Mask by Glow Recipe and other brands such as Milk Makeup and Drunk Elephant are formulating products with the ingredient, too.
Lee shares the inspiration behind their Watermelon Mask, "During our childhoods in Korea, our grandmothers would rub cold watermelon rind on our skin to soothe heat rash throughout hot summers, and we would see it disappear overnight. This ritual was a key moment for us growing up and we realized how powerful a fruit like watermelon can be for skin."
Related: Watermelon Days
Double Duty Products
Skin minimalism was a large beauty trend in 2020, and it's not going anywhere. Consumers are looking for products that act as a skin care and makeup hybrid to achieve flawless looking skin. 
Products such as glow drops, tinted moisturizers and tinted serums are predicted to see an increase in 2021. 
"Having less products that do more for you is really appealing as the beauty community is more aware of product waste and sustainability. Less product means less excess and being a more conscious consumer," said Sarah Lee.