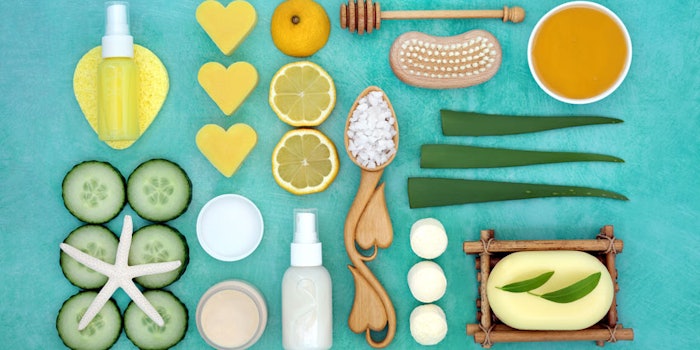 The consumer market is booming with different skin care products that are pushing one major thing right now—fruits and vegetables. One major fruit that got a lot of attention in the summer of 2019 was pineapple, but the fall was filled with pumpkin everything and strawberries even got their time to shine. It's believed that this trend really kicked off from a wellness standpoint, with people starting to care more about what they were putting in their body including their skin. 
However, if consumers are looking for fruits and veggies to be included in their skin care, they will be wanting to see that in the spa as well. "Just as consumes want natural foods, they want natural beauty products. Increasingly that means plant-based health and beauty care products," Jack Li, managing director of Datassential, explained in his keynote presentation at the May 2019 Food Innovation Summit.1
Feeling Fruity
As goes with trends sometimes, the spa industry may already know of the benefits before the consumers hop on. However, now that consumers are aware of the enzymes that fruits have and are looking for products and treatments that include these kind of ingredients, it could be beneficial to call them out on your website. 
Don't be afraid to pull out some fun alliteration by calling out any Fruit Facial you may have. Simply calling out the more trendy fruits at the moment like watermelon, pineapple, blueberry, avocado and apple can grasp your clients' attention, as they've been seeing plenty of new products with those ingredients coming out in the skin care market.2 Also, be sure to re-establish yourself as the authority over this trend, and make sure your clients are getting the right treatments for their skin, not just the fruity treatments that seem to be a big buzz.
Some of the fruity ingredients are more seasonal as well. For example, clients were loving pineapple during the summer. This fruit provided great exfoliation while delivering fun, fruity vibes.3 While the benefits of this ingredient can be beneficial all year long, it might be a better move to gear it toward the season people will be searching for it in. 

Superfood Start
This trend could be dated all the way back to when superfoods hit the market hard with their crazy benefits for the skin. The food-to-face trend really kicked off in 2018, but this trend really focused on what was going into the body. Now, it is evolving to focus on what is going on the skin. For example, kale was a one of the key foods associated with the superfood trend due to it being an excellent source of vitamins, phytochemicals and carotenoids, but now this is evolving to be included in skin care products as well.4
Bring in the Spa
While the benefits of these ingredients both in the body and on the skin are well known to spa professionals, now is a great time to educate clients on these benefits as they're seeing it buzzing around them. Now could be a good time to consider adding a natural line into your spa's retail space as well, as many clients will be looking for products that use these ingredients that they can take home.
References