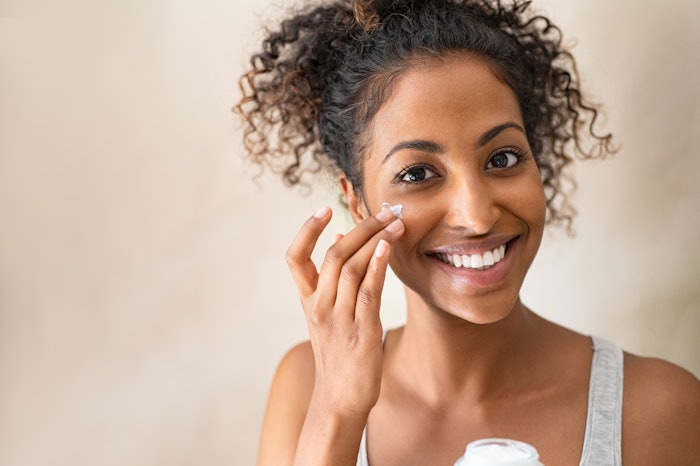 We have come a long way in the professional skin care industry when it comes to deepening our knowledge of multicultural skin so we can improve products, treatments and client outcomes. But this is an ongoing conversation, one that must be kept going, so that we can continue to elevate the services we offer to clients of all skin tones. Here are some companies and individuals that are keeping that conversation going by offering continuing education on multicultural skin and supporting practitioners of color with resources to ensure an incredible esthetic industry of tomorrow.
Toshiana Baker
I first met my friend Tosh many years ago when we were both judging a skin care competition, and she has been a go to resource of mine ever since. A few years back, she noticed there was a lack of education and professional development in spa and wellness for those of diverse backgrounds, and she founded the Network of Multicultural Spa and Wellness Professionals. She saw a need, she filled it and she continues to light up the world with her knowledge and infectious smile.
Pamela Springer
A woman of mixed ancestry herself, Springer became known across the country in esthetics when she established The Skin & Makeup Institute of Arizona in 2000 and broadened its study to include the global population. Springer became known as one of the best sources of multicultural skin education, which you may be so lucky to catch her presenting on today. She established Global Skin Solutions to address the skin concerns for darker skin tones and has written a book on the topic, Don't Be Left In The Dark.
JoElle Lee
You may have first heard her name when JoElle Lee was the esthetician for former First Lady Michelle Obama, and while she certainly could have stopped there and basked in all the glory of beautifying one of America's most beloved faces, her next chapter took her to higher heights as a renowned educator in spa business practices and the treatment of Black skin. Matter of fact, her two books Multicultural Skin Treatments: Learn How to Effectively Treat Skin of Color Using Chemical Peels and Laser Treatments and Esthetician on Mission Business Building Workbook are best-sellers.
Black Micropigmentation Association
With a combined 24 years of experience as permanent makeup (PMU) artists, Dior Davenport, Shalon Burruss, Sheron Devlin and Kechia Taylor noticed that they had seen very little diversity in the support and education for PMU artists in their careers. These four artists and women of color decided to make a change in the industry and create the Black Micropigmentation Association to help Black PMU artists feel recognized, supported and increase knowledge surrounding PMU on skin of color.
blackmicropigmentationassociation.com
National Black Esthetician's Week
In February 2022, I had the pleasure of participating in National Black Esthetician's Week, a virtual education event organized by SpaSho Media in collaboration with the Black Estheticians & Skin Therapists Association. Now in its third year and going strong, this event celebrates diverse beauty and skin care while raising awareness and supporting the specific needs of skin of color.