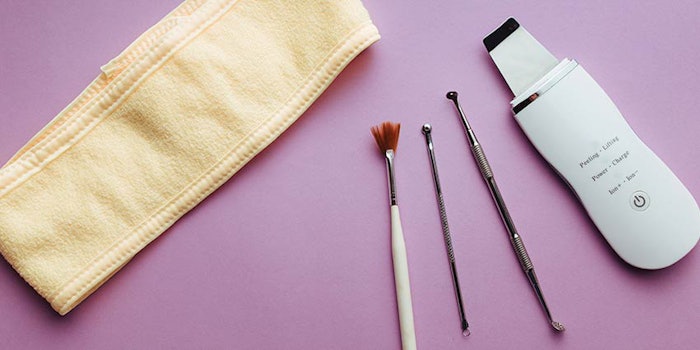 Everyone is wondering what lies ahead of us in spa for 2022. Although our fortune telling skills are a little rusty over here, we review enough innovative launches, treatment debuts and technology advancements in the industry to have a good gauge on what clients want and practitioners should deliver. So, here is our predictions of trends that will grow in 2022—notice common themes of moisturization, health-boosting and stress relief.
1. Dermascraping
The term "dermascraping" has risen in popularity in the past year, largely through users of TikTok and Instagram recording and touting its use. Although the term might make any esthy immediately think this is another name for dermaplaning, it isn't. It's actually the use of ultrasonic skin scrubbers, which the average consumer now has growing access to thanks to the pandemic. We all know how wonderful these devices can be in the hands of a trained professional, but clients using them aggressively at home can do more harm than good. If you don't currently use an ultrasonic skin scrubber, consider incorporating one to show clientele the right way to capitalize on their benefits. There are some great ones on the professional market from Le Mieux, ZAQ, Zemits and Bio-Therapeutic. And also think about offering your clients a version of this tool in retail with a personal demo on how to use it, so you can make sure they are purchasing a quality device and not undoing your hard work.
2. Black Truffle
The skin care industry's love affair with mushrooms isn't going away anytime soon. One such fungi identified for its benefits for skin is truffle. The problem is that white truffle is crazy expensive (6-10K per pound), is only grown in the wild and grows for only three months. So, while white truffle may have more minerals and amino acids than its dark cousin, the black truffle has many of the same benefits and can be mass produced for better accessibility and affordability. Black truffle helps to regenerate skin at night, and it contains antioxidants to brighten the skin and fatty acids to moisturize. You can find black truffle in products such as Prana SpaCeutical's Black Truffle Lifting Créme, Babor's Active Night Ampoule and Deplieve's Black Truffle Wax.
Continue reading about top spa trends for 2022 in our Digital Magazine...