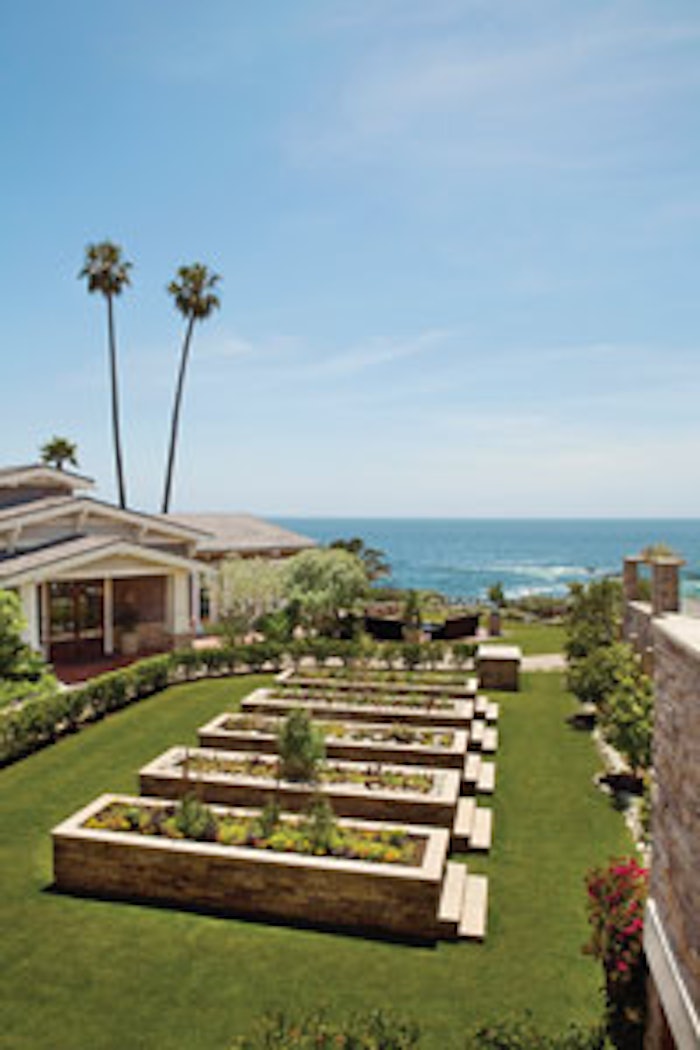 One of the latest trends in spa therapies is also one of the most delicious and aromatic. Spas and skin care facilities are incorporating delicious indigenous ingredients into some of their most popular therapies. From on-site herb gardens to honey from local beekeepers, spa personnel have been brainstorming methods to come up with winning results to provide clients with results and an experience to remember.
Don't let the size of your skin care facility dictate how daring you can be with trying new business concepts. Even the smallest spa has the potential to utilize fragrant blossoms to make a lasting impression, and it could start from something as simple as a marjoram plant or an orange blossom. Think outside the box when it comes to bringing delicious smells into a service. By expanding a basic service into a sensory experience, clients will relate their good feelings to your business and become raving fans, sharing their experience with friends and family, helping to expand your client list.
Following are examples of spas and skin care facilities throughout the country that are using the farm-to-treatment-table technique to help bring skin and whole-body wellness to clients in an enticing and all-over sensory experience.
The Spa at the Hotel Healdsburg Healdsburg, California
The Spa at the Hotel Healdsburg in Healdsburg, California, where local produce is selected for treatments, has been enjoying positive feedback from clients. "I think the reason we got into it is to showcase ways we can feature the region in our spa therapies," says Sharon Davis, lead esthetician. "The more we looked into it, the more exciting it became. There's something to be said about looking at simple ingredients that can be healthier in the shelf life of spas." A local farmer's market offers the spa the choice of fresh ingredients to add to body treatments and facials.
Most spa treatments that incorporate local ingredients at the spa are offered on a seasonal basis: In the fall, offerings might include a pumpkin facial or a squash body wrap. "If I were a day spa owner, I would look into doing the same thing as resort spas: buying seasonal ingredients and having fun with it," Davis advises. "It is fun and exciting for both skin care professionals and clients. It's fun to play with ingredients, and clients might offer input into what they would want as a treatment."
As an extension of the treatment, clients are offered skin care products to take home after the service. "There's interest in going back to a simpler time, and the idea that you could create the recipes at home is exciting for people," says Davis.
Hotel Healdsburg's Sonoma County location is a big food and wine destination for visitors, and the spa takes advantage of the availability of wine in its wine and honey wrap. "Sonoma County wine is added to honey and shea butter, and is used for body work," Davis explains. The beauty of using local ingredients is that every batch is individually prepared. "I think one reason why people enjoy these treatments so much is that we are using really fresh ingredients that are mixed together right here, and we can target different skin types with different herbs," she says.
Mirbeau Inn & Spa Skaneateles, New York
In the Finger Lakes region of New York state, the Mirbeau Inn & Spa in Skaneateles also draws from its abundance of local wineries and freshly grown ingredients. Vinotherapy treatments, from massage to a pinot wrap and mask, are popular among clients, says Mary Manning, marketing coordinator. An anti-aging facial also uses local wine. Another in-demand treatment incorporates lavender for aromatherapy massage.
"We have a specialty bath for clients who want to experience it in their own room," says Matthew Dower, general manager and former spa director of Mirbeau. Herbs grown right outside the window are used in the bath treatment. "We use rosemary for a revive bath, and it is infused with our special aromatherapy oils." A capful of the delicious infusion might be paired with fresh sprigs of rosemary, grapefruit and orange peel essence. The on-site garden offers a bounty of seasonal herbs that are used in the kitchen, as well.
A body massage and wrap dubbed an Orange Parfait treatment has also proven successful. Honey from a local provider is warmed with citrus; after the wrap, a special milk bath is drawn for clients. "Honey is very hydrating and has a lot of healing properties," he says.
Remède Spa at the St. Regis Aspen Resort, Aspen, Colorado
Remède Spa at Colorado's St. Regis Aspen Resort has taken the trend one step further by offering the client a literal taste of nature's bounty. "We're taking the farm-to-treatment-table trend and adding another level of complexity to it," explains spa director, Julie L. Oliff. "We take the spa menu and the spa food menu and treat the body like a palette. We actually structure the treatment like a five-course meal." The food and body treatment choices include salt naturally harvested from a nearby lake, assorted aromatherapy oils and other ingredients that are then hand-mixed. Clients might then nibble on toast points with a really strong cheese and bitter marmalade.
"It's about making the senses all engaged," Oliff says. Treatments also include a customized massage followed by a warm eucalyptus compress. A whipped butter application with a scent chosen by the client is the next step, with a sampling of almond biscotti, amaretto and cookies to complement the treatment. A glass of champagne offers the final touch.
Corbu Spa at the Charles Hotel Cambridge, Massachusetts
Corbu Spa at the Charles Hotel in Cambridge, Massachusetts, touts fresh, local ingredients with an aim to please in a Boston accent. "We offer seasonal treatments that are New England-based because people are realizing more and more how important organic ingredients are," says spa director Cara Hart. "For example, our lavender is grown right in the hotel garden, and lemon is, too, which is good for bug bites and sunburn," she explains. "In the fall, we use cranberries and brown sugar. Clients love the treatments because it makes them feel good about putting these pure products onto their skin. Each season, we will do a customized body scrub and wrap, and use the same ingredients for manis and pedis."
Fall brings cranberries grown in a bog, in addition to allspice, clove and pumpkin. Winter focuses on oatmeal, with an oatmeal body scrub and wrap. And if a client gets hungry for an oatmeal cookie? Not a problem, Hart says with a laugh. "People love the fact that we're using organic products that have incredible scents," she says. "Clients get nostalgic with the wonderful smells and feel good about using them on their bodies."
Spa Montage Laguna Beach, California
Spa Montage in Laguna Beach, California, is about a sense of place. "We're right on the ocean, so we have lots of ocean-centric therapies," says assistant spa director Michael Conte. "We also have hydrotherapy baths where fresh herbs and essential oils are steeped."
The spa customizes every wrap or scrub the client chooses. "Our menu is customized so each client receives exactly what is chosen," Conte says. "And we have a beautiful garden on property that we share with the restaurant for herbs and botanicals." The spa also uses seasonal ingredients for a variety of wraps, scrubs and facials.
Spa personnel are briefed on the uses of assorted herbs so they're comfortable explaining the properties to clients. "All the therapists go through training with experts on the herb garden, so they can learn the benefits of each one," says Conte.
Naomi Serviss is a freelance entertainment, travel and spa writer who has contributed to a variety of industry magazines and newspapers, including The New York Times, Newsday and New York Daily News, and websites including www.about.com and www.broadwayworld.com. She resides in Manhattan.