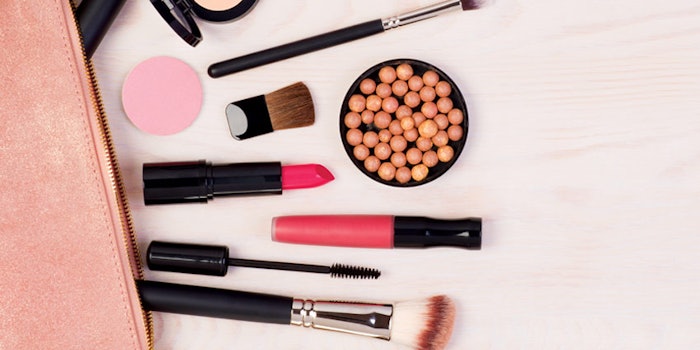 Your bags are packed, your music playlist is downloaded and the taxi is on it's way, but there may be some essential items your traveling skin is missing for the upcoming trip. The friendly skies may not, after all, be so friendly to our skin.
Moving, traveling and changing jobs would be on most anyone's list of stress producing activities. The uprooting of familiar routines is enough to rile up even the coolest cucumber, but what about the effect of the hotel's pillowcase on your face? It may give you a restful sleep while aggravating your skin. And what about those airplane peanuts?
Leaving the creature comforts of your home environment can be stressful, but your skin doesn't need to show it. With these skin care tips from traveling pros, you and your clients will show up looking and feeling refreshed and ready to hit the ground running.
Don't Skip the Basics
Across the board, skin care professionals and consumers alike mentioned this as a top mistake women make, traveling or not—not removing their makeup.
You've arrived tired and just don't want to do it, but you must to avoid your skin from appearing tired the following day. "Slacking on removing your makeup before bed is not an option if you want optimal skin," says Florida based print model, Christina Deangelis, who swears by individual, disposable makeup wipes. "Sometimes I am so tired and just don't feel like getting wet and splashing water over the sink. With one makeup wipe, I can remove all my makeup. It's so easy! I never leave home without them. They are my skin care essentials."
Beverly Hills nutritionist, Amy Piacentino BScN, instructs, "When you go to bed, be sure to remove all of your makeup and wash your face. A mistake many women make is falling asleep in their hotel while traveling with their makeup on, which can block pours, trap bacteria and cause blemishes."
Cory Felber, PA-C, of Marina Plastic Surgery suggests, "If possible, don't apply makeup to the face before you fly but do apply moisturizer."
With the constant travel schedule of a model and numerous different makeup looks, Christina Deangelis noticed, "Travel in general gets my skin dry and weird." Her chest and knuckles tend to get dry patches during any travel longer than her local coffee shop, so she stocks up on, "a heavy duty moisturizer for these areas." Her choice is something designed for cracked skin and heels. The extra thickness protects, heals and softens her problem areas. She also offers to use witch hazel when in doubt. "Its anti-inflammatory and antibacterial properties help with any flare-ups or breakouts." She cites that eating dairy can disrupt her skin, and witch hazel calms it down. Deangelis has a travel size in her purse at all times. She also advocates using all products such as cleansers that are vitamin C based, "Which universally work well on all skin types including sensitive skin."
Hotel Living
Top-notch hotels or your Aunt Millie's guest room may provide a cozy bed away from home, but what about the bedding?
"The wrong pillowcase can certainly interfere with you not looking your best the next day," says Piacentino, who travels extensively for work. She always packs her own pillowcase. "It's something small and easily fits in my suitcase. Even high-end hotels may use chemicals or starches on pillowcases that may be hard or abrasive on skin during all the hours of sleep."
With proper precaution and preparation, a packed pillowcase can avoid any sensitivities that may arise so you and your skin can get a rejuvenating rest.
Travel Routine of the Stars
Even if you are not flying first class, you can give your skin first class treatment. Roxanne Rizzo, a New York-based, celebrity makeup artist shares her ultimate must-haves for your makeup bag to travel and arrive looking like a star. She swears by facial mists and oils. Pack a travel bag (see Traveling Skin Care Basics) with a facial mist like rose water and spritz liberally before, during and after the flight. This spritz hydrates, plumps and revives skin while refreshing your overall aura. Customize your facial mist by adding essential oils for calming such as lavender or to help you be alert such as peppermint and lemon. Rizzo says her secret recipe for, "A fresh face right off the plane is in three simple steps: a generous spritz of facial mist, followed by an oil blend combo of avocado and coconut oil topped off with a spray makeup that evens out skin." By the time you hit the ground, you and your skin are ready for the world. Rizzo advises that, "The oil must be applied while the face is still damp for superior penetration."
When you wake up in a foreign land jetlagged, your skin may not be speaking the same language and not feeling or looking the same. Piacentino lets in, "If you wake up and look like you've been hit by a bus, hyaluronic acid (HA) is a must. I never leave home without it." As a powerful humectant (i.e. moisture-binding ingredient), it plumps and hydrates the skin. Piacentino suggests, "Finding a serum with 60–80% HA and apply daily, in the morning and before bed."
She also uses aloe, "It is important and should be applied in the morning before your shower. Pure, organic aloe gel with no added color, fragrance and alcohol is best. It contains many vitamins and minerals, such as vitamins C and E, as well as anti-inflammatory properties."
Hydration is Key
Pass the water and hold the alcohol. Rizzo suggests, "Avoid eating anything salty while in the air and opt out of the alcohol. Both cause a dehydrating and puffy effect in any environment and even more so in known places that causes low circulation like airplanes."
Dermatologist assistant Cory Felber exclaims, "Flying dries the skin out. We all look terrible after flying! It's necessary to hydrate inside and out. Drink lots of water and limit alcohol and caffeine consumption (see Traveling: What to Avoid). A hydrating mask is also great during flights or immediately after landing."
Piacentino agrees, "Drink plenty of water and applying an organic, gentle clay mask before can prep your pores from the flight damage before your turn in for bed."
New Perspective, Beautiful Skin
While stepping outside of your city limits offers different perspective, leaving the comfort of your own home may have your skin feeling uncomfortable and acting different. The positive effects of travel on the psyche may not be so positive on our skin. Reduce stress on your skin and your client's skin by encouraging the inclusion of a skin care bag to ensure a seamless, consistent regime.
"Not slacking on your skin care regime," is at the top of Christina Deangelis' packing list. "Traveling is not the time to neglect your skin; in fact, giving it an extra boost of care is ideal for plump, vibrant skin while on the go."