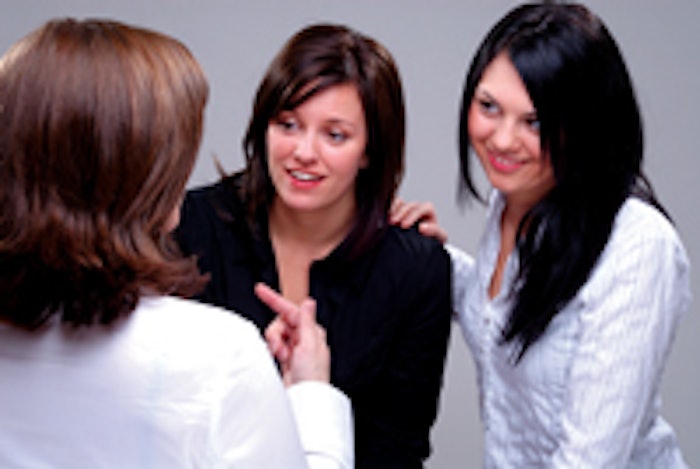 Regardless of what you call them—Gen Y, millennials or "Me First"—the younger generation of employees carries with it a new set of rules.
As the fastest-growing segment of today's workforce, if you are not currently managing millennials, chances are that you will be doing so soon. Born between 1980–1999, Reuters reports that some 40 million millennials work in corporate America, a figure expected to hit 58 million by 2014.
Motivating "Me Firsts"
Millennials are not motivated by the same things that attract Generation X and the baby boomers. They are energized by doing work that they feel is meaningful. They want to make a contribution to the business and believe they have the ability to do so. They don't have a mindset of, "I need to pay my dues first before I can get promoted." Instead, they expect to walk in on the first day and be considered an important contributor to the team. This attitude sometimes leads older generations to believe that millennials are the entitled generation.
One way to help them contribute from the first day is to put millennials in charge of social media. Social interaction is critical to this generation, and they have mastered Twitter, Facebook, LinkedIn and MySpace. Let them put together your social media plan and lead the team in understanding the importance of virtual relationships to your spa.
Their need for social interaction means millennials also want a great deal of personal contact with their supervisors, resulting in more demands on the manager and less time dedicated to the rest of the team. Managers will have to work smarter to give every team member equal time. The time spent with millennials will ultimately save time, however, because there will actually be fewer fires to extinguish.
Spa managers and millennials
Jenna Whipkey is the manager of The Spa at Wind Creek in Atmore, Alabama, and she is a millennial who is managing millennials. This 24-year-old says she deals with everyone on her team differently. With some, Whipkey says she is direct; with others, she coddles, and there are also team members who require a lot of direction and patience. Furthermore, she plays on each person's strengths. "It's a give-and-take. We help the staff members emphasize what they are good at and install them where they work best," Whipkey says.
She notes a big difference between her younger and older workers when it comes to personal time. "The older team members will ask for vacation six weeks in advance, where the millennials will run in during the morning and ask for the afternoon off," she explains. "You have to be an involved manager. If you don't interact with your staff members on a daily basis, they will invent their own rules and policies. As long as they feel as if they are heard, and they can voice their ideas and opinions, then they feel like they have a sense of purpose and belonging in their positions."
Mitch Jucha, a spa industry veteran and the director of spa for the soon-to-open Sahra Spa and Hammam in Las Vegas, has spent more than a decade running some of the world's top spas. According to Jucha, when it comes to millennials, "They love working, require instant gratification, want and need answers, and want to know why. There is no reluctance or fear from them. The key to managing this generation is communication, communication, communication."
Holly Colby, a manager at Vita, the wellness center at the Henry Ford West Bloomfield Hospital in Detroit, leads an open environment. "We have daily huddles as a team. This opportunity for feedback, kudos and verbal appreciation is great for Gen Y," she notes. "We also have an open-door policy, allowing them to share freely with their supervisors."
Colby stresses that sincere connection is key with millennials. "They want a personal connection, so we plan social events such as birthdays, bringing in cakes and other celebrations to make a big deal out of their personal lives. It's critical to focus on and be sincere about the work-life balance to build a loyal team member."
A few more tips …
You don't want a staff filled with only millennials, Gen Xers or boomers, but it can be challenging to manage these groups when they are all represented on the same team. Following are some tips about how to be an effective manager to all generational groups.
Group hiring. Mix and manage your hiring by using a group approach. Instead of bringing in each candidate individually, bring in several for a group activity. The activity can be as basic as creating the marketing pitch for your facility. During the group work, managers should observe behaviors. Who are the leaders? The cheerleaders? The cynics? At the end of the day, you have a personality profile of each person and visual knowledge of how they work with each other.
Boomers and millennials butting heads? Personality pairing is a great tool to work out generational kinks. A lot of boomers may not be computer savvy, but, on the other hand, they have a level of wisdom and maturity that many millennials don't. Create special assignments and enlist work groups to help the generations develop new professional skills while enriching their understanding of each other.
Continually grow your team. Having been told their entire lives that no one loses, millennials have a lot of pride and will not tell you they can't do something. Regular evaluations are expected.
Personalize. Just as you do with raising children, when managing team members from different age ranges, it's important to personalize rewards and incentives, and the incentive has to appeal to all ages. For example, give MP3 gift certificates to some and dinner gift certificates to others.
Empower your employees. As a manager, you should not spend the day putting out fires. Instead of team members saying they don't have the authority to remedy a situation, they need to be empowered to apologize and make things better.
Let them fail. You have to let millennials fail. You can't always fix things for any member of your team. Ask them how they think the situation should be fixed and lead them down the path they choose.
Managing for excellence
Although there are definite tips and tricks that can be accessed when managing millennials, it's important to remember to treat each of your employees on an individualized basis, as well. By knowing what types of incentives and repercussions make your team click the best, you will be able to keep your business running at an optimal level at all times.