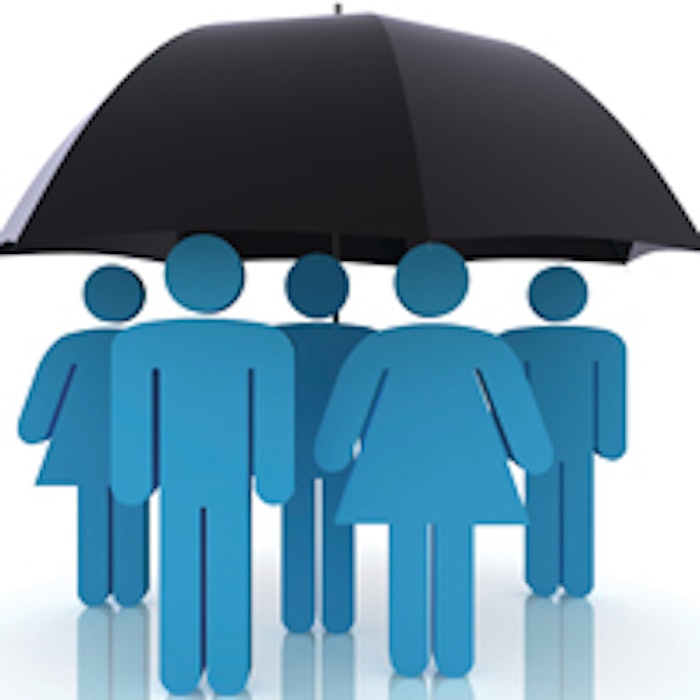 Unlike the many courtroom dramas on television, most legal proceedings are far from electrifying and don't involve a lot of snappy dialogue. However, any legal action will seem dramatic if you happen to be in the middle of it. Although that may seem to be a remote possibility, today's is a litigious society and having appropriate insurance coverage is a must.
Creative attorneys often name multiple parties in a lawsuit, leaving it to a jury to sort out who will actually pay a client's damages. Even if you are technically in the right, you could still end up holding the bag. In addition to suing you, a client may go after your employer, landlord, the franchise owner, parent company and product manufacturer.
The basics
If you are a spa owner, you should have general liability or a business owner's policy. (See Insurance Terminology for definitions of all the common policies for spas.) The complexity and size of your business determines how much coverage is needed. Smaller organizations can probably get by with just a business owner's policy, but larger businesses need more comprehensive commercial general liability policies. Whichever is right for your spa, these plans will cover a washing machine that floods your work area, a table that collapses, a client who trips on icy steps, or an overturned candle that causes a fire or a waxy mess, which is a surprisingly common claim. Accidents can and do happen in any business, and having business property coverage is key because of your dependence on the facility and equipment to earn your living. Rhonda had more than $10,000 worth of equipment, accessories, products and a portfolio stolen out of her car. Three things worked in her favor: The car had been locked at the time of the theft, she filed a police report and she had property insurance.
Individual malpractice
Although fires, floods, and slips and falls are risks, your greatest liability comes from treatment mishaps. Many spa owners may have exclusions in their policies that place this responsibility squarely on the esthetician. Spa owners are wise to have practitioners carry their own coverage and skin care professionals should have it to protect themselves. It's alarming that many estheticians assume that their spa policies cover their treatments because this is often not the case. It's rare that team members would know the details of an employer's insurance coverage. In fact, there have been instances where a spa's insurance lapsed, and the staff didn't know it until it was too late.
In one case of a treatment gone wrong, Beverly gave a brow and lip wax to a 13-year-old client, who suffered severe skin irritation. The client's father, an attorney, quickly ushered the girl to the nearest emergency room, where she received pain medication and antibiotics. The spa's insurance policy had an exclusion for work performed within the esthetician's scope of practice, leaving Beverly responsible for the damages. Fortunately, she had her own liability coverage, and the claim was paid.
Emotional issues
In an unusually sensitive case, a client who received a Brazilian wax experienced a labial tear during her session. Bleeding, she went to the emergency room and received antibiotics, stitches and a tetanus shot. Her claim asked for damages to cover her pain and suffering. It is important for every professional to know that when a claim is highly personal and emotional, the client is likely to ask for more money. Cases similar to this one have resulted in settlements for thousands of dollars.
When malpractice occurs, blame is often shared or disputed. Melissa thought her client's eyebrow waxing appointment would be like any other—simple and brief. Unfortunately, the client was on a mission to look her very best that day and went directly from her waxing appointment to another salon for a fresh hair color application and something caused the client's eyebrows to swell, possibly harsh fumes from the coloring chemicals. She came back and angrily confronted Melissa. Later, she visited a physician and received an ointment, along with the disturbing news that she might need plastic surgery. Her next call was to an attorney. This was a case where the liability was questionable: Was the first spa at fault? Was Melissa? The second salon? The colorist? How would a jury have seen it? Melissa had professional liability coverage and despite the ambiguous liability, the medical bills were settled out of court.
Ingrid also had a client who left the spa happy but changed her mind after her microdermabrasion treatment resulted in severe peeling because she didn't follow her after-care instructions. Although it was contraindicated, a physician, perhaps acting on incomplete information, prescribed isotretinoin for the client months later and her skin turned red. Although it may be easy to fault the client and the physician, it's hard to say what conclusion a sympathetic jury might reach. Despite the omissions of others, Ingrid's malpractice coverage came to the rescue.
Occurrence form vs. claims made
Rebecca performed a glycolic facial on a client who soon after claimed that the treatment caused her burns, blisters, blotchiness, discoloration, inflammation, scarring and swelling. Sound expensive? It could have been. In Rebecca's case, the stars lined up in her favor two ways. Although the client complained soon after her treatment, she didn't file a lawsuit until after the statute of limitations expired two years later. Rebecca had an extra measure of security because she had occurrence-form coverage, an important consideration when it comes to late claims.
Late claims are an issue because many skin care professionals work in more than one spa or have a practice on the side. In many markets, skin care is a transient business because professionals often change jobs or take time off for personal reasons. Some estheticians allow their liability coverage to lapse during these intervals, or they quit the profession altogether.
Clients usually have a year or two to file a lawsuit before the statute of limitations expires. They often take that much time to do so. Some estheticians have no idea that a client is unhappy until they are served with papers for a lawsuit. This is already an unpleasant experience, but it becomes even more so if an esthetician's insurance has expired. With the wrong kind of insurance, personal assets and future earnings may be at risk.
If the policy is what's called claims-made, the protection expires when the policy does, even if an incident took place while the policy was in effect. A late claim can come back to haunt an esthetician who's taking a break from esthetics or has changed careers. Occurrence-form coverage applies even after a policy lapses, as long as the policy was in effect when the incident occurred. It's crucial to know what type of insurance you have, especially if you foresee interruptions in your career. Also, it is important to know the statute of limitations laws in your state. Of course, statutes vary depending upon the allegations, such as personal injury, property damage, wrongful death, libel, slander, assault and battery, and medical malpractice. The following Web site provides state-based information for personal injury statutes of limitations, which most likely would be the type of claim to be filed in skin care and spa situations: law.freeadvice.com/resources/personal_injury_statute_of_limitations.htm.
Paperwork protection
Roger had a client who came in for an intense pulsed light (IPL) treatment on his back, and the client later complained of discoloration to his skin. Roger had conscientiously used comprehensive release and consent forms, and he made sure these were signed. This protected him because they indicated that skin discoloration was a possible concern with IPL. In another case, the reverse was true. Caroline gave consent forms to a client before an IPL treatment, but they were never signed. Perhaps she was hasty—the oversight wasn't discovered until the client was burned.
The right pick
In these tumultuous economic times, choose a stable organization when shopping for liability insurance. Financial rating services such as A.M. Best Company (www.ambest.com) and Moody's Investor Service (www.moodys.com) are easy to consult online. Networking and Internet research are also helpful resources.
Knowing how to respond to a risk situation is as important as being prepared with the proper insurance. Educate your team members about how to respond to problems. A caring professional may be tempted to offer a free facial to someone who's unhappy but in a court of law, this can be interpreted as an admission of guilt. The demeanor and attitude of the practitioner and spa manager are critically important—research has shown a dismissive response to a mistake weighs heavily on whether or not people sue their physicians.1
You probably won't be seeing any of these stories on prime-time television, but they have been a part of your colleagues' nightmare reality shows in the past. Mishaps can happen to even the most professional and conscientious business people. Being covered in today's litigious society isn't just an option—it's a necessity.
REFERENCE
1. C Vincent, M Young and A Phillips, Why do people sue doctors? A study of patients and relatives taking legal action, Lancet 343 1609–1613 (1994)