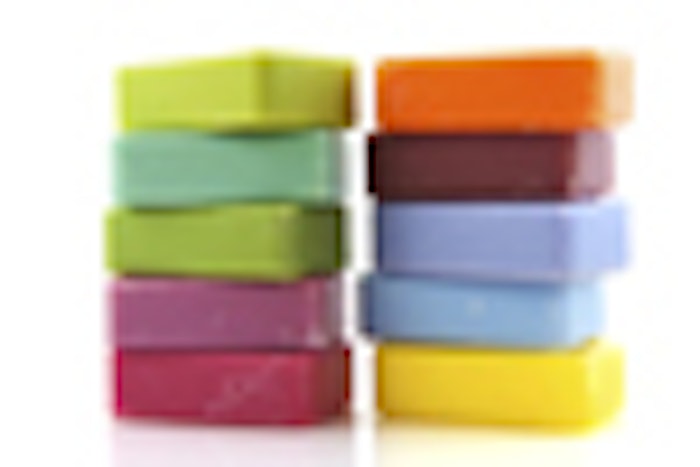 Only on SkinInc.com: Exclusive commentary from Dori Soukup, retail expert and founder of InSPAration Management and spa consultant Elaine Sauer is included in this news item explaining how you can use this information to increase sales of bath and body products in your skin care facility.
A recent Mintel survey reveals that price is a leading factor in consumer purchase decisions for soap, bath and shower products. Scent and moisturization, however, are significant influencers. Thirty-eight percent of Mintel respondents who have purchased soap say their decision is based mainly on scent, while 35% say they prefer shower products with extra moisturizers.
According to Dori Soukup, retail expert and founder of InSPAration Management, "Memories are increased by 40% when exposed to pleasant aromas and fragrances, says to Martin Lindstrom the author of Brand Sense: Sensory Secrets Behind the Stuff We Buy (Free Press, 2010). Skin care professionals could sell a lot more products if they provided more sampling opportunities in their spa boutiques. It seems that many are so concerned with the cost of testers that they don't take the clients on a sensory experience. This leads to no sales. Sampling is a proven, effective method to engage and get the people to purchase products."
"Although many top brands have answered demand for these qualities, there are substantial opportunities for private label brands to enter this arena during the slow economic recovery," said Kat Fay, senior beauty analyst, Mintel. "The U.S. soap consumer is looking for bargains now more than ever as household budgets remain tight, therefore private label brands need to have a lower price-point and deliver lather, fragrance and significant moisturizing ingredients."
Meanwhile, 60% of Mintel's respondents claim that finding soap or body wash products on sale or at the lowest cost is important/very important to them, and 18% of soap-buying consumers say they look for the least expensive brand of soap or body wash.
Soukup says, "Skin care facilities should focus on quality, value and ingredients. When the client is educated by the skin care professional on the benefits of the products, the price becomes less of an issue."
While this segment is often targeted toward women, men are starting to make a substantial impact in the market of bubbles; a plain old bar of soap is no longer going to cut it. Men between the ages of 18–34 report the highest usage of body wash at 58%, compared to 50% of those ages 35–54 and 42% of those who are 55+.
According to Soukup, "Merchandising for women and men should be different. Designate certain shelves for women and men within the boutique. Use props to capture their attention, shelf-talkers to provide information about the products' benefits and make sure you price all the products."
"Men represent a key demographic for sales of body wash products, and marketers of these products should attempt to gain the attention of men to boost their sales," said Fay. "Having said that, a whopping 74% of women buy liquid body soap or wash compared to 50% of men—so women are still the key purchasers."
Soukup says, "A good idea is also to bundle products together and offer a gift-with-purchase to entice the consumer and be more competitive with other retail outlets."
With the growing trend of body wash, it seems people need a little help lathering up, so it isn't surprising, states Mintel, that scrubbers and massagers grew nearly 10% in 2010, and Mintel expects this segment to continue growing by 63% between 2010 and 2015.
Elaine Sauer, spa consultant, tells SkinInc.com how this consumer insight can help you fine-tune your retail sales of bath and body products.
"With spa products for bath and body, the key for consumers is the ability to try them before buying them—people are interested in aroma, a powerful decision-maker in selecting product for daily use at home, followed by the product's ability to keep skin soft and hydrated.
"Skin care facilities can create play experience centers at wash basins. One unique retail operation set up a copper bowl at a retail display that looked like a potting shed with fluffly hand cloths, a pitcher of water and a wide range of scrubs, gel body washes and creams to encourage their clients to try the products and give themselves a mini hand facial.
"Certainly introducing a ceremonial step during a facial and massage is as easy as beginning with a sensory journey at the consultation. This allows the client to smell several choices and then integrate their selection into a hand or foot scrub with warm towel removal at the start of the service, beginning the relaxation and offering a point of difference in service quality.
"Consider adding it to shower or locker room areas so clients can experience it where they naturally would use it at home. This allows them to test it, and once purchased, it provides a memory of the experience at your skin care facility, hopefully resulting in a return visit.
"Additional ways to integrate bath and body products into services include during manicures and pedicures, and body facials so that its a point of opportunity for retail sales from a menu offering.