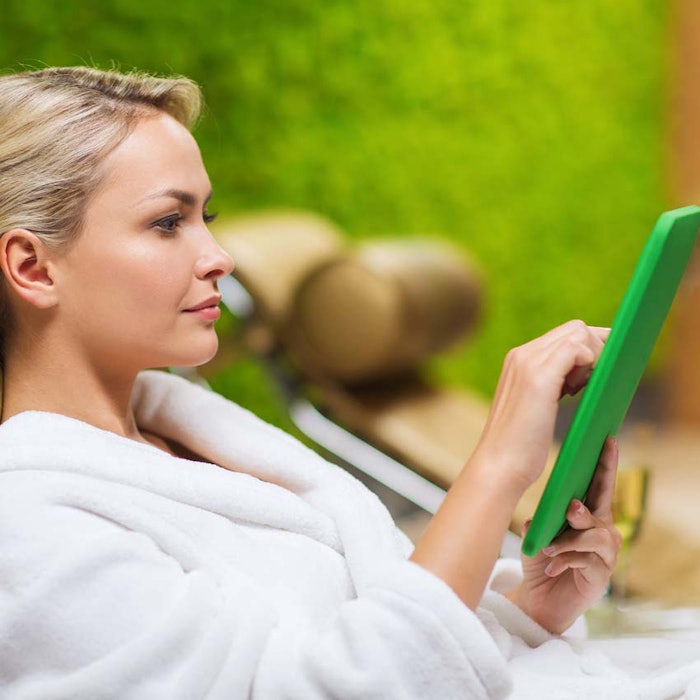 When it comes to spa retail, most of us think the more personable, the better. But what if we are wrong? A new report by Mintel suggests that 45% of beauty consumers prefer to search for product information in-store on their mobile device rather than ask for assistance from a sales associate.
Mobile Devices
The study also showed that 39% of consumers want to use a store-provided tablet to research beauty products available. Mintel found that 16% of consumers decide to shop where sales associates will leave them alone until sought out for help.
To take out human interaction even further, 36% of shoppers are interested in using in-store tablets or their own mobile device to pay for beauty products. Mintel research also reveals that smartphones are the preferred device used to purchase cosmetics (22%), the only category surveyed in which consumers were most likely to shop via smartphone*.
Mobile Apps
Interest in mobile apps for beauty retail is growing, and 58% of beauty buyers are interested in mobile apps that provide beauty product offers to redeem in-store. Coupon redemption is popular among beauty retail shoppers, as 47% have redeemed coupons using their smartphone or tablet when purchasing products in-store or online. Further, 54% of beauty retail shoppers are interested in apps that allow them to compare prices.
Social Media
The beauty market's heaviest buyers, those who made 11 or more purchases in the 12 months ending October 2015, are the most likely to engage on social media with 69% saying they like to share their product experience on retailers' social media channels, double that of consumers overall (35%). What's more, 71% say social media posts encourage them to buy particular products.
Planned vs. Unplanned
Mintel research reveals that the 63% of beauty retail purchases are planned to replace/replenish products they regularly use. Conversely, 30% of consumers venture out with the intent of trying something new.
Although the majority plan before purchasing, 52% of shoppers are influenced to make a purchase that is most likely unplanned, with 22% influenced by a sale or the opportunity to use a coupon. Another 14% of beauty retail shoppers report unplanned purchases resulting from advertisements.
The report found that consumers calculate risk in beauty products and are more likely to buy low risk product like body wash in mass market retail, whereas high risk products are purchased by knowledgeable staff at specialty retailers.
In addition, planning a beauty purchase often leads the shopper to see what is being said on social media and by beauty influencers such as bloggers.
Source: Mintel