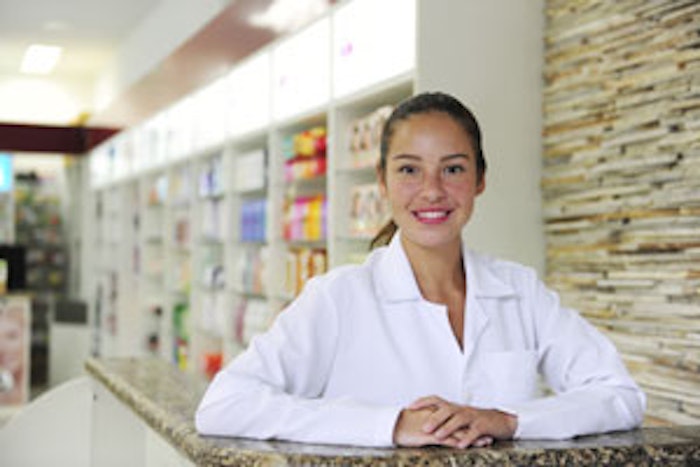 To dramatically increase your bottom line, you need to reimagine the way your skin care facility thinks about retail. According the International Spa Association (ISPA) 2012 U.S. Spa Industry Study, retail sales typically account for 18% of total spa revenue, yet they often represent 22–26% of overall profit. Retailing will help build your client list, increase client loyalty, offer added-value and provide stability to your business.
Create a mini store
Turn your front reception area into your retail area, creating an actual shopping experience for clients. Your professional retail area should consist of about 20% of your business's total square footage. To make room for your retail investment, make your seating more experiential with testers and before-and-after visual aids. Clients are only in the reception area for a few minutes before their appointments, which is the perfect amount of time for them to browse your retail section. The center of the retail space should have display tables or interactive stations with seating. Include attractive signage and merchandising materials, such as counter cards and shelf-talkers, to provide product benefits, details, instructions and pricing.
Engage your clients
Create interactive spaces for a real shopping experience. Clients are more likely to make a purchase if they are able to smell, hold and use the products, so always have testers available. A makeup testing station will allow clients to try out the latest cosmetic trends, and an aromatherapy station will let them experience scent choices. A skin care bar will allow clients to test lotions, facial products or body mists. If you retail music, have a listening station set up with headphones. If you have microwaveable mittens, neck wraps or eye masks, display by a small microwave so clients can try them out. Also, be sure to display marketing materials from your vendors.
Be visible
Create curb appeal by performing treatments in your retail area. A lash and brow bar is a hot new trend, and will instantly boost both service and retail profits. You create excitement and visibility with this idea, enticing clients to try an impulse service. Because tinting only takes 15 minutes, clients can easily fit in a service before or after their appointments. Offer other lash and brow services, as well, such as eyebrow shaping, waxing, lash extensions or perming if within your license's scope of practice. Include retail items at your bar, such as lash-enhancing serums, cosmetics, tweezers or accessories.
Spa apothecary
Create a home-treatment bar with recipe ideas for facial or body masks, scrubs or moisturizers. Provide soap, lotion, scrub or whipped butter bases, along with herbs, actives and essential oils to create a myriad of home treatments. Display some recipe ideas or create home versions of your own signature treatments. Place your ingredients in apothecary jars for visual appeal—just a few ingredients go a long way.
Beautiful presentations
Consider your demographic and choose lines that reflect your clients' age and income. Choose professional treatment lines that also offer unique retail products to complement your spa services. For example, offer a Mediterranean wine and honey mask treatment that you also retail in your spa. This allows clients to take the spa experience home with them or to share it as a gift.
Retail sales should become 30–50% of your net profit, allowing you to significantly boost revenue and provide additional client appeal. Include retailing in your ongoing promotions, seasonal planning, advertising and client communications to ensure that you don't miss out on a great opportunity to grow your business.
Jenny Farrand is a licensed esthetician, massage therapist and the director of education for Universal Companies, Inc. With more than 15 years of experience as a former day spa owner and five-star resort spa director, Farrand gained extensive industry insight through planning, staffing and training teams for spa opening launches at four unique properties. She can be contacted at [email protected].