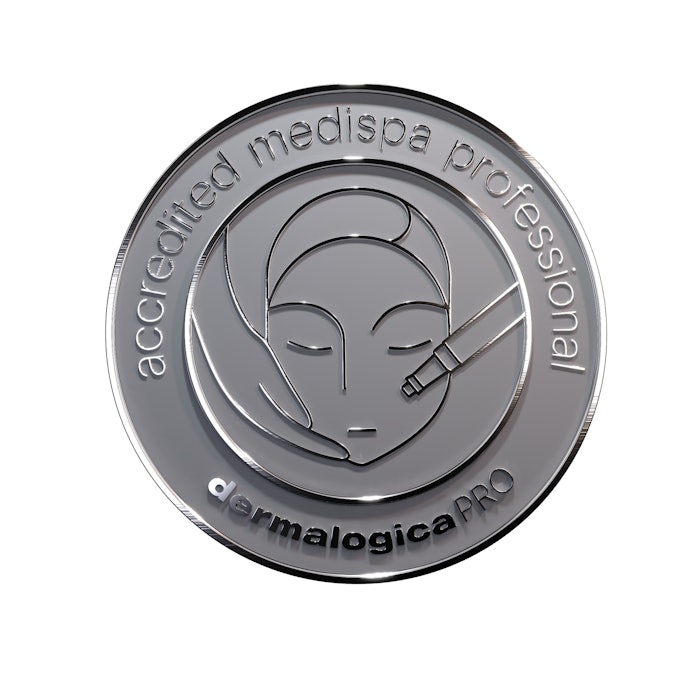 Dermalogica is launching a MediSpa Professional Accreditation program on April 17, 2023, aiming to provide more transparency to consumers and raise industry standards.
Related: Dermalogica's Treating Melanin-Rich Skin Course Bridges the Gap in Skin Inclusivity
There is no standardized qualification to perform services like chemical peels, micro-needling and laser treatments. While some may go through accredited training programs, others may learn from a peer or product representative.
According to The Dermalogica Survey conducted by Wakefield Research, 70% of women assume that Medispa professionals have met an industry-wide training standard. Per the survey, 92% of women say they would be more comfortable getting a Medispa procedure if they could verify their skin therapist's experience.
With Dermalogica's new program, skin therapists are asked to upload state license information plus additional certifications in Medispa modality and treatment training. A review board will look at training hours and programs to determine whether they meet standards of safety and excellence.
Verified professionals will be recognized with a digital badge that lives on the blockchain and can be added to websites and social media profiles. When clicked on, the badge will display the individual's credentials, including courses, provider and educator. The information on their profiles can't be edited, replicated or transferred. Those still working toward their qualifications will be directed to a resource page of classes and platforms to grow their skills, plus a Discord community to build relationships with other industry professionals.
Heather Hickman, VP of Education at Dermalogica, said, "Since day one, Dermalogica has aimed to elevate the industry and bring respect and success to skin professionals. As the industry evolves to offer more advanced medispa services, we recognize there is no national standard accreditation for the title of Medical Esthetician. We are establishing a standard to validate these important credentials so we can continue to champion those with the most advanced training in our industry."