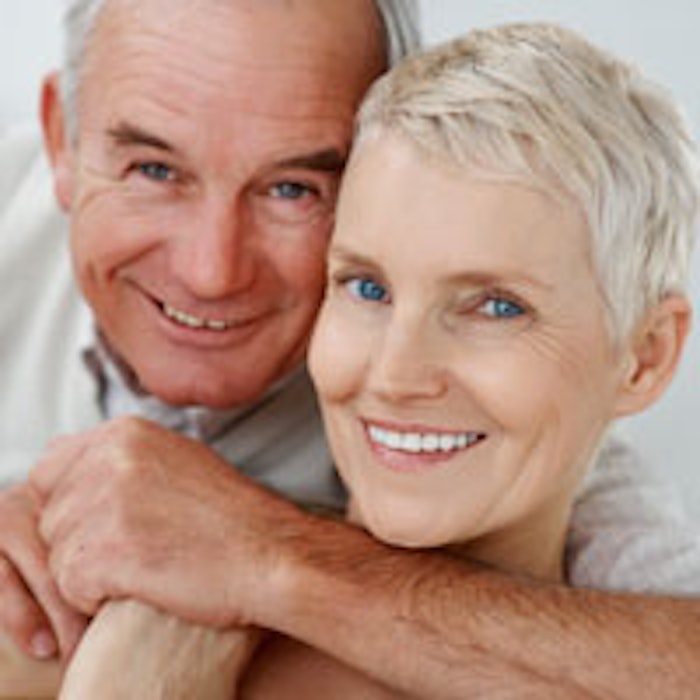 This content is adapted from an article on www.nuffieldhealth.com, February 5, 2015.
The over 65s are leading a surge in cosmetic surgery in the U.K., Nuffield Health's first annual Plastic Surgery insight survey reveals. Almost two thirds (64%) of Nuffield Health surgeons, who between them carry out 1 in 10 U.K. cosmetic procedures, reported an increase in older people seeking surgery. Nuffield Health's patient figures paint the same picture with patients over 65 up by 49% in 2014 from 2007.
Men are also continuing to drive the cosmetic surgery market, with four in five (82%) of the Nuffield Health surgeons saying they have noticed a rise in men seeking cosmetic surgery. Almost all surgeons (95%) also reported a rise in the number of previously overweight or obese patients looking for surgery following dramatic weight loss.
The Nuffield Health plastic surgeons attribute a number of reasons for the trend among the "baby boomer" generation for plastic surgery as a direct result of people living longer, healthier lives and wanting to "look well," too. For men, surgery has increasingly become "the norm" in recent years, and the trend looks set to stay, with men accounting for one in 10 of all U.K. cosmetic procedures.
"I'm now seeing many more people in their 60s, 70s and even their 80s seeking plastic surgery, as they not only want to remain fit and healthy into their old age, but they want to look well, too," says Ian Whitworth, MD, consultant plastic surgeon at Nuffield Health Bournemouth. "I think this trend will continue as this is an expanding age group."
These new groups of customers join the traditional customer set, such as Moms looking to restore their pre-pregnancy bodies, women in their 20s seeking breast augmentation and women in their 50s asking for facelifts.
About 82% of the surgeons said that they thought these new customers were being driven by the fact that people are feeling the benefits of coming out of a long-term recession. While those having surgery for weight loss were driven by the fact that the NHS—which previously carried out procedures—has tightened its belt even further. Despite this, figures released last week by the plastic surgery body—BAAPS—reveal a slight decline overall for U.K. cosmetic surgery procedures.
The plastic surgeons said they are seeing a definite move away from people looking to copy celebrities—for 75% of surgeons it was very rare to be asked to replicate a celebrity look—with people in favor of a natural-looking result (100%), something non-surgical (55%) and to rejuvenate rather than enlarge (57%).
In terms of what motivates people to consider surgery, the research highlighted that the choice is not down to peer pressure, pressure from a partner or the need to look good at work, but the desire to improve self-confidence—which 100% of the surgeons agreed was a key motivator for most of their patients.
The surgeons, based at 31 Nuffield Health hospitals across the U.K. were also asked to share their predictions for the future. The majority agreed that they would continue to see an increase in men (95%) and older people (82%) amongst their patients and most thought that plastic surgery would increasingly become the norm—indeed many view it as the norm already in most parts of the U.K.
Face transplants, light weight breast implants and mid facelifts (which lift the middle segment of the face) were highlighted as the new and innovative techniques that will become more commonplace over the coming years in the world of cosmetic or reconstructive surgery following accidents or injury.
Whitworth says, "Plastic surgery is such an innovative speciality. In cosmetic surgery, we are seeing much more integration between non-surgical and surgical procedures, combining fillers and Botox, and surgery where appropriate."