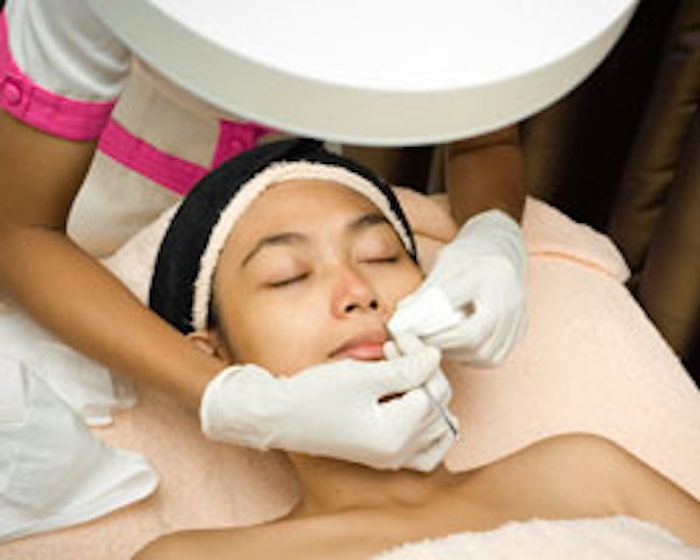 AB 1153 would create a two-tiered esthetician licensure process in California while defining the scope of practice for both an Esthetician and newly created Master Esthetician.
The legislation proposes to establish a 1200-hour based Master Esthetician pathway. As with current law, each candidate for licensure would have to pass a Board approved exam—separate for each level—and meet other legal requirements. AB 1153 defines the procedures each type of Esthetician could legally perform, ensuring the proper education and training is associated with each type of practitioner.
Scope of practice overview
Current Licensed estheticians and cosmetologists—current scope will not change:
Work only from the chest up;
No lancets for extraction;
No body treatments;
Superficial exfoliation only;
No LED (rules to allow this by the end of 2014); and
No combining modalities.
Proposed Master Esthetician scope is current esthetics scope plus:
Full body work;
Advanced massage;
Lancets for extraction;
Noninvasive—per FDA—esthetic device use;
Superficial and light exfoliation; and
Combining modalities.
AB 1153 includes grandfathering provisions for both an Esthetician and Master Esthetician recognizing there are many practitioners in the field today who have received the proper education and/or training necessary to ensure consumer confidence for the service scope and complexity at which these providers elect to practice.
Pathway to licensure
To gain the Master Esthetician licesnse, estheticians need to:
Hold an active cosmetology or esthetics license for 3 of the last 5 years; and
Sit for the NIC master esthetician test.
The period expires in 2018, then reciprocity guidelines and education guidelines go in effect. Current reciprocity requirements stay the same, so if an individual is trained as a Master Esthetician out-of-state, they can apply for reciprocity.
Estheticians with 600 hours that do not want to sit the test only need an additional 600 hours to become a master esthetician.
Continuing education
Currently the cosmetology board does not have the authority—in statute—to recognize any advanced education or certifications. There is a clause in the current Master Esthetician bill that gives that authority. During the rules process the parameters of this are defined. This is an open public process that anyone can be involved in.
This legislative effort will create and recognize highly skilled estheticians, while also acknowledging that even basic esthetician services have evolved, requiring additional education/training for future Estheticians. In addition, it will allow the public, specifically consumers and employers, to more easily recognize a practitioner with advanced training. As the industry moves forward, licensing and training should reflect the advancements made in skin care. Enhancing esthetician education overall and matching additional preparation requirements with permission to provide more complex services will also lessen chances for consumer harm.