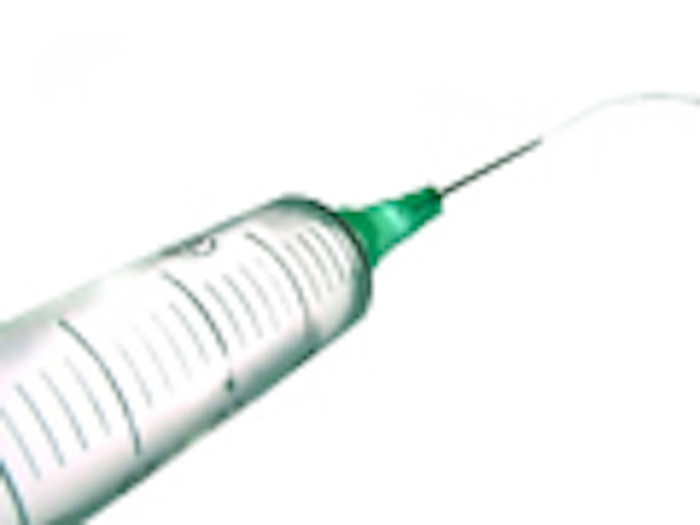 Injectable procedures appear to have experienced a boost during the 4th quarter of 2009, reflecting the common experience among surgeons that injectables increased while surgery decreased during the tough economy.
According to a survey done by MEDACorp, plastic surgery and cosmetic procedures were up during the fourth quarter for the first time since the downturn began in 2007.
The survey encompassed facial injectables, breast implants, laser procedures and Latisse for eyelash growth. The results of the survey indicate that procedures for botulinum toxins like Allergan's Botox and facial fillers like Medicis Pharmaceutical's Restylane increased the most year over year in the fourth quarter of 2009, each up 8.1%. Procedures for breast implants increased 3.5%, and laser work was up 1.6%.
Allergan's Latisse for eyelash growth, which is the only product currently in this category, wasn't included in the year-over-year comparison because it just received approval from the FDA in 2009. The survey showed that prescriptions for the drug began to slow during the fourth quarter of 2009, but direct sales of the drug to consumers continued to grow; six states currently require prescriptions for Latisse.
Results from the survey, which has been conducted since the beginning of 2007, showed that all of these procedures were occurring less often year over year beginning in the third quarter of 2008, while breast-implant procedures had begun to decline as early as the first quarter of 2008.
Leerink Swann analyst Gary Nachman sees the results of the survey as a good sign that the economy is really improving, but he tells investors to take it with a grain of salt. "We believe these encouraging results do need to be viewed with a degree of caution toward how they will be sustained in coming quarters," he wrote in a recent investor report.
MEDACorp broke out the results to show procedures done by plastic surgeons versus dermatologists. The latest results show that procedures in the plastic surgeons' offices were more popular during the quarter than they were a year ago. Nachman points out that surgeons have had to increase their product offerings during the downturn to include lower-priced treatments like injections.
The expansion of the plastic surgeons' practices and patients' choice to get lower-priced treatments indicates that consumers are still trying to hold on to their cash in these troubling economic times, but may have loosened up a bit about where they feel their money should be going.
As for where the economy is going next, physicians still think that growth in cosmetic procedures will continue — maybe a sign that things will be turning around for the American people this year (they had predicted double-digit growth for the fourth quarter). Yet, physicians weren't quite as optimistic as they were last quarter and only project low-to-mid single-digit growth.
"The most optimistic projection was a 7.3% increase in breast implant procedures among the plastic surgeons. This is interesting, in our view, since this bigger-ticket procedure has been especially impacted by the economic downturn, and has appeared to be recovering more slowly than the less expensive injectibles," added Nachman.
Where the cosmetic drug industry is concerned, Medicis' Restylane and Perlane have been leading Allergan's Juvederm on the facial filler front, while Johnson & Johnson (JNJ) has pulled back on its support of its wrinkle treatment Evolence.