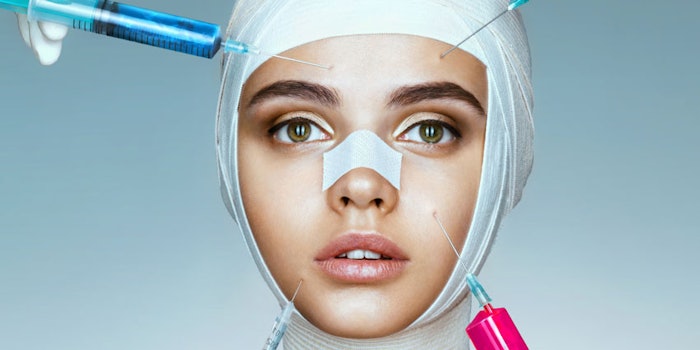 The American Academy of Facial Plastic and Reconstructive Surgery (AAFPRS) released their 2019 survey results. This survey explores the top trends in facial plastic surgery as well as the most popular procedures and industry influences from 2019.
Big Findings
The average number of non-surgical procedures increased by 13% since 2018, indicating the power behind more millennials seeking non-surgical treatment options. The AAFPRS stated that 85% of the total number of procedures performed by their members is composed of minimally invasive, non-surgical procedures. Skin treatments are up by 39%, fillers are up by 13% and neurotoxins are up by 12%.
1. The Selfie Influence
Snapchat Dysmorphia was first introduced into the industry in 2018, and it continues to influence consumers' behaviors at a rapidly growing pace. Roughly, 72% of AAFPRS members report their patients looking for cosmetic procedures that will help them look better in their selfies.
However, the line for seeking cosmetic procedures to look better in pictures does not stop at selfies. AAFPRS members also reported their 2019 patients would come in looking for procedures due to being unhappy with their appearance in social media profile pictures.
"Our annual statistics continue to show significant increases in the social media category," says Mary Lynn Moran, MD, facial plastic surgeon and president of the AAFPRS. "Clearly social media remains a huge incentive to have some work done with even more surgeons than last year reporting that patients are seeking cosmetic procedures to look better in selfies, Instagram, Snapchat, Facebook Live and other social channels."
2. Prejuvenation Power
Millennials are still putting a heavy emphasis on "prejuvenation." AAFPRS members believe there will be a greater emphasis on earlier maintenance for patients starting in their 20s-30s to avoid bigger surgeries needed later down the road. In 2019, 74% of facial plastic surgeons reported an increase in minimally invasive procedures including neurotoxins, fillers and skin treatments in patients under 30. This is roughly a 32% increase since 2016.
3. Celebrity Influences
Over 84% of AAFPRS members report that celebrities impact patients' desire for cosmetic procedures. Patients specifically requesting procedures that celebrities are having done has also increased by 4%. Certain celebrities also make a bigger impact than others like Kylie Jenner and Kim Kardashian. It's believed that these celebrities have the biggest influence on female consumers seeking out cosmetic procedures. Meanwhile, actors like Bradd Pitt and Bradley Cooper are the most influencial male celebrities.
While these trends may not be brand new information, it is important to note that they are only growing in popularity with more and more consumers seeking them out or being influenced by them.