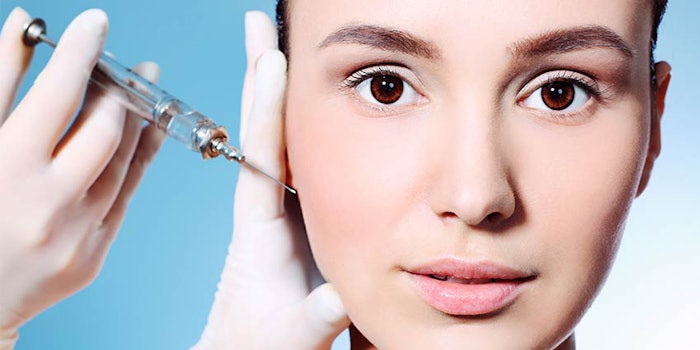 Over the next few years the global facial rejuvenation market will be putting its very best (and tightest) face forward: it is estimated to value over $25.10 billion by the end of 2026, according to a report from FutureWise Market Research and Reports.
Among the firm's findings:
The market is projected to register a CAGR of 4.9% during the 2018-2026 forecast period.
Minimally-invasive procedures are gaining popularity, resulting in the proliferation of the market.
To expand their market, top cosmetics companies are introducing advanced treatments for nasal folds, forehead lines, glabellar lines and wrinkles through products like botulinum and dermal fillers, boosting the market growth further.
The U.S. Food and Drug Administration approving absorbable dermal fillers for absorbable dermal fillers for cheek and lip augmentation and contour deficiencies in patients over the age of 21 will further contribute to market growth.
The botulinum toxin segment accounts for around 1/3rd of the total facial rejuvenation treatment revenue, due in part to its high usage among models and celebrities.
Portable laser-based devices integrated with topical skin care products have become increasingly popular.
The hospital segment accounts for the highest market share, due to the quality of infrastructure hospitals provide.
The majority of the populations in emerging economies such as India and China are in the lower-middle class category, and cannot afford high expenditures; as such, dermatology clinics are the preferred locations for facial rejuvenation treatments in these countries.
Regionally, North America is expected to account for the highest market share, strengthening its position due to a rise in the population of female patients seeking anti-aging solutions; low treatment costs and high demand to look young will also contribute to growth.
Europe is the second largest market, due to an increase in several minimally-invasive procedures; cost-effective, non-invasive treatments; and a population aging rapidly from lifestyle choices such as smoking cigarettes and drinking alcohol.
Latin America is expected to exhibit significant growth during the forecast period, attributed to cost-effective treatments; cost-effectiveness will also drive growth in Asia-Pacific.
For more information or to read the full report, visit FutureWise Market Research and Reports.