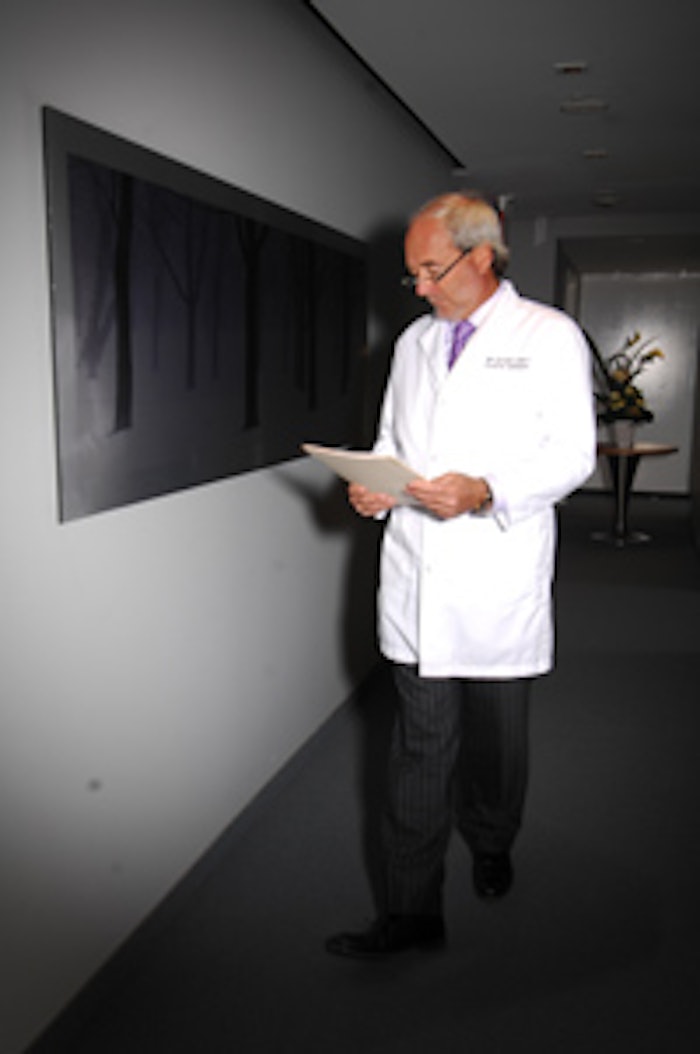 "Be passionate about what you do, or stay home. Don't consider aesthetic medicine as a part-time endeavor to supplement income. Be committed to the profession, and take the time to learn and be properly trained to perform the delicate procedures."
These are words of advice from Arthur Swift, MD, CM, FRCS, a Montreal plastic surgeon who also is, among other things, a founder of The Westmount Institute of Plastic Surgery, his current practice; medical director for Victoria Park Medispa in Westmount, Quebec, Canada; the creator of a beauty amplification concept called BeautiPHIcation; and clearly a man who likes to excel at his ventures.
A solid start
Swift spent his undergraduate and medical school years studying at Montreal's McGill University, initially exploring trauma surgery before being turned on to the aesthetic side of medicine. "I enrolled for a two-month elective in trauma surgery at Jackson Memorial Hospital in Miami," he explains. "The trauma elective hours as a junior were grueling, and the department advised me that a two-month stint was never recommended, and that I should choose another elective for the second month."
After finding the hours to be less physically demanding for the plastic surgery elective, Swift switched gears. "As it happened, the plastic surgery service at Jackson Memorial was headed by Ralph Millard Jr., MD, FACS, a giant in the field, and his love of his craft was contagious," says Swift. "He took a shining to me, and it was a career-changing experience. I loved the diversity, creativity and innovations of the surgery. So I set my sights on becoming a reconstructive and aesthetic plastic surgeon."
Swift finished medical school in 1981, going on to train in the United Kingdom and complete a fellowship with Millard, again in Miami, in 1986. Returning to Montreal in 1987, he found the plastic surgery environment there to be quite competitive. Accepting a position with a local hospital, he began his hunt for patients by calling area medical clinics out of the phone book and asking if they had a plastic surgery consultant. "I ended up consulting to 23 clinics both on and off the island of Montreal, often spending two days mostly driving in my car to see an occasional patient in far away places," he says. "Eventually, I collated all the patients back to my office, promising to accommodate the clinics' remote referrals in a timely manner."
The effort was worth it as Swift's reputation began to grow and he gained more and more patients. He opened The Westmount Institute for Plastic Surgery in 1993, and as his practice grew, he only increased his dedication to patients and the results they wanted to see. That kind of commitment meant a constant eye on innovation, and Swift's foresight found him incorporating things such as skin care and injectables into his practice in the late '80s and early '90s, respectively. "We were pulling this tired, drained skin, and I commented to my colleagues that we were doing everything for the quantity of skin, but nothing for the quality," Swift says. This realization led him to start working with skin care ingredients and products, eventually creating a line called Swift Solution Medical Skin Care, and from there he began incorporating more minimally invasive and noninvasive beauty procedures into his practice.
"We were offering laser hair removal, laser procedures, chemical peels, Thermage treatments, IPL treatments and procedures that would tighten and tone the skin, and it was growing so much that it was beginning to put a strain on my front office staff," Swift states. From this, Victoria Park Medispa was born, with the facility moving to a separate location and three young entrepreneurs taking over the business portion in 2008, with Swift staying on as medical director. "It has just kept growing," he says. "Now it's one of the leading medical spas in Canada. It includes a gym and a health club, and it's really taken on the energy of a wellness center."
In the case of injectables, the practice itself has also expanded and now includes a nonsurgical facial rejuvenation center. Swift sees this as vital to future growth in the industry. "The future of the industry is the natural progression of what is occurring presently—a continued shift from invasive procedures to minimally invasive to noninvasive. I expect continued heavy emphasis on prevention and anti-aging," he says.
BeautiPHIcation
Swift hasn't just focused on growing the injectable and skin care aspects of his practice, though. He's also invested time and effort in maintaining his surgical edge, as well as in keeping the business side of his practice up to his high standards. "The most challenging business aspect of the practice is actually managing the business aspect," he says. "It was obviously a lot easier when I had one secretary and a purely surgical practice. I am now constantly searching for the right practice manager to whom I can comfortably relinquish the daily management responsibilities." To seek out quality staff members, Swift uses his medical expertise, as well as his experience with patients, to evaluate qualified candidates.
He also works hard to maintain and promote high standards within the cosmetic surgery community. Swift lectures around the world, sits on a variety of advisory boards, conducts clinical research, and consistently works to sustain his craft. In that vein, one of his proudest contributions has been his BeautiPHIcation concept.
"I was with my teenage kids in Paris a few years ago, walking in the Louvre. We began talking about how the Renaissance came to be considered the most prolific art era in the history of mankind," Swift explains. "One of my daughters asked, 'But of all of the artists painting and creating during that time, why did just these become the ones who are remembered, and whose works are treasured centuries later in the Louvre?' And I thought about that, and I said, 'Because they had the passion to take that extra step, that extra effort, to truly go for greatness.' From there, I thought about how I could extract that type of effort and the principles those artists used to really make a difference for patients. We are the Renaissance artists of our time. Patients are our easels, their faces our canvas. We should be creating beautiful works of art."
Thus began Swift's development of the BeautiPHIcation concept, a creation designed to bring out the ideal beauty in any individual face by applying a mathematical principle he calls "phi" to help it gain a particular proportion and definition. "It's based on the concept that ideal beauty might be a universal notion," he says. "It's that divine proportion, the golden ratio, that was used by the Renaissance artists, and that artists and architects have used for ages to achieve beauty. Then, maybe by correcting something on the face here and defining something a bit more there using injectable fillers and Botox, you don't change someone's look, but you make her look the best she can."
When Swift debuted the concept at a medical aesthetic meeting a few years ago, the industry responded enthusiastically to his idea. "It was almost an audible sigh of relief from the audience of aesthetic physicians. They've had the tools all along to do this, but I was kind of giving them a paint-by-numbers way to apply their skills," he says. And while he understands everyone might not subscribe to the golden ratio, or "phi," definition, he explains that a mathematical concept as the basis of his idea, however a cosmetic physician might think best to apply it, is key to restoring symmetry and balance—and thus, beauty—to the face.
Consequently, for the most part, the BeautiPHIcation concept has only seen success, something Swift is quite grateful for. "This was a three-year labor of love that culminated in my receiving the 2009 Medicis Cosmetic Industry Award," he says. "The award recognized me for my 'pioneering work and innovative techniques that have kept Canada at the forefront of aesthetic medicine,' and I'm happy I can contribute at any level to the industry."
Dedication and persistence
The award hasn't meant the end of the work on the BeautiPHIcation concept, however. Swift is currently working on launching a line of skin care products that reflect and assist the "phi" principles, as well as developing the BeautiPHIcation Academy, a series of training seminars to be presented in multiple cities across North America that will familiarize more physicians with the concept and the principles of aesthetic enhancement accordingly.
A faithful proponent of continuing education, Swift sees this as one of the only ways to keep the industry strong, noting the harm poorly trained physicians can do to the medical aesthetic industry. "My practice, during the past several years, has seen an inordinate amount of aesthetically disfigured patients who have been treated by self-proclaimed 'aesthetic specialists,' " he states. "I think it is incumbent upon the medical licensing bodies to establish stricter regulations regarding the practice of aesthetic medicine and hold this field to the same stringent qualifications as other medical professions. We must not tolerate any compromise in patient safety or the ability to produce reliable results. This is an education process that is long and arduous, and it must be directed at both the cosmetic industry supplying the products, as well as the general public."
Because, for Swift, being good just isn't good enough. "If we accepted good enough, we would never have anything great—no Taj Mahal, no Eiffel Tower, no Mona Lisa or Venus de Milo. Kick it up a notch and strive for excellence in every result," he stresses. "We should be beauty maximizers, not just rejuvenators. It's time for cosmetic surgeons to stop being line chasers and really showcase the artistry of what we can do."
To maintain that level of commitment, dedication and passion, Swift often turns to some advice given to him by one of his greatest inspirations, his late father. "Early in my medical career, when the challenge seemed insurmountable, he quoted from Calvin Coolidge: 'Nothing in the world can take the place of persistence. Talent will not; nothing is more common than unsuccessful men with talent. Genius will not; unrewarded genius is almost a proverb. Education will not; the world is full of educated derelicts. Persistence and determination alone are omnipotent.' " And this is advice Swift obviously truly takes to heart.