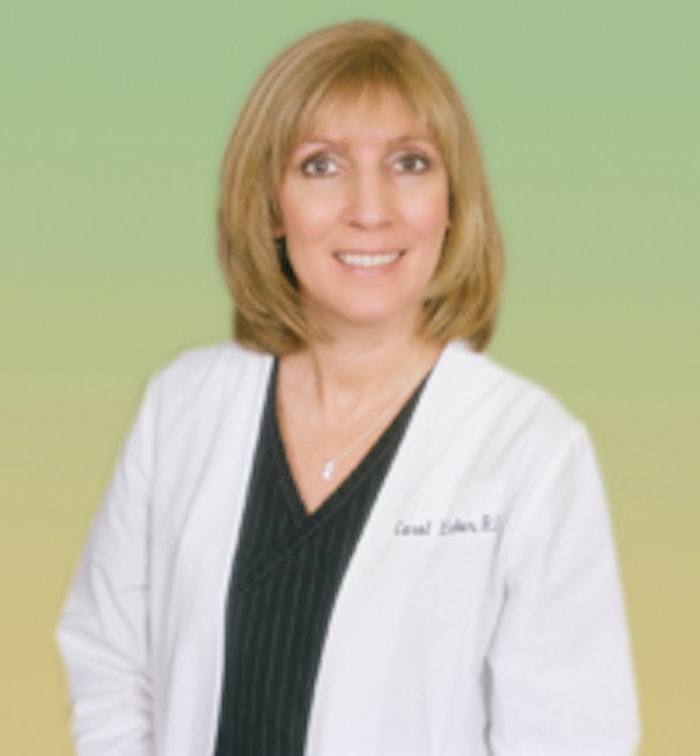 Providing the best patient care possible is of the utmost importance to Carol Ecker, RN, and it's through years of lessons learned that she is able to offer it.
Ecker, now a registered nurse with Clarkston Dermatology in Clarkston, Michigan, received her nursing education from Saddleback College in Mission Viejo, California, graduating in December 2001, and soon after began work at the Children's Hospital of Orange County as a neonatal intensive care nurse. She then went on to Mission Viejo's Mission Hospital Regional Medical Center's cardiac intensive care unit (CICU), but when the long hours began to wear on her, Ecker sought a different path for her skills.
"I hadn't been exposed to too much in regard to the aesthetic aspect of medical care, but I was living in Southern California, so I was aware of it and knew it was something many people did," she says. Ecker began to work with Dore J. Gilbert, MD, a renowned dermatologist with a practice in Newport Beach, California.
"It was a very busy dermatology and laser treatment practice," Ecker notes. "He is a prominent physician in the medical aesthetics industry, and he trained me on the use of lasers." This eventually led Ecker to move entirely out of the hospital arena, building her aesthetic skills.
However, the growing price of real estate in southern California soon found her moving back to her native Michigan in 2005. There, Ecker began working as a nurse trainer with Lumenis, and it was through this position she met her current employer, Wendy McFalda, DO, and started as an aesthetic nurse at Clarkston Dermatology in September 2005. "I work two jobs, as a trainer and as an aesthetic nurse. I like the additional work as a trainer not only because I enjoy teaching, but also because I can meet and interact with others in the industry," she says.
And that hasn't changed in the years Ecker has spent at Clarkston Dermatology, either. "We have a fairly good-sized practice here, so my schedule can be very different from day to day," Ecker explains. "In my office, I do all different laser skin treatments, as well as Botox, fillers, sclerotherapy and other aesthetic treatments such as peels and microdermabrasion.
"I also manage the aesthetic side of the practice, so I interact with product reps, work on our marketing, help plan events and maintain our skin care lines," Ecker continues. And when the practice recently moved to a larger space, it required additional team members. "I worked with the new staff in its training, and still do. I also educate the medical dermatology front office staff on the things we do on the aesthetic side of the practice."
Ecker is also in the daily trenches with McFalda. "She is an incredible role model for me," Ecker says. "She is bright, well-educated and a caring physician. I can always come to her with any questions or concerns I have, and I make sure to introduce her to new patients and let them know they can go to her if they have questions or problems."
The practice sets itself apart with the rapport it creates with patients, so it is essential to Ecker that they feel all their needs are being met. "Aesthetic patients are spending their discretionary dollars coming here, so I will always take care of them first. If that means that I have to stay a little later to finish my charting, that's fine," she says.
Part of that complement of care also involves Ecker keeping up on the industry's latest trends. A member of multiple industry organizations, she seeks out training on a variety of advancements. "It's great to go to meetings to interact with others in the industry," she says. "Some of these physicians have been in the industry for more than 20 years, and it's great to hear the pearls they have to share.
"I love the variety of what I do and that there is always something new to learn," Ecker continues. "I enjoy the people I work with, and I have some really wonderful patients. Really, there are just so many things I love about my job." And with her sunny attitude and dedication to patients, she will likely be offering the best care possible for years to come.