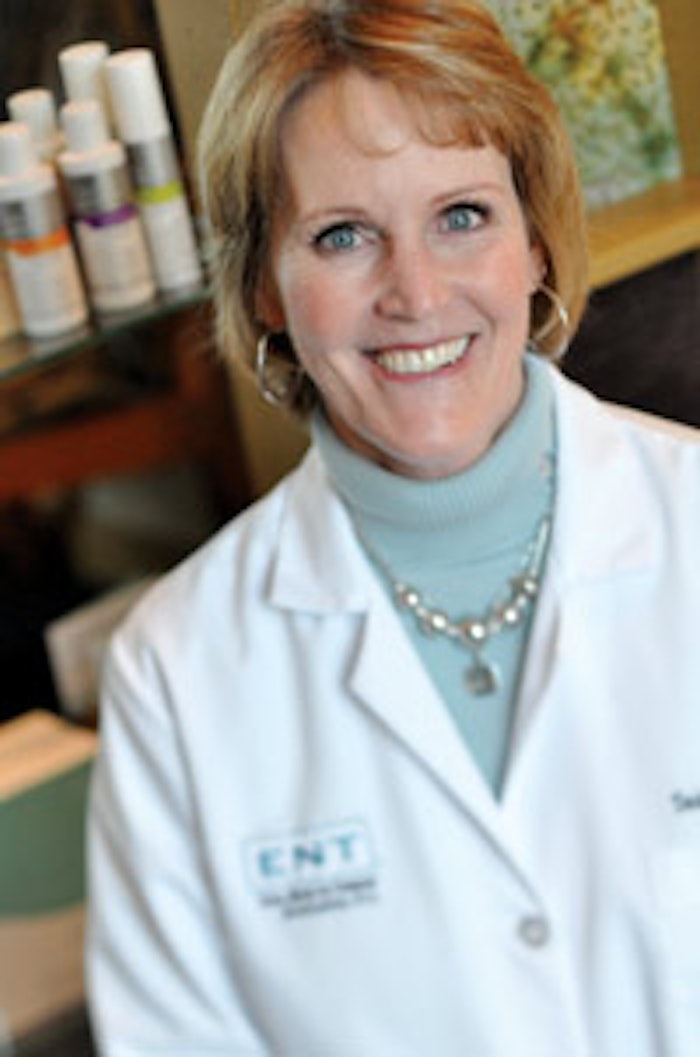 Having been an LPN for more than 20 years in Fort Wayne, Indiana, Deb Scheib has garnered her share of medical experience. Logging time in a hospital and private practices, Scheib has been involved with keeping patients well in a variety of settings, including stints in an allergist's office, a neurology office and in a family practice.
But when she joined the staff at ENT Associates in the facial plastic surgery department and began working with Thomas Herendeen, MD, she felt something click. "I had been working in family practice, but then my physician there passed away, so when I came to ENT Associates, I was very excited to get to work in the cosmetic medical field. In the fields I've worked in, I think it's my favorite," Scheib says.
"I became a nurse because I felt like it was a career in which I could always do different things, and there would always be something new to do or to learn," Scheib says of her entry into the medical field. "Also, I had two aunts who were nurses, and I really admired them." A native of Fort Wayne, she attended Fort Wayne Community School, School of Practical Nursing—now Ivy Tech Community College—earning her LPN license in 1977.
After a few years at a local hospital, she moved on to private practice and then settled in at a family practice. During this time, Scheib worked to get more involved with patients and to continue honing her skills. However, after the family practice physician died, she found herself drawn into medical cosmetics, where she began working in 2001.
Scheib immediately felt the connection. "I love being able to help people feel better about themselves," she says. "It gives me a lot of satisfaction to teach people about proper skin care—how they can do things here and there that can help them totally change the way they feel about themselves."
The new office also gave Scheib the opportunity to challenge her knowledge, allowing her to receive more training and giving her the ability to perform services on her own. "I offer skin consultations, remove surgical sutures, and perform chemical peels and microdermabrasion treatments," she says, and she also assists the physician on a regular basis with in-office surgeries, and Botox and facial filler appointments.
Scheib notes, "We also work together to answer patient questions, and I meet with a lot of patients before they have their surgeries." This close physician interaction is a component of her job Scheib highly values. "If I ever have any questions, or if I am with a patient and see something suspicious, I can always go to Dr. Herendeen and feel comfortable," she says.
Scheib does sometimes find it difficult to call attention to the cosmetic services her department offers due to the larger ear, nose and throat division of the practice. But to combat that, she is active in the community, offering seminars and open houses on the procedures the office provides. "It's just good to keep our name out there, to let people know that we're here and this is what we do, and that this kind of treatment is available locally," she explains.
Scheib also keeps her own professional growth on track as well, attending various classes about medical aesthetic developments. "Even if it's a procedure we don't offer, if patients ask questions about it, I want to be able to answer them knowledgeably," she says.
She also stays up-to-date by being active in the Organization of Facial Plastic Surgery Assistants (OFPSA). Currently acting as the organization's communications director, Scheib aids in preparing for the OFPSA's annual meeting, and loves the opportunity to connect with others in her profession. "We all have the same goal—helping the physician," she explains. "And there are so many different procedures, techniques and products out there, so it's great to bounce ideas off of people I meet."
Ultimately, it's about being the best resource she can be for her physician and her patients. And with her extensive experience and thoughtful, kind nature, Scheib is on track to satisfy many, many patients now and in the future.