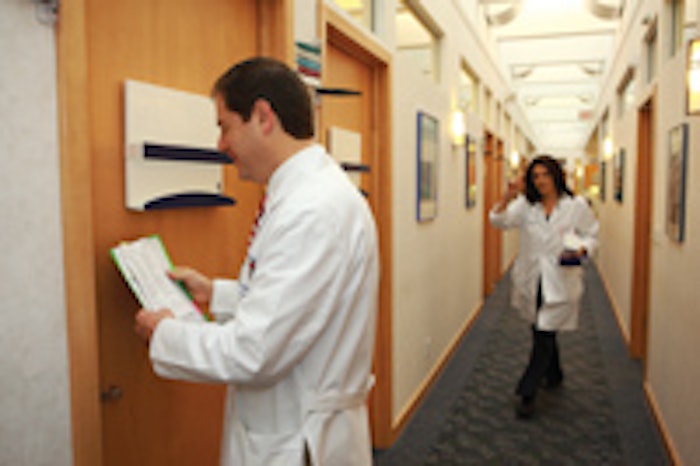 The offices that house the various ventures of Joel Schlessinger, MD, are similar to a labyrinth, with each door leading to a different opportunity for career success. Upon entering the building, if you turn left, you can walk through the doors of the newly renovated Aesthetica Day Spa and be welcomed by an open space decorated with carefully chosen amber mosaic tiles and a layout that is open, yet well-thought-out. If you turn right, you enter through the doors of the Advanced Center for Research, a dermatologic and cosmetic research arm led by Schlessinger that tests and researches various treatments. And if you continue forward, you open the doors to Skin Specialists, PC, located in the middle part of the building. After walking through the waiting room, you enter a corridor with high ceilings appointed with skylights, offering a sampling of the day to patients, and come to the center of the office, which houses the nurses' station, a bustling hub offering an oasis to every professional who works in the building. It is the physical heart of the practice, offering everything from files to fillers for any one of the 39 team members who help run the practice.
This team is something that Schlessinger is incredibly passionate about, making sure its needs are met and its voices are heard, but also working to reach out to its members as people, too. Stories of concerts, movie nights and charity events are told by multiple staff members, who smile at their recollections as they march down the corridor to the next waiting patient.
"We're around such incredible people; we are so fortunate with the people surrounding us in our endeavors," says Nancy Schlessinger, the doctor's wife, who also plays an important role in the practice's hiring and accounts payable. "Endeavors" is a perfect word to describe the efforts of this physician who is finding career recognition and success on his own terms, not allowing his career to run him, but taking the reigns and running it based on time management, priorities and gut instinct.
The decision for dermatology
"Ever since I was five, I knew that I wanted to be a physician, but I had no clue I wanted to be a dermatologist until I was most of the way through my pediatric residency," says Schlessinger, who wanted to be a pediatrician and completed his undergraduate degree at the University of Rhode Island in Kingston, Rhode Island, graduating summa cum laude. He then studied the basic sciences of medical school at Brown University in Providence, Rhode Island. "I didn't love the fact that I would be dealing with really sick kids who could potentially die, and in order to make myself deal with that, I found that I was losing my sensitivity," he explains.
Schlessinger was hoping to work in pediatric dermatology, but he found the specialty wasn't very busy because most pediatricians are comfortable dealing with skin issues in children. "I found that dermatology was a great specialty, and I really enjoy the procedural aspect of it, performing such offerings as sclerotherapy," he says. Sclerotherapy is a technique at which Schlessinger excels, due to the experience he had when learning how to get IVs into premature infants during his pediatric education. He cites dermatologist and mentor Barry Ginsberg, MD, who he worked with during his pediatric residency at the University of Alabama Children's Hospital in Birmingham, Alabama, as the person who taught him the technique. "Back in 1987, Ginsberg had a very cosmetic practice for the time, and he was ahead of the curve because he was into sclerotherapy. He was doing fillers, he was doing quite a bit of stuff that was almost unheard of back then. He encouraged me to consider dermatology as a career, so I applied to a dermatology residency and was accepted at Washington University in St. Louis," says Schlessinger.
Schlessinger next moved to Omaha, Nebraska. "My wife's family is in St. Louis, and I was born in Ohio, so I knew the benefits of the Midwest and its values. Omaha was close to Nancy's family, and my family moved there when I did, so that made it possible," says Schlessinger. In Omaha, he started up his practice in 1992 and has since been named one of America's Top Physicians by the Consumers' Research Council of America and is continuously voted Best Cosmetic Surgeon in Omaha by Omaha magazine. Schlessinger was a past president and one of the founders of the American Society of Cosmetic Dermatology and Aesthetic Surgery, and is also affiliated with the American Academy of Cosmetic Surgery, American Academy of Dermatology, American Board of Dermatology, American Board of Pediatrics and American Society for Dermatologic Surgery.
In spite of being one of his field's brightest stars, Schlessinger stays close to the Midwestern sensibilities that drive his personal and business decisions, working late into the night and exercising early in the morning to maintain the hours of the day for his patients and the hours of the evening for his family, consisting of wife Nancy; 18-year-old daughter Claire, a Brown University freshman; and 15-year-old son Daniel, a high-schooler at the top of his class.
Excelling at efficiency
Since the start of his practice, Schlessinger works to excel in efficiency, looking carefully at how his practice runs and making decisions to manage it effectively, even if that means sometimes bucking popular trends and sometimes adopting them.
When he opened his practice, Schlessinger also opened three satellite offices in smaller locations outside of Omaha. "Satellite offices were a great idea initially. A lot of physicians have them, and I thought maybe I should do it, too, but I realized the efficiency of satellite offices is awful, because you took your most important people, traveled 30 minutes or an hour, set up a place that wasn't optimal and you tried to see patients in a suboptimal manner without your supporting cast or your best instruments or your lasers or any number of other things that make perfect sense to use on a daily basis," explains Schlessinger. "Although many doctors felt it was a good idea because they could gain clientele in an additional town, I felt I was losing money by going to the small areas and not having my full cadre of instruments and staff to make the experience one the patients wanted."
Schlessinger made the decision in 2002 to close his satellite offices, encouraging the patients he had acquired throughout the years to come to his Omaha office instead. "I decided it wasn't in my best interest and that was probably one of the most difficult decisions I've made. Many followed us and throughout time, most of the others who didn't initially follow us have come back. It eventually turned out to be a wise decision, and our strength was being in one area and improving that rather than diluting our reach and our strengths by going to several different areas," says Schlessinger.
Conversely, one of the trends Schlessinger did instantly adopt was the Internet. It opened a world of efficiency for him, because he not only uses it to help manage his time between work and family, but has also harnessed its power to add to his stable of businesses, founding LovelySkin.com, a skin care product Web site, in 1997. "When the Internet became available, I found I could leverage myself even more. I could continue to write and work and take it home with me and do it at hours when the kids weren't awake. It's a terrific thing," he says. When his practice started, Schlessinger was working every day from 7:30 am–5:30 pm and Saturdays from 7:30 am to noon. "This translated to quite a few hours after that in order to finish up paperwork and other incidentals. Throughout time, we have gone to working Monday–Thursday 7:30 am–4:30 pm and Fridays 7:30 am to noon," says Schlessinger, offering proof positive that the Internet has shaved hours off of his business day.
Economic efficiency is another factor Schlessinger has taken into consideration when building his practice, adding many different arms to help ensure economic security. The current recession has helped test whether his business is built for the long haul. "Things like surgical procedures are much stronger this year. It may just be that people are afraid of losing their jobs and their insurance so they're coming in to have moles and acne and warts taken care of, but it's always been my stance that it is important to keep all aspects of the medical practice and the cosmetic practice active so during times of a rainy day, you don't have problems," Schlessinger says. "It's important to have that medical aspect just in case of this type of economy, and we have the research arm that has been very helpful during this time. And even that has shown some signs of erosion, so it just goes to show you can't fall back on one thing and expect it to turn out well."
Supporting strengths
Always seeking to improve his practice, Schlessinger recently made the New Year's resolution to take time to re-educate himself. "I decided to go to a managerial training class called the Great Manager Program at Gallup University," he says. Gallup is a world-recognized, Omaha-based company that has been studying human nature for 70 years. "I have had no business background at all and that was an opportunity for me to think about it for three days straight." During the class, Schlessinger learned how to evaluate his practice and look into better ways to improve staff and practice efficiency. One of those ways was by identifying his team members' strengths using testing at Gallup University, which is also outlined in the book Strengths-based Leadership (Gallup Press, 2009) by Tom Rath and Barry Conchie.
"We've tested all our staff members for their strengths, and Gallup's philosophy is people should work on their strengths instead of their weaknesses. So, for example, if you have a child that is great in math but awful at baseball, rather than focusing on bringing his baseball skills up, work on the math and strengthen the things that will go side-by-side with math, such as physics and chemistry," explains Schlessinger. The revealing test also helps Schlessinger interact with his staff more effectively and offers insight into the types of personalities he's hiring during the interview process.
Diligence and judgment
Beyond business, two of the most crucial elements of Schlessinger's success have been practicing diligence and precise judgment. In order to offer the most well-rounded advice to his patients, he feels it is incredibly important to be dedicated to both dermatology and cosmetic surgery. "I love both and feel it is imperative for dermatologists to keep their hands in both because it's so important to have a background in medical or dermatologic science in order to further improve your cosmetic skills," says Schlessinger. "Knowing dermatology assists me so much if I'm doing a laser case or have a complication with a patient who needs to have an infection treated or a scar treated. Unfortunately, many people go into cosmetic surgery, and they don't have an appreciation or a concern for what can go wrong, and that's an important part of doing it. It's called judgment, but judgment is a combination of experiences that you've had throughout years and years."
This judgment also comes into play in situations that involve being influenced by others in the industry. Schlessinger admits that it can be challenging to trust your own instincts when making decisions that could end up being crucial to your practice and patients. "We all have our inner voice and many times it is the right voice that we have to listen to, but unfortunately, all too often, we don't listen to that voice and are able to go down a wrong path because it is easier to follow everyone else," warns Schlessinger. He recalls trusting his instincts when approached about using questionable lasers and fillers in his practice. "Had we injected those fillers into patients, it would've been a terrible mistake and potentially would have led to lawsuits and other unfortunate occurrences. Sometimes it makes more sense to do something that is contrary to popular opinion," he says.
Marketing is another aspect of the business that requires diligence, says Schlessinger, who personally writes and reviews all marketing and advertising campaigns before they are released to the public. "That's something that's so overwhelmingly important, you can't afford to delegate it, in my mind. There is a fine line when advertising becomes obnoxious or untrue. A physician risks presenting an unrealistic vision of what the patient is going to have done to them," says Schlessinger.
Through it all, he remains steadfast in his own evaluation of his performance. "I don't always look at myself as doing things right; I actually look at myself as doing things wrong and ask how I can improve them. I'm doing well because I constantly critique myself and have that nagging doubt that I'm not doing well. It's important for people to look at themselves critically and welcome that criticism to improve themselves," he says.
Passions
This type of advice and education is something Schlessinger sought to share with other physicians through his conference, Cosmetic Surgery Forum, which was held in December 2009 in Las Vegas. "It is something I have always dreamed of doing because I have strong ideas about how education can be entertaining and informative in dermatology and cosmetic surgery," he says, explaining how he works on offering education in a more spontaneous way, allowing physicians and cosmetic surgeons to interact and really see what others are going through.
Education has always played an important role in Schlessinger's life, stemming from the influence of his top mentors, his parents, who are both retired college professors. He credits them for their parenting skills and their role in helping him realize the importance of his practice. Both play an active part in editing Schlessinger's research articles, of which he has written more than 60, as well as his marketing efforts, and offer guidance for all aspects of his practice. He also has worked for more than 12 years interviewing potential students for Brown University, one of his alma maters, and has served on the local public school education foundation for six years, continuing on an honors committee for that organization to this day.
Fitness also is a passion for Schlessinger, who works out daily at 5:30 am, often with staff members and Ultimate Fighting Championship (UFC) fighter Houston Alexander, at a local Omaha gym. "Believe me, he takes it easy on me," laughs Schlessinger. This passion has also been passed down to his son Daniel, with whom he climbed to the top of Mount Kilimanjaro in Tanzania when Daniel was 14-years-old.
And Tanzania isn't the only travel experience Schlessinger has had with his family. In fact, his son has visited six continents, and his daughter has traveled to five. "We hope to get to the seventh continent before Daniel graduates high school," says Schlessinger. "I think the fact that they both have a keen interest in the outside world and are politically activated and motivated has been in part due to their travels."
Family vacations serve as a time for Schlessinger to relax and write, and of course, spend time with his loved ones. On his MP3 player, Schlessinger listens to his favorite music, ranging from Steely Dan and other classic rock artists, to Broadway sound tracks from musicals such as Wicked, to country artists such as Shania Twain. Preferring to read fiction, Schlessinger recently finished Life of Pi (Harvest Books, 2003) by Yann Martel and is currently reading the nonfiction Outliers: The Story of Success (Little, Brown and Company, 2008) by Malcolm Gladwell. Never one to shy away from technology, Schlessinger also is currently in the market for an Internet reader, such as an Amazon Kindle. "I've always enjoyed technology, and one of the things that has driven me to improve my practice is technology. That is the reason I started my Web site and integrated the Internet as early as I did," he says.
A support system
In the future, Schlessinger would like to go into practice with his son and continue writing to sum up some of his experiences in order to help younger people going into the profession. He also plans to continue to balance his priorities. "I see some of my colleagues giving up their practices for professional stardom, leaving their families to fend for themselves. I'm extremely lucky to have a wonderful wife and family who have been incredibly supportive of me. That, along with my long-standing staff, many of whom have been with me since the beginning of my practice, is truly the secret of my success," says Schlessinger. "After all, once the meetings and hoopla of living an examined and reported professional life are over, what is left? Your family, friends and practice. All too often, they take a backseat, and I have tried hard to make sure that doesn't happen." With Schlessinger's eye on priorities and efficiency, his practice—and the people involved in it—promises to thrive for years to come.