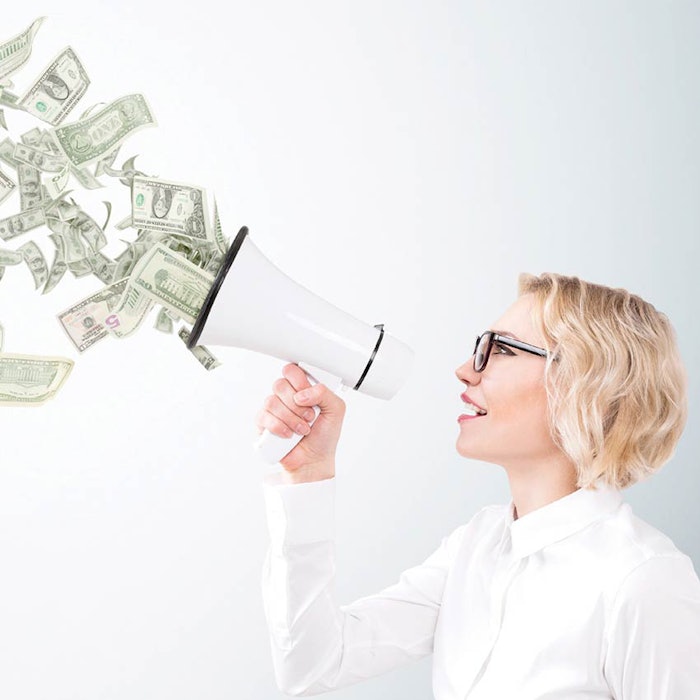 When you own a small business, every dollar needs to be wisely spent, including marketing dollars. The tough news is that traditional marketing can be expensive. The good news is that creativity can help you market your medspa successfully without spending big bucks.
Forming Your Plan
Before jumping into the various marketing channels, you'll want to keep two important business rules in mind: the budget and tracking results.
1. Develop a Marketing Budget
Most business models suggest spending between 6–8% of gross revenue on marketing, which may fluctuate. When you first open, for example, this will be higher. As a business owner, it is important to track this number and adjust it accordingly.
If you are only spending 3–4%, you might not get as many new customers as you'd like. If you are consistently over 10%, consider turning to less expensive options, and see if you get the same results.
It's also important to track the average amount spent to get a new client in the door. You do this by dividing the total spent on marketing during a certain period (say a month) by the total number of new clients during that period. Knowing this number is valuable. If your average is $200/new client, and you spend $6,000 on a newspaper ad that generates 30 clients, you are where you want to be. If it gets you 15 new clients, that wasn't a good return on your marketing dollars.
2. Track Your Results
The tough part about marketing is tracking it. An old adage says, "Half of my marketing is working, but I don't know which half." Studies have shown that potential clients need to see or hear a business' name an average seven times before they call. Obviously, ask every client how she found out about you, but keep in mind that the answer she gives is likely only one of the seven sources.
Take your marketing statistics with a grain of salt and use them only as a tool. If you put several ads in the neighborhood newspaper and are getting more phone calls than usual, consider keeping the ads going even if those clients state they found you through the internet. It is likely that they read your ad, then went to the internet to look at your site and reviews, and then picked up the phone.
Now that you have a marketing budget and an understanding on how to track your results, let's look at the three marketing channels you can use to promote your medspa.
1. Internet Marketing
Across the nation, medspas get most of their customers through the internet. Knowing this will help you target your dollars. Today's consumers rely on internet searches and reviews. Spend some time (and money) making sure you have an attractive and easy-to-navigate website. Here's how.
Create easy-to-read content. Write the text as though the reader knows nothing about esthetics. Don't assume that words or phrases, such as "IPL" or "poor texture," will be understood. Instead, use "a treatment to minimize brown spots" or "rough, dry skin." Each page should contain an online form potential clients can fill in if they want to be contacted or added to your e-mail list. Consider offering new client discounts and/or military discounts—make sure those are visible on all web pages.
Establish trust with people browsing the internet. In today's world, those of us who market our businesses need to realize that our role is one of a "trusted advisor." Marketers no longer control what customers know because knowledge is easily found on the internet.
Present information on your website that is relevant, easy to understand and that helps to establish a trusted relationship between you and the internet searcher. Using tools such as videos and before-and-after pictures on your website, blogs that are informational, and newsletters will all help give clients the information they want to trust that you can solve their skin problems.
Take advantage of search engine optimization (SEO). To maintain good visibility on the web, you likely will need to do some cost-per-click (CPC) advertising. However, with a bit of time and energy, you can maximize your organic presence through SEO.
To do this, write your website in a way that drives search engines to you. For example, if you want everyone who searches for "laser hair removal" to find you, those words need to be repeated as often as possible on your site. The more times search engines find "laser hair removal" on your site, the higher your spa will be on the organic (i.e., free) search page.
Answer internet reviews. Internet reviews are important for driving new customers into a business. An important aspect of handling reviews is to answer each one of them. Thank clients for their positive reviews and address the negative ones. If a potential client is looking at your reviews and sees that you have answered a negative one professionally and with courtesy, that can put a positive twist on a tough situation.
You can soften the effects of that comment when by replying, "We take all of our clients concerns very seriously. Someone will be getting in touch with you to schedule a follow-up appointment so we can correct your negative outcome."
We all get occasional negative reviews, so handle them in a way that minimizes the damage. Ask existing clients to post reviews on Google, Yahoo and Bing. Consider using a resource, such as Constant Contact to send a survey to each client after her appointment. Post positive comments on your website and change these frequently so that visitors will see an assortment of different, great comments.
2. Word-Of-Mouth Marketing
Another popular way medspas get their clients is through word-of-mouth, both from your clients and other businesses in your neighborhood. Plus, it is the cheapest marketing you can get, even if you have to spend a few dollars. Even a $75 referral reward is still cheap marketing for you. You need to make the reward an amount that is significant enough to encourage existing clients to talk about you.
Get current clients involved. Current clients already like you and know you, so don't forget about them! When you bring in a new piece of equipment or new products, invite all your clients to a Lunch & Learn. Offer discounts to clients who attend and book the new service or buy the new product that day.
Market via e-mail. E-mail blasts are an inexpensive way to communicate with existing clients. Be sure the subject line makes them want to open the e-mail. Using words such as "free," "must-have," "amazing" and "act now or limited time only" will improve the chances that the e-mail is opened.
Make sure the blast is visually interesting, contains a "call to action" and has your branding. When a client opens your e-mail, she should know immediately that it came from you, even without reading your business' name.
Don't oversaturate your customers with e-mails or they will stop reading them. Generally, about one a week is respectful of their time and allows them to maintain an interest in reading them.
These parties can include a skin cleansing, a mild lactic peel, application of some of your products and a touch-up with your makeup artist. Serve wine and food and make it a fun event that women want to attend. The goal isn't so much to make money on the entrance fee, but to encourage women to bring their friends.
You can also tell existing clients that, if they bring a friend to their next appointment, both of them get a reduced price on their treatments. Be sure to capture the new client's info so she can be added to your database, and always send them out with your service menu in hand.
Reach out to neighborhood businesses.Referral fees can also be used to generate new clients from other businesses. For example, give each of the stylists at the local hair salon your card and have them write their names on the back of it. Anytime a new client comes to you and presents that card, the stylist gets a referral fee. Stylists love pocketing enough referrals for a free treatment.
Donate to charitable organizations. You can donate a medical grade facial or a package of underarm laser hair removal treatments to a silent auction with little cost. You have spread your name to everyone attending the event and have created goodwill among the organizers.
Organizers of charitable events often share their supporters' names with other event planners, increasing the chances of your name getting spread around. In addition, whoever places the winning bid on your donation becomes a new client.
You probably won't be paid a speaking fee, but you will gain exposure at no cost. Only do this if you are a relaxed, fun public speaker. If your audience perceives you as nervous or boring, they won't want to come to you for treatments.
3. Traditional Marketing
In general, TV and large newspaper ads are expensive and don't get good returns. Start out small by marketing to the media in your town.
Reach out to local media.Small neighborhood papers can be an excellent medium. These papers don't cost as much and reach an audience that is physically close to your business.
Place an ad in directories.Putting an ad in the local schools' directories or newsletters can also be inexpensive and effective. Parents like supporting businesses that support their kids.
If you offer teen-appropriate treatments, consider giving a discount to all junior and senior high school students. You will gain exposure to their moms, who will appreciate that you are helping their children.
Offer to sign the moms up for your newsletters and e-mail specials to capture their information or schedule them for a free consultation during their child's treatment.
Keep ads generic. When you do print ads in papers or newsletters, make them somewhat generic. Instead of printing an ad that only mentions injectables, list several services that you offer. This allows you to expand the number of readers who will be interested in what you are offering. Always mention new client or military discounts.
Marketing is an ongoing challenge, and one that needs full attention from any business owner. You must constantly monitor what is and isn't working. In addition, consistently updating your website, newsletters, blogs and social media presence is imperative. Keeping your ads interesting and fresh while maintaining your unique branding can be challenging, but is important. The good news is that the attention paid to the details of your marketing campaign will pay off by bringing in new clients, which can be done within a reasonable budget.