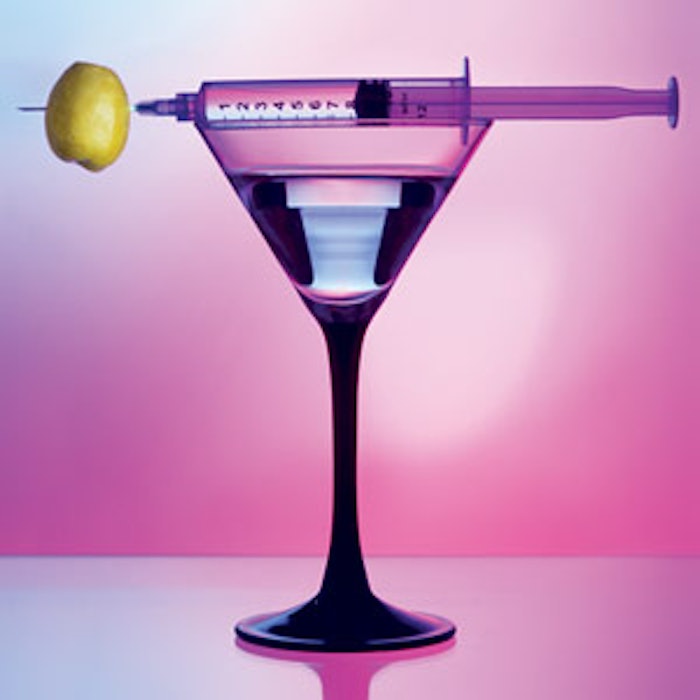 Medical Spas have grown more than 700% in the last 10 years, according to the National Coalition of Estheticians, Manufacturers/Distributors and Associations (NCEA).1 Well-trained estheticians are in high demand by physicians who want to pair up esthetics with medicine. A survey conducted by Allergan revealed that 83% of women want to look as natural as possible to better reflect their personalities and emotional well-being.2 This is great news for medical spas. A Technavio report showed that rather than going under the knife, women want more non-invasive alternatives—and they want these alternatives in a stress-free environment.3 What does this mean for medical esthetics? Well, steady triple figure annual growth within the next 10 years, for one.
Enter Medical Esthetics
The end of the 20th century saw a drastic spike in sophisticated skin care ingredients, formulations, modalities and drugs, largely due to the demand for anti-aging efficacy. This technology began to morph the spa industry, and medical spas emerged as a new category. Medical spas entered the scene in the 1990s to combine popular esthetic treatments with non-invasive medical procedures. A lot has changed since that time. Remember when microdermabrasion was first introduced to estheticians in 1990s? They were done by a doctor, such as a dermatologist, but that has all changed in today's esthetic landscape, and more changes are in the pipeline.
Medical estheticians are no longer working in just medical spas, but have positions in a variety of clinics. It was a long and harsh journey for its acceptance in the beauty industry that we clearly have to sympathize with, but it is here to stay and progress. They are being employed at dentist offices, hospitals, health clinics, etc. Medical estheticians are being requested in dermatologists' offices, where they were once competing for the same clients. Let's face it, doctors cannot work alone and can greatly benefit from an esthetician's expertise. Both working together as a team will ensure that they provide the client with the most advanced treatment and knowledge for a top-notch experience. We can expect to see this trending career expand into a world of its own in the near future.
Who Is the Medical Esthetician?
A medical esthetician, also known as a paramedical esthetician, differs somewhat from the standard esthetician. There is a lot of confusion that comes into play when using this title. Medical estheticians are not medical professionals and do not perform medical services; therefore, performing a medical procedure under the delegation of a healthcare professional falls outside of the esthetician's scope of practice. At this point, they are no longer working as a licensed esthetician but more like a medical assistant, which requires additional licensing in most states. Even though a medical esthetician is in a clinical setting, they should only be performing services that are allowed under their state license.
Although there is no such thing as a medical esthetician license, additional hours and course of study are required, and they do vary substantially by state. It starts with a two-year degree in continuing education that goes beyond the spa setting. These programs introduce students to more advanced techniques with a clinical experience.
Education and Specialties
To advance in medical esthetics, you must first determine where your specialty will lie in the clinical environment. Medical estheticians are trained to treat and recognize specific skin conditions and find the solution. However, it is important to accept that this is a career where you are constantly learning and improving.
The medical esthetics field incorporates but isn't limited to: advanced body wraps, chemical peels, lash extensions, camouflage and airbrush makeup, microcurrent, ultrasonic and other techniques, just to mention a few.
Aspiring estheticians who are determined to follow this route will specialize in diverse treatments for dermatological and surgical conditions. Some of these treatments include chemical exfoliations and the use of medical devices while working alongside a doctor. With high-tech skin care evolving and the demand for non-surgical treatments being more and more requested, the rise of the medical esthetics will surely be noted.
Estheticians who decide to go into this field will have the opportunity to gain exposure by observing cosmetic surgeries and facial procedures performed by a doctor. The more exposure and knowledge you have in the medical field, the more value it will add to your career as a medical esthetician. Estheticians who do decide to pursue a career in the medical setting have to follow the standard steps that involve getting the right kind of training and advanced credentials through continuing education. They must enjoy working with people with a focus on skin consultations, accessing the skin and providing safe, effective treatments under the supervision of a healthcare professional.
The Medical Spa Client
Consumers are becoming much more educated when it comes to taking care of their skin and the ingredients being used in their products. People are looking for quick solutions to looking younger and more attractive. The cosmetic surgery field has boomed into a multimillion dollar industry in the past several years, but the request for non-surgical procedures is growing like wildfire. This is where we put all of our advanced experience to work.
With the rapid growth of wellness, there is also a demand for holistic, spa treatments in clinical settings, another opportunity for medical esthetics.
The growing demand for technological innovation with a holistic approach is astounding. With millennials now making up a large percentage of the consumer population, the possibilities are endless.
The Future of Medical Spas
Medical spas, also known as medspas or medispas, are a steadily growing sensation all over the world with so many possibilities. More spas are converting to medspas to offer more options in medical procedures to clients that want to take it a bit further.
Estheticians entering in the medical field are a growing trend, and the need for medical estheticians continues to grow. We will see more demand for their skills and educational background in the near future. Knowledge is power, and advanced learning in this field is worth researching.
References
www.ncea.tv/
www.multivu.com/players/English/7334951-allergan-shespeaks-survey-reveals-what-u-s-women-really-want-to-know-about-botox-cosmetic/
www.skininc.com/spabusiness/medicalesthetics/Global-Med-Esthetics-Market-Anticipating-a-Boom-373929021.html
(Websites accessed June 1, 2016)
Ada Lamela is the global corporate educator for Pevonia International, where she has served for two years. She is a licensed facial specialist with an associate degree in natural health.