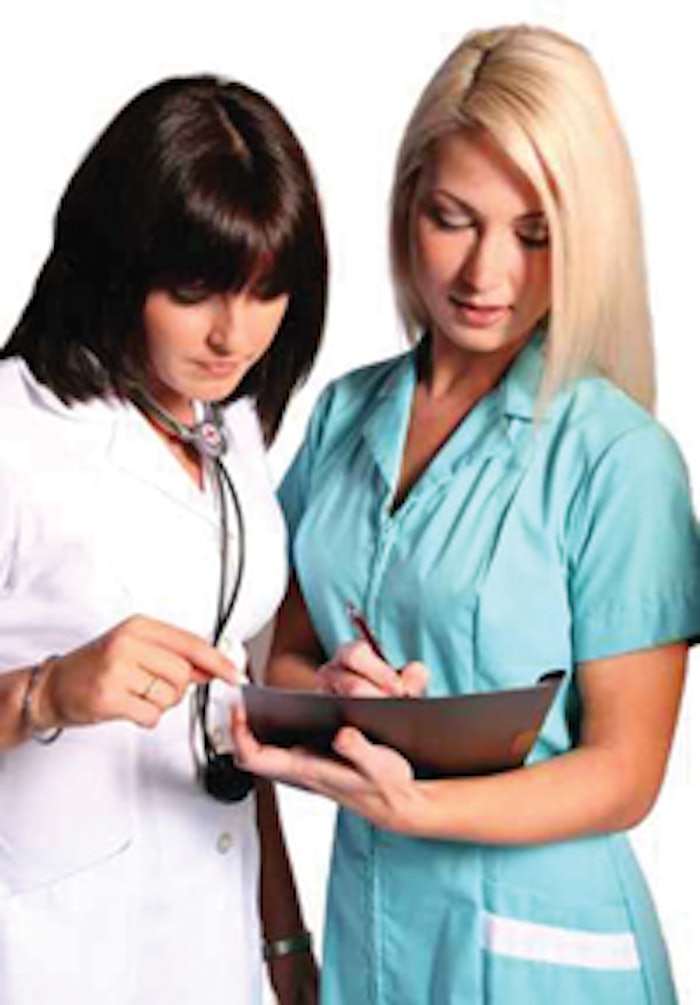 In the ever-expanding field of medical esthetic services, licensed estheticians have come a long way since the days of working as beauticians for Helena Rubenstein in the early 1900s. Traditionally employed by day spas offering pampering facials or makeup artistry services, estheticians are finding a wealth of career opportunities with the worldwide growth of medical spas and other health care offices. Because only about two-fifths of skin conditions are evaluated by dermatologists, estheticians have the opportunity to be an essential facet of the skin care team.1
Career options for estheticians who wish to focus on clinical esthetic treatments include positions in cosmetic surgery or dermatology practices, outpatient clinics, hospitals, laser centers or medical spas, in addition to starting their own private esthetic practice or day spa. The latter two options are limited by state laws for a variety of treatments, such as the strength of chemical peels that are performed without medical supervision. It is important to check with your state's board to confirm the scope of your license. (Editor's note: For more information about what your state requires, log on to www.SkinInc.com/education/statelicensing to obtain contact information for your state's board.)
Although not a requirement to obtain employment within a medical practice, a licensed esthetician who also has a medical assisting or nursing degree is more likely to get hired. Some states allow medical assistants to administer injectables, such as botulinum toxin and fillers. Because regulations vary in each state, some physicians and medical spas will train a licensed esthetician to perform these types of procedures under their malpractice insurance umbrella. However, regardless of insurance coverage, estheticians are not legally allowed to inject anything into anyone. Lack of knowledge regarding state law limitations for your scope of practice does not protect you from litigation or criminal prosecution, so be sure to know your legal limitations before agreeing to perform any type of questionable treatment.
In a clinical setting
A typical day for an esthetician in a clinical environment includes skin care consultations and analysis, assessing each patient's personal skin care goals and recommending a plan of action to reach those goals. Often, estheticians are a patient's first point of contact, because patients will often see estheticians for services before seeing the physician. With a trained eye, the esthetician is able to recognize—but not diagnose—certain skin diseases and abnormalities that require medical attention. Because 21% of children1, 2 and 39% of adults3 are afflicted with skin conditions, at least intermittently, recommending home care products to improve the skin and fortify its health will strengthen the esthetician's business and patient loyalty.
Surgical consultations may be provided by the esthetician to help develop patient relationships and to communicate realistic expectations. Estheticians also offer pre- and post-operative skin care, corrective skin care or makeup artistry for patients with burns or disfigurements, and they often serve as liaisons between physicians and patients. The esthetician helps to reinforce home care protocols and the proper usage of medications while providing education to the patient, as directed by the physician.
If the patient's plan includes surgery or laser resurfacing, estheticians will assist in outlining proper pre- and post-treatment care in order to help the patient attain optimal skin health before surgery and to prepare the skin for post-procedure healing. They will also document patient progress with before-and-after photographs, and record treatment notes in the patient's chart. Under the physician's recommendation, the esthetician may provide deep cleansing facials before surgery, followed by soothing facials to help the skin heal after surgery.
In a dermatologist's office. In a dermatologist's office, the focus is much more clinical than in a cosmetic surgery practice or a medical spa, and the esthetician often is more utilized as a medical assistant. While the physician administers advanced chemical peels in this environment, the esthetician performs simple facial cleansings, assists during surgeries, performs extractions and keeps supplies stocked.
In a medical spa. In a medical spa that is attached to a physician's office, an esthetician may be assigned to manage the product retail center, and will assist in choosing and selling professional cosmeceutical lines. Estheticians often provide makeup consultation services for post-procedure camouflage, and in a physician- or nurse practitioner-supervised medical spa, some states allow a licensed esthetician to provide laser therapies, such as laser hair removal, vascular, spider vein or intense pulsed light (IPL) treatments, along with body-shaping procedures and treatments for improving the appearance of cellulite.
Unfortunately, due to abuse by inadequately trained spa professionals that has resulted in client injury, many states have had to tighten laws that control procedures performed by estheticians. The requirements for training and having a physician on-site are being enacted and aggressively enforced in many states.
7 tips for success
Following are seven tips that can help estheticians interested in entering the medical arena enjoy a successful and fulfilling career.
1. Estheticians who work with physicians should take a more scientific approach to skin care. Take the time to educate yourself about dermatology and medical terminology to reinforce the physician's trust in your abilities. Other related experience or training in related medical fields may help, as well.
2. Practice clinical methods when working with a physician, using sterile techniques and time-tested modalities.
3. Respect when a patient needs dermatological attention instead of esthetic care. Never try to second guess a physician's diagnosis or protocol, and admit when you don't understand something. The working relationship between physician and esthetician must be based on mutual honesty, trust and respect for each other's professional standing.
4. If you ever have a question, such as why a particular protocol was followed or diagnosis given, ask privately, in a diplomatic manner, away from patients and other employees.
5. When looking for a working relationship with physicians, it is important that they are board-certified or board-eligible in their specialties. Associate yourself with an established specialist who respects an esthetician as a true skin care professional.
6. When interviewing with physicians, research their specialty and what types of treatments are offered in the practice. After getting to know the doctor, ask to observe procedures in order to have a better understanding of the protocols followed.
7. During the interview, keep in mind that you are interviewing the physician as much as she is interviewing you. Will your personalities work together? Is the doctor gracious, warm and receptive? Does she have a working knowledge of esthetics, and what an esthetician can do for her practice? Is the physician willing to support the esthetician, and is she comfortable referring patients for services or products?
Plastic surgeons and cosmetic dermatologists are able to offer complete patient care when they combine esthetic services with the procedures they perform.
Realize the value
Today, calling a licensed esthetician a "beautician" or "facialist" is as outdated as calling a flight attendant a "stewardess" or "air hostess." When an esthetician becomes part of the medical spa or health care team, the business expands to include long-term age management programs, as well as esthetic treatments. Because of their specialized training and skill set, medical offices are realizing the value in adding licensed estheticians to the staff. As long as people feel the need to remove unwanted hair and fight the visible signs of aging, or want to improve the health of their skin to maximize their beauty, esthetics and health care will continue to be a very rewarding partnership.
REFERENCES
1. Elidel Cream 1% slide lecture kit, Novartis Pharmaceuticals Corp, New Jersey (2002)
2. CR Thornfeldt and AP Winnie, Viewpoints in Dermatology: An evaluation of safety criteria in management of mild to moderate atopic dermatitis, The Adjuvant Group, New Jersey 1–50 (2004)
3. TM Rünge, Ultraviolet Light, Dermatology, London, Mosby, 1353–1363 (2003)
Carl Thornfeldt, MD, FAAD, is founder and CEO of Episciences, Inc., the manufacturer of Epionce skin care. He is also co-author of the book The New Ideal in Skin Health: Separating Fact from Fiction (Allured Books, 2010).