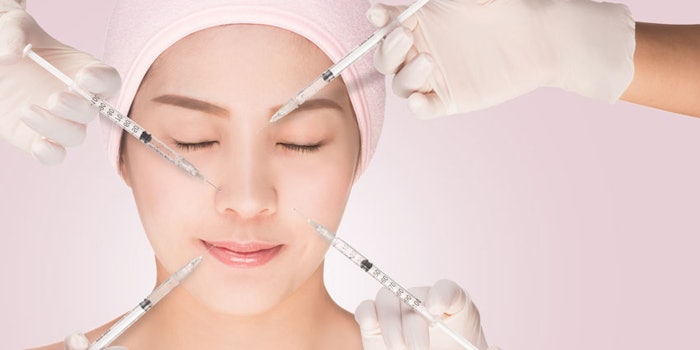 The American Academy of Facial Plastic and Reconstructive Surgery (AAFPRS) released the results of a survey showing that Botox, fillers and skin treatments were the top non-surgical treatments of 2018. Of the people who participated in the survey, roughly 96% said they received Botox, 91% said they received fillers and 87% said they received skin treatments.
Building with Botox
Millennials have been a strong factor in medical spa boom, and this isn't going anywhere, with the average number of surgical procedures almost doubling since 2013. More specifically, Botox injections have risen 22% since 2013. The AAFPRS is taking this increase as a sign that facial tweaks and treatments are going to continue and sought after at a marathon pace. Botox was also ranked the most popular procedure overall by both men and women.
"This points to the larger 'pre-juvenation' trend with more and more patients wanting to remain youthful rather than turn back the clock on signs of aging later," says Phillip R. Langsdon, AAFPRS President. "Our younger patients are controlling the aging process and taking prevention seriously."
Fun with Fillers
The second most-popular, non-surgical treatment really comes as no surprise as the AAFPRS notes how "70 is the new 50 and 40 is the new 25." Thus, many clients are looking to defy aging stereotypes by seeking out filler treatments. In 2018, 72% of facial plastic surgeons saw an increase in cosmetic surgery or injectables in patients under 30, which is a significant increase from 2017. Fillers were also ranked the second most popular procedure overall by men and women closely following behind Botox.
As odd as it may seem, patients have become obsessed with the 'natural-look,' which has caused them to seek out injectable treatments like Botox as well as fillers. "Injectables are only increasing in popularity and this is because of the subtle, yet noticeable visual result they deliver for a relatively affordable price tag as compared to surgical options," says Langsdon. "Neuromodulators and fillers have little to no downtime, so they are an easy, unintimidating gateway for patients into the cosmetic surgery world."
Sassy with Skin Treatments
Numerous treatments fall under this category including  chemical peels, microdermabrasion, laser and light treatments. The AAFPRS notes how millennials have taken a large interest in 'pre-juvenation,' which means they take their self-care very seriously. This is one of the reasons skin treatments have soared, with many millennials wanting to take care of themselves and their skin on a regular basis. 
The 'natural-look,' previously mentioned with fillers, also plays its part in skin treatments. People are looking toward lasers, peels and microneedling treatments to help enhance their natural, no-makeup look.