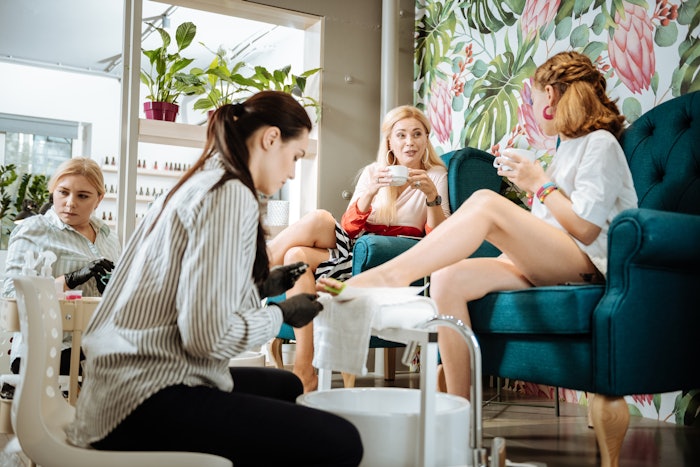 Think about when you were a kid and wanted to open a lemonade stand to make a few bucks. Where would you set up your stand? At the corner of a busy intersection, or at the end of a dead-end street with only two homes? Duh! Choose the latter and you'd probably make about two sales all day. No matter how good your lemonade is, if no one knows you're there, you won't be successful.
That's why knowing how to drive traffic to your business is so important. You're only going to do as well as the size of your audience AND how well you're able to capture and keep that audience. When you do it right, it's a win-win because if you love what you do, the more you do it, and the more you positively influence lives by beautifying people and making them happy, the happier and wealthier YOU get. So, buckle up and let's talk about driving traffic.
Getting Started
Building an audience might at first seem like a guessing game but it's the exact opposite: in fact, I have it down to a science! Let's break it down into simple steps:
Do your research – know exactly who you want to target and where they are. Just as you wouldn't want to set up your lemonade stand just anywhere, the same goes for your business location. As an aside, let's say you've already committed to a spot; if so, you'll have to do some "reverse engineering," which means you'll need to determine what the greatest needs of your target audience are in that area, and home in on how you can satisfy those needs. Jump in, wanting to thrill your target audience with what you have to offer and this will make them, you and your business as happy as possible.
Once you've defined your ideal client, make sure you're located in the middle of your target audience

, and make sure none of your competition has what you have. Be unique and appreciated. In the aesthetics world, customers tend to favor driving the least amount of distance for services. The closer you are to your target audience, the more successful you'll likely be.

Choose your treatment options and product offerings carefully

– consider this step as similar to a matchmaking game. For example, you want to match your offerings to your target audience. If your target audience wants to tighten skin and get rid of fine lines and age spots, and you're the only person in your area who offers certain anti-aging treatments and products, you'll make out like a bandit because everyone will have to buy from you.

Put together some deals that people can't resist – and that they need.

Determine the problems your target audience wants to resolve and offer them solutions. Then get those killer deals out there – on every media platform possible.

Think of an interesting angle regarding why the media might want to feature you.

Free publicity can be one of the biggest boons for your business. When you consistently keep your messaging about how you're solving problems and changing people's lives, the press will want to feature your "feel good" story. Also, free press gives you a great deal more credibility. Simply Google "how to write a press release" and you can instantly become your own PR agent.

Master your on-camera presence.

You don't have to be a professional photographer/videographer to get your vibe across, take away the mystery of how beautiful your workspace is, show how delightful you and your team are, and how you're going to help your clients and make them feel fantastic.

Learn how to post your videos, including moving and/or other beautiful content.

Setting up social media platforms couldn't be easier, but if the thought overwhelms you, enlist a friend. I guarantee you know at least five people who are semi-pros at social media! If not, however, consider hiring someone who knows how to deliver content that gets seen, trusted and loved by your desired audience.
Summary
When it comes to driving traffic and building/keeping an audience, success is definitely within your reach. Follow your passions and try these seven simple steps – and drop me a line to let me know how your lemonade stand is doing.
Louis "The Laser Guy's" Three Additional Tips for Driving Traffic/Building Your Audience:
When sending out press releases, make the media contact's life easier by including awesome videos/pictures that "show, don't tell" what makes you unique. Remember, a picture is worth a thousand words.

Post on social media (again, using videos/pictures) at least a few times every week; even better, post daily.

Engage with your social media audience by answering their questions and offering solutions whenever possible.
Louis "The Laser Guy" Silberman is CEO/Founder of National Laser Institute, a cosmetic laser and medical esthetic training institute. He is the owner of medical spas in Scottsdale, Arizona, and Dallas, Texas, and a nationally recognized author and motivational marketing speaker. Silberman created the 6th most visited online health site and was a semi-finalist for the Ernst and Young Entrepreneur of the Year Award 2014. Most recently, he created "Louology, the science behind crushing it in aesthetics, in beauty and in life," designed to help aesthetics and beauty pros stay connected and build thriving practices. He can be contacted at [email protected] and followed on Instagram @ louisthelaserguy.