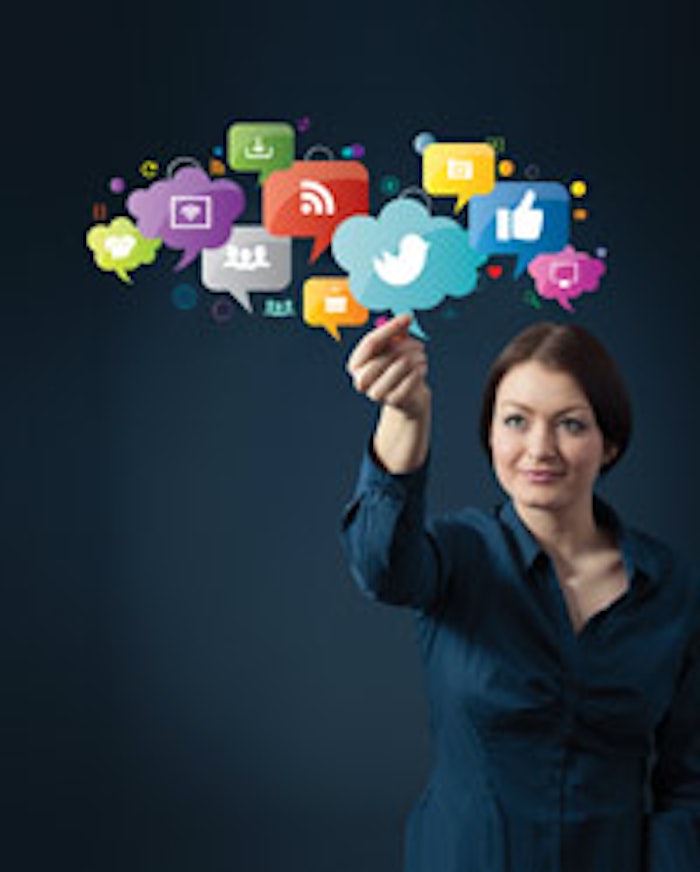 The days of selling beauty solely on the aspirational promise of flawless skin, red carpet-ready makeup and supermodel looks are so 2005. All that changed when Facebook came on the scene a decade ago.
The landscape of digital marketing and social media has evolved so rapidly it has become tricky for marketers to strategize ahead of time. Social media demands a spa's marketing strategy extend beyond simple budgeting and planning to include adaptability, spontaneity and dynamic competitive insight. Some may still question the return-on-investment (ROI) of social media, to which brands such as Aveda respond with: "Our overall social goal is not sales; instead, we use it to create personal relationships." Today, if a spa is only centered around a sales structure, it is missing out on the true value of social engagement.
It is critical to incorporate and mobilize clients in ways that make them feel part of your business, rather than just on the receiving end of it. It comes as no surprise that the face of spa marketing has changed, and there is no better time than now to brush up your social media marketing tool kit to ensure you aren't falling behind your very own clients.
Tip No. 1: Keep it easy on the eyes.
Smart brands have learned to maintain an engaged—rather than simply a large—following, particularly in an age when Twitter and Facebook followers can be purchased. Facilitating discussion is a two-way street, and it is much more effective for brand equity than simply accumulating a large volume of fans who do not interact with a brand. Hosting a live chat or skin care Q&A with your lead esthetician or supplier educator on your Facebook page is an example of solid engagement.
One easy tip: Keep it visual. Let's face it, for an average client in a bustling world of infinite scrolling, seeing images is faster and easier than reading words. Photos reportedly get 50% more interaction than other content and 10 times more shares.1 Many spas are already capitalizing on user-generated visuals, featuring before-and-after photos (with permission, of course), as well as constructive feedback exchanges. Some brands even encourage Instagram users to post selfies with favorite products, along with relevant hashtags.
Beyond still images, video is poised to revolutionize the way clients share. Although video has traditionally been used in skin care for testimonials, demonstrations or advertising, Instagram and Vine are enabling viral marketing and personal sharing, respectively. Even Snapchat has enabled video, and Facebook continues to improve its video platforms, making video the next "it" platform for marketers to tap into. As such, marketers are increasingly launching video contests, viral 15-second ads, and clippings of commercials and products that entice viewers to view more.
Tip No. 2: Execute consistent, yet customized messaging.
No two social platforms are the same, and strategies for each of them should reflect that reality. Twitter is a 140-character text medium ideally suited for replies to fans, promotions with links and hashtags for virality. Pinterest brings the visuals to life, with little room for inserting marketing links. Spas need to have a consistent thread running through all marketing mediums.
The key is to ensure brand cohesiveness across platforms by using them as different outlets for the same story. Content can be shared across channels—tpicweeting pins, pinning Instagram posts—which is the simplest way to ensure consistency.
When Clinique launched its Chubby Stick color lip balms, the tagline "Make someone smile" and the ad were on Pinterest, but the Facebook page had a longer claim and reason-to-believe statement, mentioning Pantone color research and including a link: "Lips speak volumes when they're wearing Pantone's Color of the Year; go sheer or intense in these Radiant Orchid-inspired Chubby Stick shades." On Twitter, Clinique merely placed a season-specific photo of its product. Three strategies on three platforms for one product launch. Similarly, Urban Decay frequently syncs its tweets with its Facebook posts. For example, it called for New Year's resolutions from fans and followers, all while sharing product tips and ideas.
Consumer segmentation can be a useful guide to decide which content to leverage on which platform, because it can indicate how clients respond to and think about brand perceptions in different channels.
A skin care study by SKIM showed largely talked about brands such as Clinique and L'Oréal Paris had positive perceptions, while those for Aveeno and Dove could be improved. But even these insights varied by platform. Brand loyalists may be more in sync with Twitter, while new users may enter via Facebook. The tonality and messages are similar, but the strategies are distinct.
Essentially, it's about building a community around your spa, both overall for the brand and then per platform if differences in audience behavior are noticed. Me Bath! refers to its fans as MBAs, a whimsical term considering its alternate acronym. A recent Facebook post from the brand suggests this name was also picked by fans, an effective use of crowdsourcing and engagement: "A long time ago we had YOU, our fans, 'name' themselves. They chose MBAs 'ME! Bath Addicts' because they are smart, sophisticated, and fun! Thank you all for being such wonderful fans."
Tip No. 3: Social is not sales.
Social media is not exclusively a sales channel. Sure, new product launches or sales can be promoted via social media, but they should not be the only focus. Recall that the key is engagement, which is a two-way street. When drawing a blank on what to put on your spa's social platform besides a sales pitch, the best idea is to pose closed questions so that consumers don't respond in prose. According to Hubspot, "Questions beginning with the words 'should,' 'would,' 'which' and 'who' are the most effective for receiving more engagement." If consumers can respond with images, it works even better.
The key to such updates on social platforms is to keep them short, relevant and enticing. Although Twitter restricts lengths to 140 characters, there is also no reason to go long on Pinterest and Instagram captions, or on Facebook. A short post can also be enlightening, such as Shiseido describing what "ibuki" means in Japanese: "Inner strength, renewal, resilient enough to endure and emerge beautiful." This is brief and inspiring, and it ties in well to the brand name and identity.
To entice spa and product fans and aspirants, engagement tactics, such as contests or simple cheeky humor, can do the trick. Ole Henriksen features popular "complete the sentence" or "caption the photo" contests on its Facebook page. This makes fans seem part of a marketing team, which fosters engagement and loyalty even further. For humor, relevance is also important. Humor personifies a brand further, adding a human element that makes it more relatable to clients.
Overall, when talking on social media, spas must be honest. Although there are many tips on engagement and frequency of posting, metrics and research, it is critical to be true to your spa's roots, tone of voice and style, and to ensure consistency with traditional forms of communication. In the end, social media is just another platform to use to communicate with clients, almost like extension of TV and print—just more dynamic and exponentially growing.
REFERENCES
(Accessed June 17, 2014)
Sourabh Sharma, senior manager and communication and social media research expert at SKIM, enables the firms he works with to acquire a stronger understanding of their end users. Furthermore, he strives to extract value from the evolving brand-to-consumer interface through his work in social media research.
Editor's note: This article originally appeared in the May 2014 issue of GCI magazine (www.gcimagazine.com) and is being reprinted with permission. All rights reserved.
Get Social With Skin Inc.!