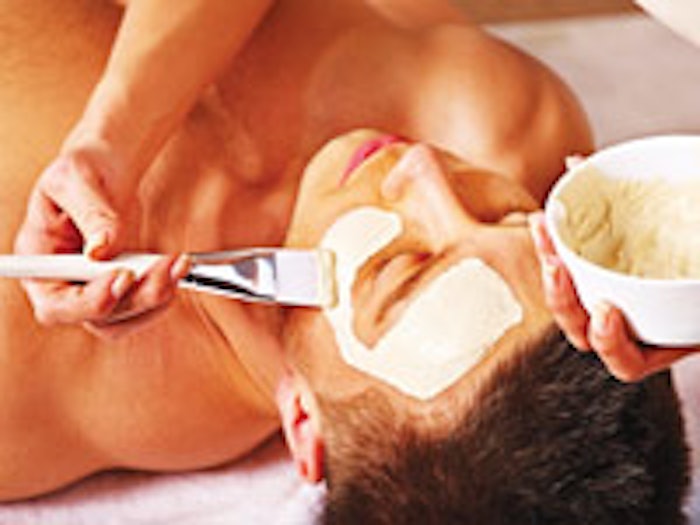 A lot has changed since the marketing days depicted in "Mad Men." Gone are martini lunches and one-way marketing messages. The brave new marketing world has moved on to social circles and 140-character pitches. Along with these technology-driven changes, consumer dynamics have changed, too. For one, the highly evolved male consumer now demands male-specific products and services. On top of that, when it comes to marketing, they gravitate toward man-to-man talk: simple, specific and direct.
Keep marketing language benefit-driven
When marketing to men, resist the temptation to add fluff. "The male clientele is generally more straight-forward in what they want and are interested in achieving those results with fewer steps," says Franziska Haala, spa director at Spa Aiyana at Carmel Valley Ranch in Carmel Valley, California.
Careful word choice, according to Tip Touch International president Jean-Guy de Gabriac, can be the difference between turning men away or converting them into loyal spa-goers. He advises veering away from feminine words and instead, using words such as, "deep bodywork," "energy," "clean" and "fresh."
Making men feel comfortable
Reports from the International SPA Association's (ISPA) latest Consumer Snapshot—Volume IV: Male Consumer Insights indicate that men represent 47% of the United States spa-going population. "Men are becoming more aware of the benefits of spa services as an enhancement to healthy living," says Jana Powers, spa director at OH! Spa at Ocean House in Westerly, Rhode Island.
To ensure that male spa clients do not feel like fish out of water, make sure to include male-exclusive treatments, such as a beer facial or a gentlemen's pedicure, on your menu. Spa Walden, located in Aurora, Ohio, not only offers male-exclusive spa treatments, but also creates an environment that invites men into the spa. One such event is Spa Walden's Men's Night-Out Event, a pre-holiday promotion that allows male clients to comfortably enjoy spa services with some manly add-ons, such as cigars, bourbon and beer.
Identify the spa priorities of males
Do the research and determine the amenities or features male clients find essential to their overall spa experience. Spa Walden, for instance, has seen a growing demand for connectivity among their male spa clients. As a result, the spa increased its Internet speed and added more access outlets close to its relaxation areas. Men also tend to take advantage of amenities in the spa locker room and appreciate male-designated areas for privacy, which takes the awkwardness out of group locker rooms.
Ultimately, keep in mind that marketing to men makes good business sense because they are known to display high brand loyalty once they are won over. Give a male spa client one unforgettable spa experience, and there's a good chance you have just earned a client for life.
Mae Mañacap-Johnson is the editor of Pulse magazine, the official trade publication of ISPA. To learn more about ISPA and how to become a member, go to www.experienceispa.com or e-mail ispa@ispastaff.com.