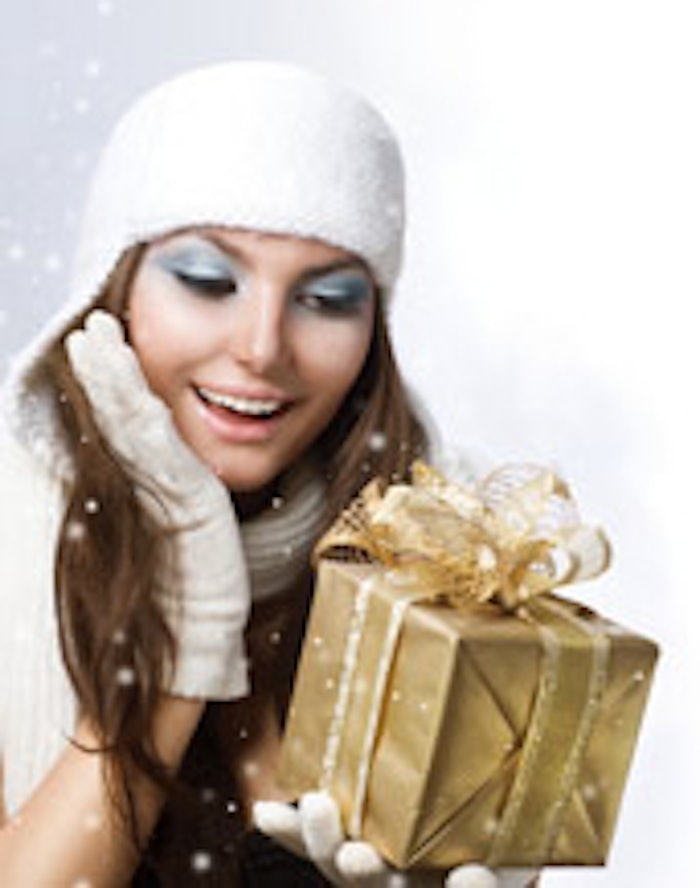 Editor's note: As always, Skin Inc. magazine recommends that skin care professionals obtain the proper training before offering any new treatments in their skin care facility.
Winter is the time of year when clients are coming to skin care professionals with the standard seasonal skin woes. The main culprit is often a lack of moisture in the air that can lead to dull, dry skin. Constantly moving back and forth between the chilly outdoors and heated indoors can wreak havoc on skin, as well.
In addition to the elements, many clients will be experiencing the results of higher levels of stress on the skin. The winter months are busy ones—they include Halloween, followed by Thanksgiving and, before you know it, the December holidays are here and the new year has arrived. While clients will be spending much of this time helping others enjoy winter festivities, encourage them to give a gift to themselves—the gift of great skin.
Develop a cold-weather regimen
Winter is a good time to remind clients that skin care routines need to be changed seasonally. A fall/winter regimen of care should include regularly scheduled treatments that gently exfoliate and moisturize.
Seasonal services. Offering variations of traditional facials using nourishing seasonal ingredients, such as pumpkin, honey and cinnamon, can soothe a client's parched skin and provide some much-needed rejuvenation time. You can up-sell services by providing similar treatments to soften dry, cracked hands and feet— two common complaints among clients dealing with chilly temperatures.
Microdermabrasion. Microdermabrasion is another treatment that is great for the winter months because it offers deep skin exfoliation. This noninvasive procedure sloughs dead cells from the skin's outer layer, and is a procedure that is increasing in popularity. According to data from the American Society of Plastic Surgeons, skin care professionals saw a 9% increase in microdermabrasion treatments last year, so it's a good procedure to add to your repertoire.
High-tech treatments. Incorporating high-tech treatments into your skin care facility's menu is also something to strongly consider. These treatments can provide noticeable results for reducing the appearance of rosacea, a reddish, rashlike skin condition that often flares up in the winter. Laser and intense pulsed light (IPL) technology can lessen the symptoms of rosacea by targeting pigment in the large blood vessels, breaking down the capillaries and allowing the body to naturally absorb them. Light-based treatments can also be used year-round to reduce the appearance of wrinkles, fine lines, sun spots and other blemishes.
At-home care. At home, clients can benefit from using a moisturizing, cream-based cleanser as opposed to a water-based one. Be sure to recommend appropriate in-spa purchases at the end of treatments. Also, encourage clients to buy a humidifier to infuse moisture into the air at home, and remind them that sunscreen is important during the winter months, as well.
'Tis the season for bundles
During the holiday season, use words that offer an alternative to dry, winter-worn skin, such as "glow," "renew" and "radiate" to brand beauty packages that can be enjoyed by clients themselves or given as gifts. Bundles can include multiple treatments that moisturize, exfoliate and soften skin all over the body. For example, some clients may be interested in getting a Glow From Head to Toe special, which may include a moisture-infusing facial and a slimming, smoothing body wrap or high-tech cellulite-reduction treatment. In fact, according to www.shapefit.com, more than 85% of women have cellulite, and many want to get rid of it. A combination of these treatments can offer clients a way to reduce the appearance of cellulite as they prepare for a round of holiday parties and events.
Body wraps typically include an exfoliating scrub and an application of a smoothing cream before the body is enveloped in a special plastic wrap, and high- tech cellulite treatments can incorporate a number of modalities, including infrared light, radio frequency energy and ultrasound technology.
Each treatment works differently to achieve skin-smoothing results. Infrared and radio frequency modalities use light and radio frequencies, along with a mechanical vacuum massage to decrease the appearance of fat and cellulite while contouring the body; and ultrasound treatments produce localized heat that massages fat cells to stimulate blood circulation and promote a redistribution of fat. This process smooths the appearance of cellulite.
Another option is a Relax, Renew and Rejuvenate package that includes a soothing facial, exfoliation treatment and a light- based wrinkle reduction treatment, such as IPL. A mixture of relaxation and stunning results is enough to brighten anyone's holiday!
Great gift ideas
If your clients are experiencing weather-related skin woes, it is likely that many of their friends and family are suffering with similar problems. Why not encourage them to give the gift of great skin this upcoming holiday season? One option is gift certificates for a treatment or a treatment bundle. Following are some gift ideas to help your clients give holiday presents that are sure to please.
Gift idea #1: Glow-to-Go Oxygen Facial. An oxygen facial is a great gift for someone who has just endured weeks of holiday stress. An oxygen facial works by delivering a mixture of hyperbaric (pure) oxygen and an anti-aging serum to the skin. The process involves using a machine that, in essence, pressure washes the skin with the serum- infused oxygen, leading to skin rejuvenation that is noticeable immediately after the service.
Gift idea #2: The New Year's Chemical Peel. Chemical peels can reinvigorate dry, dull winter skin while reducing the appearance of wrinkles and addressing skin concerns, such as acne scars and uneven skin texture. The strength of chemical peels can vary depending on the needs and desires of the client and the scope of practice of the skin care professional. (Editor's note: Check with your state's cosmetology board to make sure the chemical peel you want to use is within your scope of practice. Contact information for these boards can be accessed at www.SkinInc.com/education/statelicensing.) This treatment removes dead skin cells, clearing the way for a bright, fresh complexion to begin 2013.
Gift idea #3: Dermaplane for Delightful Skin. Dermaplaning is a treatment performed with a surgical blade that scrapes away the top layer of dead skin cells. This is a two-for-one treatment. It exfoliates the skin and also gets rid of that annoying peach fuzz. There is no down time following the procedure, and the results are smooth, glowing, younger-looking skin. (Editor's note: Again, this treatment may not be within your scope of practice. It is crucial to check with your state board before offering this service.)
Gift idea #4: Flirty Winter Lashes. Eyelash tinting allows clients to ditch the mascara, and still have long, dark, beautiful lashes. This is a procedure some clients are reluctant to try, but once they understand the procedure and see the results, they're hooked. Consider offering an incentive to give this gift by providing a free eyelash tinting treatment to clients if they buy three gift certificates.
Gift idea #5: Magic Microneedles. Everyone enjoys a little holiday magic, and this new procedure can produce magical results by treating a variety of skin issues. Microneedling is an advanced skin rejuvenation treatment that offers an alternative to laser skin resurfacing. Using a precision-controlled hand piece, the skin is treated with hundreds of tiny microneedles that painlessly penetrate the dermis. This creates pathways to infuse topical treatments, including anti-aging peptides, hyaluronic acid moisturizers and acne treatment serums. (Editor's note: Again, this treatment may not be within your scope of practice. It is crucial to check with your state board before offering this service.)
Gain repeat clients
Whether you're helping your clients prep for the holidays or recover from them, the winter months provide unique business opportunities. Winter is a great time to introduce clients—and their friends and family members—to new treatments, and educate them about the benefits of regular visits to a skin care professional. This winter, make it your goal to turn seasonal clients into regular customers.
Editor's note: As always, Skin Inc. magazine recommends that skin care professionals obtain the proper training before offering any new treatments in their skin care facility.
Louis Silberman is the president and founder of National Laser Institute, one of the largest cosmetic laser and medical esthetic training centers in North America. Silberman is an expert in medical esthetics, a medical spa owner and a nationally recognized author, marketing speaker and business consultant. He can be reached at 800-982-6817 or louis@nlionline.com.