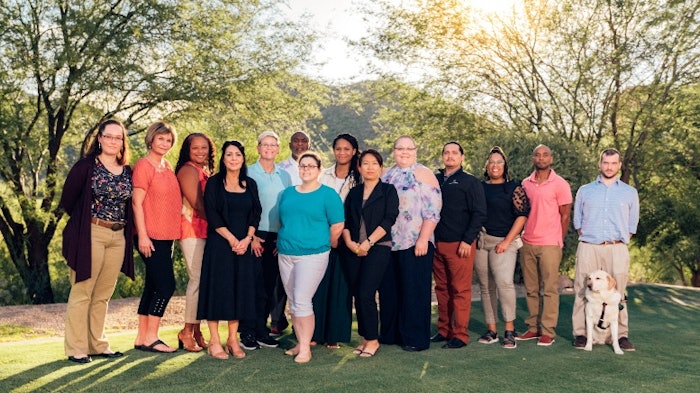 Photo courtesy of Massage Heights
Massage Heights recognized 14 of is therapists with the 2022 Massage Heights Therapist Award of Excellence at its international franchise conference in Sept. 2022. 
Ten massage therapists and four skin care therapists were chosen to receive this award for their commitment to living out the brand's mission in their daily practices through elevating the lives of others. Award winners received an award plaque, a $500 stipend check and CEU training sessions designed specifically for massage and skincare therapists.
The winning therapists were nominated by their local retreat and selected from more than 50 retreat nominations that were submitted. The winners were chosen to receive the award based on their high level of professionalism, client service, practical abilities and compassionate hearts. 
Related: Massage Heights Expands Senior Leadership Team
Therapist Award of Excellence Winners
Clay Roper of Brookhaven
Crystalyn Youngman of Southpark Meadows
Elizabeth Falck of Ward Parkway
Jessica Arterburn of Lenexa City Center
Joseph Smith of Decatur
Kim Brown of Tiffany Springs
Kortnie Labat of Brookhaven
Lauryn Bogar of Kings Crossing
Margaret Whooley of Hamilton Marketplace
May Eng of Parkway Village
Nicole Marshall of Kings Crossing
Orlando Martinez of Cypress Towne Center
Samaji Akili of Rancho Penasquitos
Sharlene Chen-Bass of Friendswood
"Being recognized with the 'Therapist Award of Excellence' has been a life-changing experience," shared Sharlene Bass, a dual-certified massage and skin care therapist from the Friendswood, TX retreat. "I know my knowledge and experience as a dual certified therapist is valued and appreciated, but now this award has taken my career to another level. I feel recognized as a team player at Massage Heights, but also within the spa industry."
The 14 award winners, as well as all therapists in the system, were celebrated during the conference. This year's conference's theme was "Rise to Lead," with content designed around leadership, team building and culture. Massage Heights held carefully curated educational courses on training technologies, aromatherapy and advanced bodywork techniques.