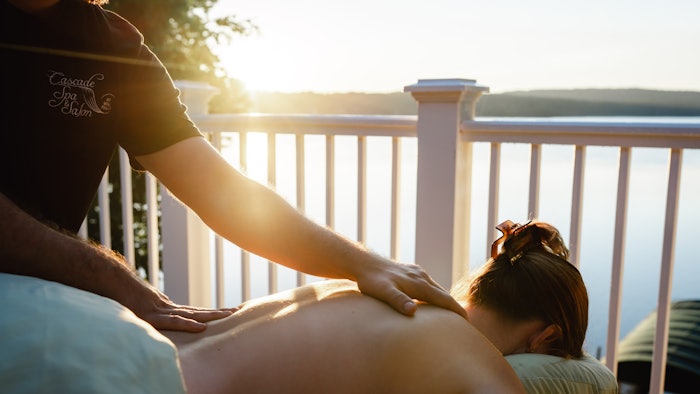 Mill Falls at the Lake in Meredith, New Hampshire, announced the debut of the new outdoor spa deck addition to their award-winning, Cascade Spa. The rooftop spa deck will feature a fireplace, shower, and post-treatment relaxation area where guests can experience restorative wellness rituals and personalized treatments. 
The spa additions takes inspiration from the surrounding nature, giving guests the opportunity to take their Cascade Spa experience outside to connect with nature and the New Hampshire lakes region. 
Related: Waldorf Astoria Enhances Spa Experience & Interior
"We are thrilled to expand our offering at Cascade Spa to provide this brand-new, outdoor experience for our guests that is unlike anything in the surrounding region," said Martha Zyla, director of Cascade Spa. "With sweeping views over Lake Winnipesaukee, guests can expect a unique wellness journey that will transport their mind and body to a place of serenity and calm."
The rooftop spa deck also features a signature, Love, Peace and Gratitude Rooftop Ritual experience that uses products from the mindful body and skin care company, Zents. The two-hour wellness ritual includes ancient healing modalities that calm, heal, balance and restore the body and mind. Guests will learn healing practices and techniques that lighten areas of mental heaviness and stress. The treatment includes a copper bowl therapeutic foot soak, breathwork and a healing massage. 
Spa Deck Treatments
Rooftop Elemental Water Facial is an 80 min., refreshing facial experience. Skin is treated with mild botanical extracts and antioxidants to rebuild the skin's essential hydration barrier, while cold globes massage the skin to reduce inflammation.
Elemental Bespoke Deep Tissue Massage is an 80 min., highly therapeutic massage that uses deep pressure to ease muscle soreness and relieve tension associated with chronic muscular problems.
Elemental Bespoke Tranquility Massage is an 80 min., traditional Swedish-style full body massage that uses gentle to moderate pressure with long, soothing strokes to relieve stress and improve circulation.
In addition to the treatments, the spa menu also includes massage enhancements including CBD and Himalayan Stone. There are also facial enhancements such as an anti-aging lip treatment, a décolleté collagen treatment and more.