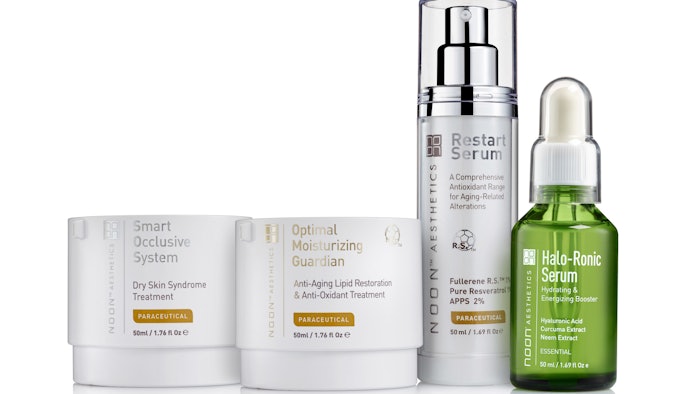 Noon Aesthetics is celebrating its 10th anniversary by launching four new anti-aging and skin rejuvenation products—Restart Serum, Optimal Moisturizing Guardian, Smart Occlusive System and Halo-Ronic Serum.
Related: Ulta Partners with Dermalogica for Skin Care Services
Restart Serum is an antioxidant composition that is formulated to protect the skin from environmental stressors and improve the skin's condition.
Optimal Moisturizing Guardian is an anti-aging lipid restoration and antioxidant treatment formulated with lipids in an optimal ratio to improve the skin's appearance.
Smart Occlusive System is a cream for dry to very dry skin that restores the function of the skin barrier and provides a moisturizing effect to protect the skin from environmental stressors.
Halo-Ronic Serum is a hyaluronic serum formulated with two types of hyaluronic acid and a blend of neem and turmeric extracts to leave the skin more hydrated and radiant, as well as boost the skin's immune system.
Eran Rosman, CEO of Noon Aesthetics, said, "Noon has come a long way since we developed and sold our first product. This year we established our headquarters in the United States, and now we are launching four new products together. We are very proud of this accomplishment."
Masha Minkin, CTO of Noon Aesthetics, said, "We founded Noon with the vision to develop the most effective and safe professional skincare products for use by professionals and consumers at home. This newest generation of advanced skincare products includes clinically proven anti-aging serum and rejuvenation treatments for use at home."