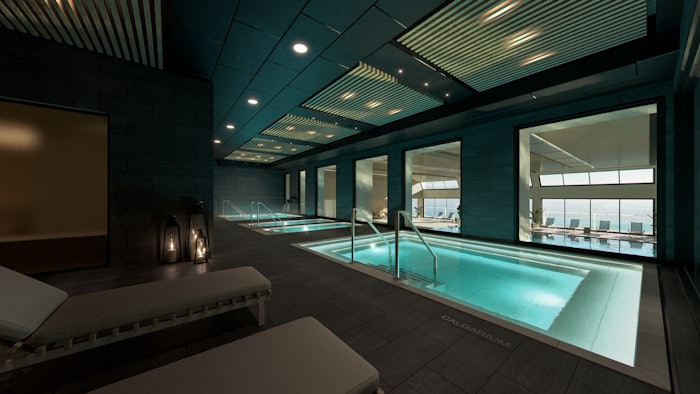 Gurney's Montauk Resort & Seawater Spa at the Hamptons in Long Island, New York, has renovated its Seawater Spa with a focus on holistic wellness, innovation and sustainability. The $16 million renovation project added treatment suites and expanded its spa and wellness offerings. The resort introduced a revamped private membership program to coincide with the reopening of the Seawater Spa.
Related: The Spa at Hotel Contessa Reopens with New Treatments
The 30,000-square-foot spa features the only ocean-fed seawater pool in North America, according to the resort. It also includes a full bathhouse experience with a caldarium, thermal baths, sauna and steam room, a salt room, indoor-outdoor treatment suites overlooking the Atlantic Ocean, and curated indoor and outdoor wellness spaces that include a fitness center and a movement studio. Another addition to the renovated property is The Spa Deck, a venue available for weddings and large events, located on the panoramic rooftop of the Seawater Spa.
The spa design has been reimagined by architect Ignacio Alonso of Alonso Designs. The interior of the spa was inspired by the luxury resort's natural beachfront surroundings. The interiors feature natural materials and tones and all the pools and bodies of water have a custom-designed infinity drain that blurs the edge between the ocean and spa water.
Some sustainability efforts initiated through the renovation include filters that reduce water waste, energy-saving heating systems, filtration systems in the pools to purify the water and the use of UV to limit the need for harmful chemicals.
Gurney's Montauk's partnered brands for its spa and wellness services include Alonso Designs, Biologique Recherche, QMS Medicosmetics, Dr. Dennis Gross, One Ocean Beauty, OSEA, Voya, and Aesop.
Seawater Spa offers chromotherapy, hydrotherapy and full-body treatments. The spa also features co-ed relaxation areas and eucalyptus oil-infused aromatherapy steam rooms. The resort's existing saltwater swimming pool fed directly by the Atlantic Ocean has been renovated and will be complemented with four new bathhouse-style experiences—a large caldarium, thermae and a dual frigidarium.
Spa treatments include products from Biologique Recherche, One Ocean Beauty and Osea. The treatment menu includes specialized bespoke facials and skin care treatments from Dr. Dennis Gross, as well as massages, body wraps, masks, and other traditional spa services.
Gurney's Montauk's revamped private membership programs include three options—Resort, Spa and All-Access, which include access to the Beach Club, concierge services, and the year-round Seawater Spa. Memberships start at $17,500.
George Filopoulos, owner of Gurney's Resorts, said in a press release, "We are very excited to bring a new Seawater Spa to our guests, members and community, allowing access to a level of facilities, treatments and amenities not previously available in Montauk. After the challenges of the past year we've learned how important prioritizing wellness is, and we are happy to bring this completely new and elevated experience to the Hamptons. The new Seawater Spa only adds to the already vibrant environment at our resort, creating the opportunity for a balanced experience. Whether visiting for a full wellness reset or looking to incorporate health, fitness and beauty into a beach vacation or winter getaway, our guests will find a wide array of amenities and activities at our new Seawater Spa."