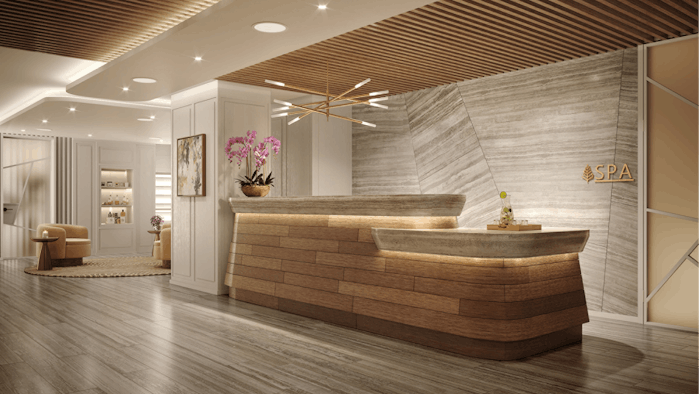 The Four Seasons Hotel and Private Residences New Orleans announced the opening of a spa in partnership with Biologique Recherche. The Spa at Four Seasons will use treatments and products from Biologique Recherche that combine French beauty techniques with innovative technology.
Related: Hotel Ivy Announces Partnership With Biologique Recherche
The Spa offers eight treatment rooms, including a couple's room with a soaking tub, a relaxation lounge, steam room, cool mist experience and locker rooms. The spa is decorated with raw white oak, shutters, gray travertine, rattan, an abstraction of wrought iron silhouette-projecting lamps and artwork by Nicole Charbonnet and Allison Janae Hamilton.
Each spa treatment is based on the guest's personalized dermo-cosmetic diagnosis. Guests can choose from a selection of massages, facials, wraps, skin treatments, brow and lash treatments.
Triple Lift Facial is an intensive treatment that helps fight against signs of premature skin aging. It combines active serums and treatment from the remodeling machine and the micropuncture lab that stimulates collagen production.
The Body Method is a full-body massage that uses rhythmic and calming strokes to nurture the body. The treatment is designed to reduce water retention while refining and shaping the silhouette.
Southern Gentlemen is inspired by New Orleans' most famous cocktail, the Sazerac. The therapeutic massage uses citrus and lemon to stimulate the senses during a foot exfoliation followed by a targeted, deep tissue massage utilizing a warm, spiced infusion of rye whiskey oil. The treatment concludes with a classic Sazerac and seasonal bar snacks in the spa's relaxation lounge.
Spa de Deux is a couple's treatment that includes a couples' bath infused with essential oils and a side-by-side body treatment customized to guests' preferences and target areas. The treatment also includes a complimentary bottle of Champagne.
Mali Carow, general manager, Four Seasons Hotel New Orleans, said, "We are thrilled to welcome guests and locals to experience the highly anticipated Spa at Four Seasons Hotel New Orleans—the final complement to the Hotel's luxury offerings. In our concept, we drew inspiration from the city itself. New Orleans is a city known for indulgence and celebration. Here at The Spa, we invite guests to indulge in themselves with a rejuvenating treatment, looking and feeling their best."
The Spa at Four Seasons Hotel and Private Residences New Orleans opens on April 20.