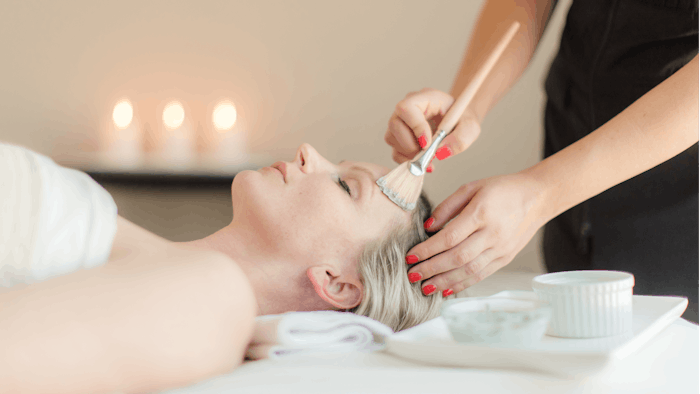 The Westin Carlsbad Resort & Spa in Carlsbad, Calif., added new treatments to its on-site Ocean Pearl Spa. The treatments range from full-body exfoliation and rehydration to facials and massages. Ocean Pearl Spa recently re-opened with a new spa director, Kerri Calver, as reported by Skin Inc. in August 2021.
Related: Holistic Spa Palmera Opens in Renovated Boca Raton Resort
Highlights from the revamped menu include the Lalicious Exfoliation Body Treatment, Sunset Treatment and Coola Sunrise.
The Lalicious Exfoliation Body Treatment is a full-body exfoliation followed by a moisture treatment that includes a massage with sugar reef scrub and a warm towel treatment. The treatment also includes coconut and sweet almond oils.
The Sunset Treatment includes a full-body sugar scrub exfoliation followed by a warm towel treatment. It also includes a blend of hydrophilic massage oil and choice of foot exfoliant or hydrating seaweed scalp treatment.
The Coola Sunrise Treatment includes a reef exfoliant, Coola sunscreen, antioxidants blend and choice of foot exfoliant or hair masque scalp treatment.
Additional additions include the Therapeutic Whe Whe Massage ideal for athletes and Herbal Spa Facial Cleanse designed to nourish, heal and moisturize.
Kerri Calver, spa director at Ocean Pearl Spa, says, "Our new menu combines inspiration from the California coast, from San Diego's beaches up to Hollywood, tapping into my experience preparing Hollywood A-listers for the stage with treatments that provided maximum results in a limited time. The new layout of our menu also features enhancements entwined within the treatments, making choices a little easier, and ensuring each experience is customized to the individual guest."