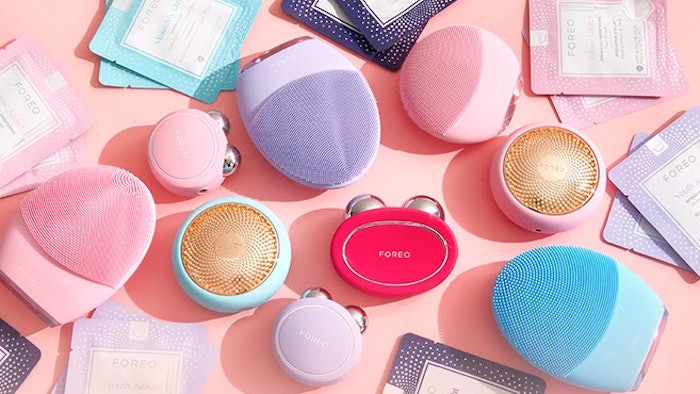 Foreo, announced its 2021 highlights and projections for 2022. Foreo devices were the most viewed skincare tool on Tik Tok in 2021 and the brand claims to have won 262 awards and placed third in Lookfantastic's global skin care brand rank with 6,851,000 searches worldwide. Foreo is predicting double-digit growth in 2022 amidst record-breaking sales.
Related: Foreo and Tik Tok Star Sheri Nicole Team Up for Bear Launch
Foreo attributed some of its success to consumers' increased interest in beauty-tech devices, non-invasive beauty and DIY beauty. According to a survey cited by Foreo, 58% of respondents prefer doing their own non-invasive beauty treatments and 66% said they see non-surgical beauty treatments as a normal part of their wellness regime.
Foreo introduced several beauty-tech products last year, including ISSA3—the first-ever silicone sonic toothbrush, according to the brand. It is intended to provide 4-in-1 oral care for teeth, tongue, cheeks and gums. Foreo's DIY mask base—Imagination—is a hydrating base formula that can be blended with fresh kitchen ingredients to create a homemade skin care product.
Foreo also opened its first R&D Institute in China, powered by a solar energy system.
Boris Trupcevic, CEO of Foreo, says, "Last year, for the first time in our lives, we witnessed the whole world stand still in lockdown. As a result, many beauty consumers are searching for high-quality at-home beauty solutions and once they try FOREO devices and see our cutting-edge technology shedding years and stress off their skin, they know they have found their holy grail of youthfulness. Painful and expensive surgeries and invasive procedures are a thing of the past, Foreo is spearheading the future of beauty and that beauty is pain-free, sustainable and an actual money-saver."
Trupcevic continued, "Ever since it launched its first iconic original Luna in 2013, Foreo's mission has been to change people's everyday lives for the better. Making our customers look and feel young is a big part of this and Foreo, not only delivers visible and lasting results, but the treatments themselves feel like a moment of pampering and relaxation, for both your mind and body. Interestingly enough, many people tried beauty-tech devices in lockdown in search of an intelligent at-home solution, however, even after spas and clinics re-opened their doors, we're seeing skyrocketing demand for our products. We redefined the way people think about beauty many times and this year's results only confirm that beauty-tech is not just another hype or a passing trend, but the natural next step in the evolution of beauty."