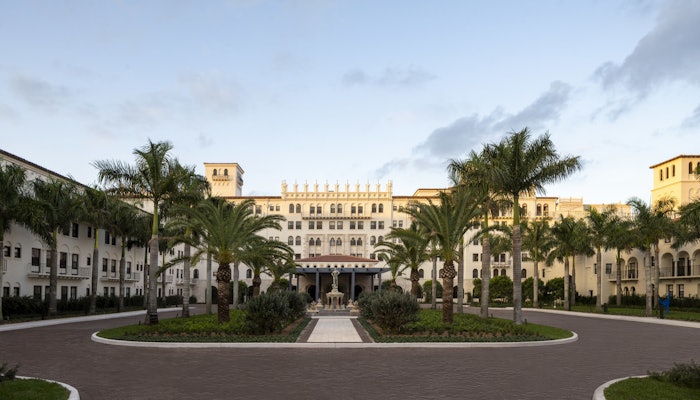 Courtesy of The Boca Raton
The Boca Raton has unveiled a $200 million renovation, which includes the relaunch of Cloister and the redesigned Spa Palmera. 
The new 50,000-square-foot, Alhambra-inspired spa features 44 treatment rooms, a tranquility pool, halotherapy Himalayan salt room and an Aemotio Vichy Shower by Lemi. It also has a full-service salon and fitness center.
Guests can partake in mindfulness experiences like reiki and Ayurvedic treatments, as well as signature services like the Alhambra Citrus Body Ritual and indulgent Diamond Facial. Ritual baths provide a unique menu of scent journeys for tailored, holistic experiences, and the Spa Café offers cold-pressed juices, cocktails and Mediterranean-inspired food.
"A New Golden Era of The Boca Raton is a celebration of our legacy within the community and internationally," said Daniel A. Hostettler, President & CEO of The Boca Raton. "We worked closely with the Boca Raton Historical Society to meticulously restore our property and partnered with an award-winning team of builders and creators to reimagine each touchpoint. As we look toward the future, our focus remains unwavering—to provide an extraordinary experience that defines The Boca Raton as one of the world's most renowned luxury resorts and private clubs."