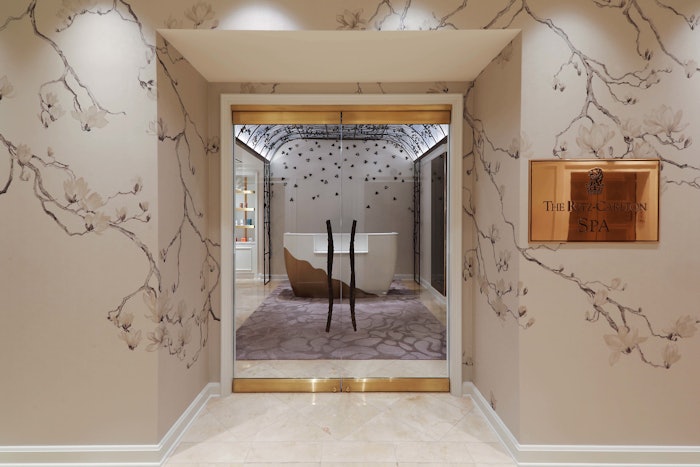 The Ritz-Carlton, Dallas completed a multi-million-dollar renovation of its 12,000 sq. ft. luxury spa with a new design inspired by urban parks and gardens throughout Dallas.
Related: The Red Hots Spa Opens at the Garden City Hotel
The renovation included a new design for the entrance, reception and retail areas, upgrades to the nail spa and hair salon, changes to the relaxation lounges, a new spa dining lounge and the addition of two new treatment rooms.
The project was completed by ForrestPerkins, a Dallas-based design firm. The bronze handles on the spa doors resemble tree branches, and rooms feature a rich color palette of whites and bronze metals with lilac, lavender and blue accents.
There is art throughout the spa with watery abstract pieces hanging in each room and a hand-forged metal trellis sculpted by local artist Larry Whiteley in the entrance.
"Our vision was to transform The Spa, choreographing an exquisite guest experience with a sense of place and individuality through attention to design, detail and service," says Scott Studstill, the Spa Director of The Ritz-Carlton, Dallas. "The Spa redesign does exactly that, offering a daily dose of nature in a luxurious and soothing setting, and we look forward to welcoming spa-goers to experience our elegant new look along with brand-new treatment options for a fresh, luxury spa experience." 
Two new treatments were added to the spa's offerings: the Diamond Facial and Calm, Balance and Delight massage. The Diamond Facial is designed to improve elasticity and skin luminosity, as diamonds reinforce the skin's natural defense system. The Calm, Balance and Delight mind and body treatment utilizes a hemp-derived edible, craniosacral techniques, a full-body massage and CBD foot treatment.