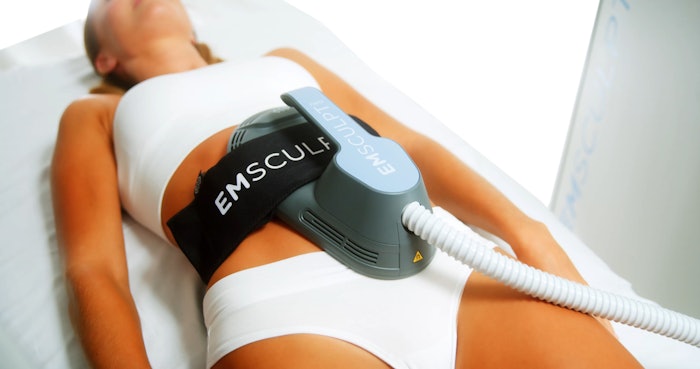 BTL announced that its Emsculpt brand has provided one million treatments, making it the fastest aesthetic device brand to reach the mark, as indicated by Medical Insight.
Related: Top Spa Trends for 2022
Emsculpt uses HIFEM (high intensity-focused electromagnetic energy) to build muscle and sculpt the body in a 30-minute session. Emsculpt NEO expanded its predecessor's capabilities by adding radiofrequency treatments for fat reduction and muscle growth.
In 2021, Emsculpt NEO has won over five awards, including Shape Best of Derm Picks award for Best Body Treatment, InStyle's Best Beauty Buys Awards for Best Body Sculpting Treatment and Dermascope's Aestheticians Choice Award for Favorite Body Sculpting Device.
According to the company, an average of 21 Emsculpt Classic treatments/unit and 39 Emsculpt NEO treatments/unit are administered each month and over 3,400 units have been installed globally.
John Ferris, BTL Aesthetics vice president of U.S. marketing, says, "In just over three years, we have achieved what no other aesthetic device brand has done. We've accomplished this milestone with the support of all our stakeholders and the trust consumers put in the Emsculpt brand and providers. We didn't rely on virtual consumables to drive consumer awareness. The awareness was earned through studies and patient outcomes. Truly, this achievement is not only history in the making, but a testament to the efficacy and impact of Emsculpt and Emsculpt NEO."