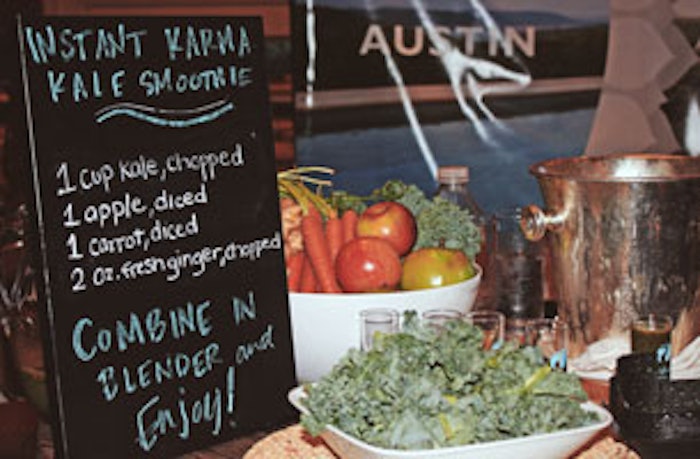 Throwback Thursday had a whole new meaning at the recent International SPA Association (ISPA) Media Event. A number of spas showcased their latest treatments, with an apparent common theme: old is new again, with an added twist, thanks to innovative technology.
"Spas are getting back to the basics. The number one reason worldwide why men and women visit a spa is to manage their stress," said ISPA President Lynne McNees. "When it comes to stress relief, spa-goers are looking for treatments that help them achieve their desired results."
A variety of massages, facials and food-inspired experiences were offered at the event.
Aspira Spa offered their Sacred Waters Massage based on native indigenous healing traditions, where warm deer skin pouches filled with water from the lake are placed on the seven chakras.
Awaken Whole Life Center demonstrated their warming massage technique featuring a heated rose compress and warm wild rose candle massage oil.
Kohler Waters Spa presented their Mini De'lite treatment, a taste of their newest detoxifying treatment, which incorporates dry brushing, warming oil and pressure point massage.
Massage Envy Spa discussed new research on massage benefits and offered their Healthy Vitamin C Infusion Facial, designed and proven to deliver pure Vitamin C to the skin, helping combat free radical damage from environmental exposure.
Miraval Resort & Spa offered manicures and with celebrity manicurist Deborah Lippmann on hand to greet the guests.
The Oaks at Ojai provided samples of their newest gluten-free offerings, including an opportunity to grind and bottle ones' own blend of herbs.
Exercise has long been a core foundation of the spa industry. A few spas presented experiences that added in a fitness twist to reflect that historic focus.
Glen Ivy Hot Springs offered a relaxation walk through a labyrinth, allowing the guests to tune out the noise and stress of daily life and find a deeper sense of well-being.
Rancho La Puerta featured their "Salsa y Salsa" class, which combines an energetic salsa class with an added treat of fresh salsa and chips.
Travaasa Experiential Resorts demonstrated their innovative Blender Bike, a cycling bike that generates power for a blender to create a post-workout smoothie.
While technology may not be a historic element of the spa industry, several companies showed how technology can be incorporated effectively into the spa industry.
Bellus Academy brought their Biophotonic LED treatment which displayed the image of the scalp onto a monitor and to determine the recommended scalp and hair treatment.
Matrix Fitness Systems demonstrated their 7xi machine, which connects the user to their social media accounts to stay connected while exercising.
ResortSuite was the software provider facilitating all appointment scheduling online prior to the event.
Each attendee received a Haiku tote bag, sponsored by SpaWeek.
About the International SPA Association
ISPA is recognized worldwide as the leading professional organization and voice of the spa industry. Founded in 1991, ISPA advances the spa industry by providing invaluable educational and networking opportunities, promoting the value of the spa experience and speaking as the authoritative voice to foster professionalism and growth. More details on ISPA are available on www.experienceispa.com.