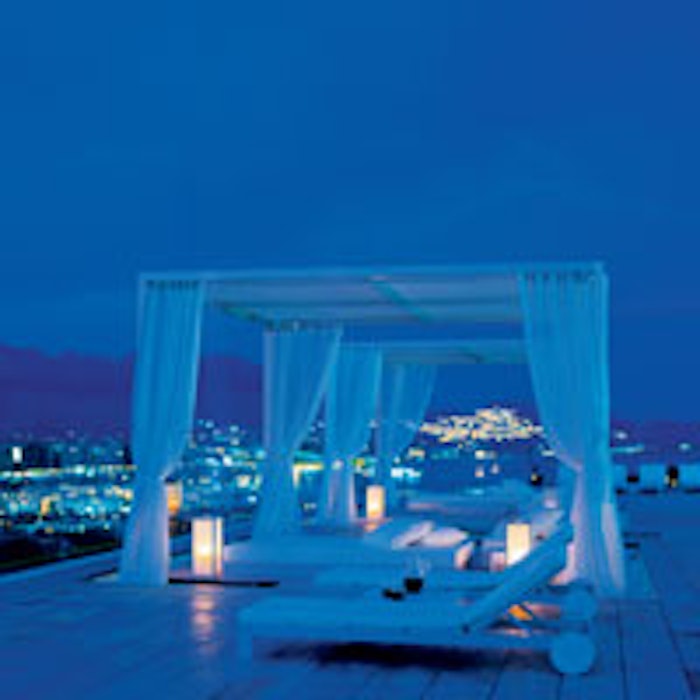 An 8,000-square-foot luxury day spa has opened at the Archerfield Links championship golf course near Edinburgh, Scotland. Facilities at the spa, which were designed and supplied by Nola 7, include a marine salt steam room, aroma sauna, a rasul mud cure room, an ice fountain, hammam tables and an outdoor marine salt vitality pool. Consultant Sian Parry Jones from In+Addition helped to create the concept for the spa, which focuses on an ethical approach to health and well-being that is "in harmony with nature". Treatments have been supplied by Spiezia, Aromatherapy Associates, Margaret Dabbs and Voya and include facials, body wraps and therapeutic massages. The signature treatment is Brechelbath, a purifying herbal steam bath with mild humid heat and increasing temperatures based on ancient farming traditions of the Alpine region. Massage beds with a lumbar support have been installed to cater for golfers and their "just-off-the-green" tired muscles.
A resort boasting both a spa and indoor water park has opened in Peurunka, central Finland. Kylpylähotelli ja Kuntoutus Peurunka houses a Nautilus-branded spa with 13 treatment rooms, spa pools, a large sauna area and relaxation area. The treatment menu includes hydrotherapy, aromatherapy, a range massages including hot stone and Indian head massage, facials and body wraps. Targeting families, the resort's space-themed indoor water park includes the longest waterslide in Scandinavia (at 130 meters), a range of water-based "fun stations", a 100-meter lazy river, swimming pools and a range of saunas, including Finnish, steam and infrared. The resort has a 200-bedroom hotel and also offers accommodation in luxury holiday cottages. The resort is owned and operated by leisure trust Kuntoutumis-ja liikuntasäätiö Peurunka.
A new Quan-branded spa has opened at the JW Marriott Chandigarh in Punjab, northern India. The spa has six treatment rooms, therapy pools, plunge pools, separate men's and women's relaxation areas, rooftop swimming pool and a health and fitness club. Offering a range of hydrotherapy, ayurvedic treatments and body scrubs, the spa's signature item is the Mer and Sens Ritual—a three step relaxation treatment.
A new luxury spa has opened at the Jacques Garcia-designed Grand Hotel de Bordeaux in Bordeaux, France. The 1,000-square- meter spa, called Les Bains de Léa, is located on the hotel's sixth floor and is operated by French organic beauty brand Nuxe. Facilities include 10 treatment rooms, including two doubles; an indoor counter-current swimming pool; sauna and Turkish bath. The design has been inspired by Roman baths and features a wrap-around outdoor terrace on the hotel's seventh floor, with a spa pool, rooftop bar and panoramic views over the city of Bordeaux and Garonne river. All treatments are supplied by Nuxe and the signature treatment is the 90-minute Olympe massage, exclusively created for Les Bains de Léa. Les Bains de Léa will be open to both hotel guests and nonguests and will be marketed as a day spa to the local population.
Angsana Hotels & Resorts has opened its 11th spa resort, the Angsana Balaclava at Turtle Bay in Mauritius. The 51-suite luxury retreat houses an Angsana Spa with nine treatment rooms, hammam, a yoga pavilion, hydrotherapy pool and a number of water treatment stations. There are six single treatment rooms and three double rooms. Other facilities include three overlapping swimming pools while most suites have their own private plunge pools. A total of 21 of the 51 suites have been branded as Spa Suites and guests staying in these will benefit from a daily 90-minute spa session. All resort therapists have been trained at the Banyan Tree academy in Phuket. The resort has introduced specifically designed Angsana Spa Journeys for guests, which include accommodation and a range of activities according to the choice of Journey. Spa Journeys are based on a minimum of three nights' stay, although the spa can tailor Spa Journeys for stays longer than three nights. Angsana is owned and operated by Thailand-based Banyan Tree.
UK not-for-profit social enterprise Greenwich Leisure (GLL) has announced the opening of its latest Spa LONDON location at the Rainbow Leisure Centre in Epsom, Surrey. Last summer, GLL managing director Mark Sesnan told Health Club Management that Epsom's new public sector spa was the first of a number of new sites for the concept. The new Spa LONDON at Rainbow Leisure Centre, which joins two existing sites located in Bethnal Green and Swiss Cottage, London, includes four treatment rooms. A relaxation area, a steam room and a monsoon shower are also included as part of the spa, which offers therapies and treatments using Elemis and Jessica products. It is the latest public sector spa to open in the UK, with Pendle Leisure Trust planning to roll-out its Inside Spa concept, following the success of its first site at Pendle Wavelengths in Nelson, Lancashire. Alliance Leisure is another trust working on the development of public sector spas, with one due to open at Deeside Leisure Centre in North Wales early this year. Lauren Shine, manager of Epsom's Spa LONDON, said: "[The spa] will offer visitors the ultimate day spa experience, with a range of treatments spanning everything from massages and wraps to manicures and facials. "The environment will be luxurious and relaxing - providing the perfect escape from the stresses and strains of day-to-day living."
Hyatt Regency Aruba Resort Casino & Spa will unveil ZoiA Spa, a new spa concept that will be introduced to guests in January 2012. The 5,200 square-foot ZoiA Spa—meaning balance or poise in Papiamento—will house eight treatment rooms, many of which will offer an indoor/outdoor experience, and an extensive spa menu featuring luxurious treatments and native ingredients. The Aruba-inspired, all-natural treatments are based on four key Caribbean elements—sun, sand, sea and love—and the colors of the Aruban flag—yellow, white, blue, and red. Aloe, which is the overall spa theme, will be in all products used and sold in ZoiA. Aloe Aruba, the island's only producer of aloe products, will exclusively distribute a signature amenity line at the resort. An aloe garden located in front of the spa will further encapsulate the theme and demonstrate the importance of Aruba's multidimensional plant. ZoiA Spa will also offer antioxidant-rich ingredients and products such as Kerstin Florian International skin and body care and Naturopathica, an organic product line incorporating aloe and natural botanicals inspired by the island of Aruba. Additionally, hand-pressed oils and home-grown herbs will be provided by herbologist Dina Veeris, and will be a staple in all service offerings and experiences. Designed by Los Angeles-based design firm Indidesign, ZoiA Spa's architecture and design incorporates sustainable products and materials throughout the entire space including cork, recycled glass tiles, and qurt—a granitelike stone made from seashells.
Anantara, the Thailand-based hotel and resort operator, has announced the launch of its first property in Vietnam—the 89-bedroom Anantara Mui Ne Resort and Spa near Phan Tiet. Facilities at the resort include an Anantara Spa with five double treatment suites, which boast floor to ceiling windows. Two of the suites include a steamroom and a whirlpool. Salon services include manicures, pedicures and hair and waxing treatments, while the menu at Anantara Mui Ne Resort and Spa has been inspired by the lotus flower. Among the treatments on offer at the spa are massages combining Western techniques and traditional Thai methods, such as the Anantara Synchronised Massage using two therapists. A spokesperson for Anantara said: "Anantara Spa's menu is inspired by one of the most allusive symbols of our planet—the lotus. Beautiful both in appearance and fragrance, the lotus represents purity of heart and mind. Vietnam's lotuses are a symbol of ancient culture, beauty, enlightenment and optimism, and it is precisely these attributes which Anantara Spa captures in its pampering treatment repertoire."
SHA Wellness Clinic in Alicante, Spain, has been relaunched following the completion of a major expansion and renovation of its facilities, which includes a larger spa area. The clinic has doubled in size to span 21,528 square feet and now offers guests a new fitness room; additional treatment rooms; and the SHA Boutique retail store. Eight medical consultation rooms, three macrobiotic consultation rooms and an acupuncture room have been created as part of the scheme, along with a dentist consultation room. Other facilities include two sickbay rooms; two rooms for hydrotherapy colon; 11 cabins for natural therapies; one double cabin with outdoor terrace; and an en suite cabin. A spokesperson for SHA Wellness Clinic said: "SHA is a worldwide pioneering well-being clinic, focused on improving and notably lengthening people's health and well-being."