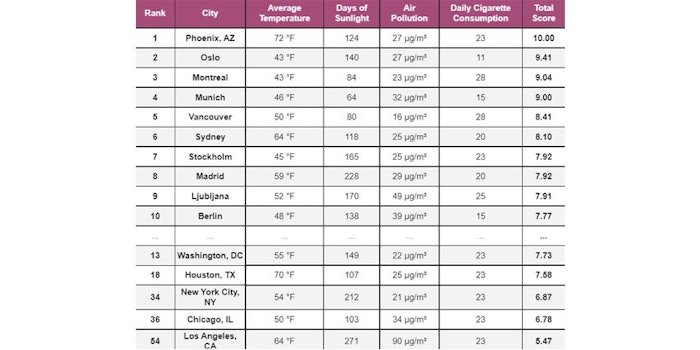 Phoenix is the best city in the world for skin health, based on a comprehensive study by Covalo. Air conditions, humidity, ideal temperatures and low traffic congestion are all factors that led to Phoenix's high ranking. Los Angeles was the worst ranking U.S. city due to the extremely high number of days with sunlight.
Related: Most Searched Skin Care Ingredients Globally: Skincare Hero
The study evaluated 80 global cities on the impact of nine environmental and lifestyle factors on dermatological health. The factors considered were average yearly temperature, number of days of sunlight per year, average yearly UV radiation, humidity, air pollution over a year, average yearly wind speed, average daily cigarette consumption per smoker, traffic congestion and average weekly working hours per person.
Phoenix is the only U.S. city in the top 10, with the next best city being Washington at 13. Montreal and Vancouver represent Canada in the top five, and Oslo, Munich, Stockholm and Madrid are the highest-ranking European cities.
Mumbai is the worst city in the world for skin health, due to high levels of stress related to traffic congestion, low air quality and high humidity.
Brisbane, Phoenix and Guangzhou scored the highest in terms of average temperature, with the ideal temperature for skin health being 72° F.
Montreal is the best city in the world in terms of wind speed with the lowest registered value, meaning that the wind does not draw crucial levels of moisture out of the epidermis.
Phoenix, Delhi and Istanbul have the opportune level of humidity, measured as the percentage of water vapor in the atmosphere, ranging between 30-50%.
Phoenix and Montreal rank the highest for air, with both cities having optimal air conditions for dermatological health.
For daily cigarette consumption per smoker, which is correlated to acne and stress levels that negatively affect skin health, Valletta ranks first with the highest number of cigarettes smoked per day, closely followed by Riyadh and Taipei.
Germany is the best country in the world for average weekly working hours per capita.
Explore the full results, methodology and sources here.