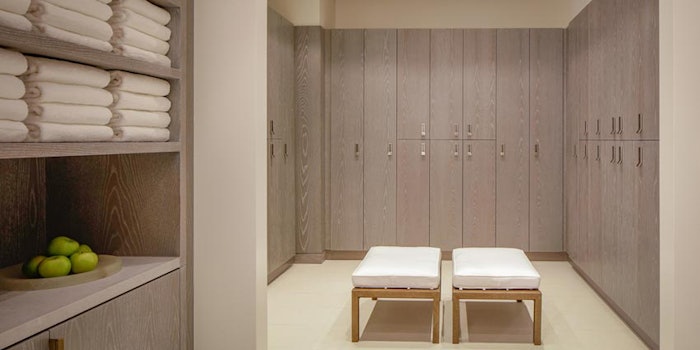 Here are seven more recent openings in the world of spa and wellness.
1. Spa Hotel Esé
Located in Lithuania, Spa Hotel Esé features four treatment rooms, an aromatherapy sauna, Finnish sauna, Jacuzzi, steam bath sauna and swimming pool. Additional offerings include remote working facilities, a functioning bar in the evening and amenities for families with young children.
The destination was designed with the modern tech-savvy millennial customer in mind, with details including automated self-service check-in and checkout for the hotel, an electronic entrance to the spa and smart door locks.
2. Iridium Spa
The Iridium Spa, located in the St. Regis Toronto hotel, has 11 treatment rooms, an infinity-edge pool, whirlpool, women's and men's change rooms with separate steam rooms, and a full-service nail salon.
The spa offers a custom menu including messages, facials, hand treatments and lip treatments, as well as body offerings like the melted wax, shea butter or leg gel treatment. Guests can also enjoy the infinity-edge salt water lap pool, detoxifying infrared cedar saunas, and complimentary water, tea and refreshments.   
3. Sensei Porcupine Creek
Sensei Porcupine Creek, located in Santa Rosa Mountains in Rancho Mirage, is set to open in early 2022. This retreat will offer similar spa, nutrition, fitness and other wellness and sports programs found at its sister facility, Sensei Lāna'i, A Four Seasons Resort in Hawaii.
Guests can choose to stay in any one of the hotel rooms or private villas around the property. Sensei will provide curated packages based on the Sensei Way: Move, Nourish and Rest. Sensei Guides will work with the properties expert practitioners and specialists to curate itineraries based on each individual's goals. As such, guests will receive tailored spa treatments, yoga classes, meditation, daily hikes, nutrition consultations, sports and more. Sensei is continuing its collaboration with Nobu to provide healthy cuisine, as well.
4. SoJo Spa Club
The SoJo Spa Club in New Jersey has four floors that house amenities from specialty outdoor pools to bathhouses to cabanas. It also includes a fitness center, co-work space and relaxation lounge. The spa has partnered with ESPA to offer treatments that are customized using different oils and techniques. In the Korean tradition, it is a barefoot facility. 
Services offered include massages, designed to soothe and relieve stress as well as maximize therapeutic benefits. There are also options for couples massages and acupressure massages.  
5. Spa at The Mission
The Inn at the Mission San Juan Capistrano, an Autograph Collection Hotel, has opened Spa at The Mission to help guests rejuvenate and rebalance. The Spa has four dedicated treatment rooms, offering body treatments, individual and couples massages, and facials. The experiences and rituals are designed to leave guests feeling refreshed "from sole to soul," and treatments utilize natural oils infused with on-site herbs such as lemon and basil. 
Spa at The Mission will soon debut additional wellness offerings such as yoga in the olive grove and meditation by a wall of chiming bells, allowing guests to further relax and unwind.
6. Spa at the Inns of Aurora
The Inns of Aurora, a luxury lakeside boutique resort, officially opened the Spa at the Inns of Aurora. The spa features an extensive menu of Ayurveda-inspired treatments designed by Rasa Spa, renowned for holistic healthcare and healing therapies.
The spa has 10 treatment rooms, a spa café, four outdoor hydrotherapy circuit spa pools, an indoor hot spa pool, a cold plunge tub, indoor saunas and steam rooms, tranquility lounges, fireplaces, a fire pit, a salon and a manicure/pedicure room. Treatments include massage therapy, whole body treatments, energy work and skin care.
"Our wellness philosophy has always been deeply inspired by Ayurveda, with an emphasis on meeting people with exactly where they are in life," said the property's director of serenity, Laura Coburn. "Opening the Spa allows us to offer guests an even more personal wellness experience. It begins with an understanding of what makes them unique and, from there, orchestrating a carefully curated holistic plan that helps integrate healing into their lives, and remains long after they depart the property."
7. Waldorf Astoria Spa
The Waldorf Astoria Spa at the Waldorf Astoria Monarch Beach Resort & Club is now open offering a variety of massages, facials, body treatments and nail services. The spa has recently partnered with 111SKIN to provide guests with customized treatments with quality products.
The spa plans to expand its wellness programming in 2022, with pop-up offerings from a rotation of visiting practitioners and instructors; nutritional assessments; and Café & Tonic Bar featuring healthy, organic and locally sourced ingredients.