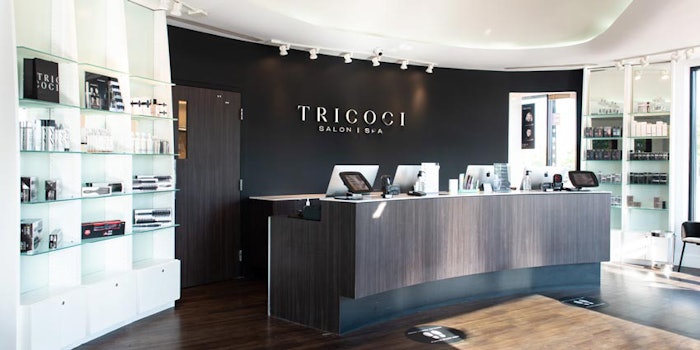 Tricoci Salon & Spa celebrated their one year anniversary in the remodeled Deerfeild, IL location on August 11, 2021. The event included Tricoci product and treatment demonstrations, raffle prizes and an exclusive gift bag for all of the attendees. 
The event had a large turnout, with attendees taking part in the night's offerings. Guests had the chance to chat with a few of the brands sold within the Tricoci salons/spas. RevitaLash Cosmetics' Stephen Gronek shared their latest product releases and HydraFacial's Melanie Moreno performed "mini" HydraFacial lip treatments. 
"Tricoci has been such an amazing partner for RevitaLash, and this event is special to us because we as a company are also celebrating our 15th anniversary this year, and our ninth anniversary with our partnership at Tricoci," Gronek says. "We love Tricoci so much, and we couldn't do it without them." 
The event also offered brief massage treatments in the salon's spa space, which has five esthetic treatment rooms and three massage rooms. The spa's director of esthetics and massage, Cassandra Stratton, and a fellow message therapist performed cupping treatments and massages using a Theragun device on guests. 
"We are an amazing team, it's a beautiful location, the customers are great, and I couldn't ask for anything better," says one of the spa's massage therapists, Heather Jakowski.
The brand's founder, Mario Tricoci, attended the event and chatted with staff and guests. The location is one of the first Tricoci locations that has put more of a focus on their spa and its offerings. The spa has seven targeted facials, three body treatments, four express body services and six targeted massages. 
As for the future, Deerfeild's Chief Operating Officer, Larry Sylvestri, says "they are already looking for ways to expand to make the location better and the staff is always looking forward."