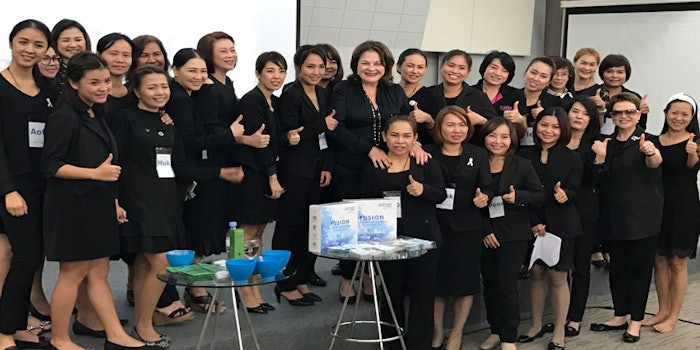 Repêchage Thailand welcomed Lydia Sarfati, CEO, to deliver a seminar on the new FUSION Express Bar and Spa Masks facial treatment, presenting to more than 25 professionals in order to help continue the company's international expansion. The new professional facial treatment offers several facial masks that stimulate the senses and improve skin texture. The treatment is available in matcha, chocolate, vanilla/pumpkin and mixed berry scents.
"I took a day from my vacation in Asia to provide training for clients. It is always very rewarding to meet with our global clients firsthand," Sarfati said. "To see how enthusiastic they are about the new concepts we create is very exciting for me, and I look forward to seeing their success and growth I know they will achieve as beauty professionals through the implementation of these ideas."
Sarfati provides education of the newest product releases through face-to-face contact. Recently, the company has seen growth in the Asian beauty market, especially in Thailand and South Korea. The CEO will travel to Russia in April where the company will be launched for the first time.