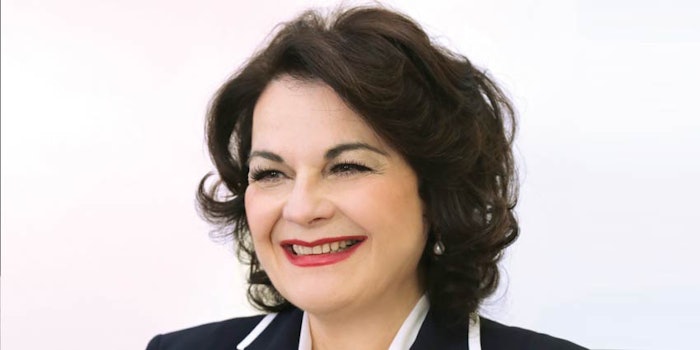 Although there is record that Native Americans participated in bathing rituals call "sweat lodges" for healing a spirituality, the spa industry in the United States truly wasn't born until the 1970s. The concept of spas and esthetics, like many things in the melting pot that is the United States, was championed largely by immigrants bringing their traditions and cultures stateside. One of those pioneers was a young woman from Legnica, Poland, who immigrated to the U.S. in 1970 with dreams of beauty that began much earlier...in her mother's kitchen.
Skin Inc. (SI): How were you introduced to esthetics?
Lydia Sarfati (LS): It was something that I was privileged to see every Friday, when our kitchen was turned into a beauty salon. My mother and sister would have a cosmetician come for manicures, brow tinting, facials and more. I remember her being like a magician. She was cooking her own cream, and the aromas and everything was magical.
SI: When did you first enter the beauty industry?
LS: I came to the U.S. in 1970 and moved to New York City in 1971, where I got my first job at Lamê Cosmetics on Madison Avenue, an Austrian cosmetic company. We did custom blending of powders. For me, it was a candy shop. For me, it is a passion, and I always felt like I was not working.
SI: When was your first spa job?
LS: I wanted to develop spa and treatment services, and I got a job at a skin care salon/spa in 1975 called Anne Keane Skincare. We had 18 treatment rooms at that time, if you can believe it. I became the head esthetician and trainer, and I helped her develop her skin care line. We developed an amazing business. The spa really took off when I was interviewed by a publication. They were interested in deep pore cleansing. He took a picture of the magnifying glass before and after blackhead extraction. You can't believe what happened to that business...it exploded. I decided it was time to open my own salon. I opened Klisar Skin Care Center in 1977. By 1978, I was named the best esthetician in America. I was on TV, in newspapers and in magazines. Everyone predicted that we would be out of business in a few business because the economy was bad.
SI: How did you decide to start a skin care line?
SI: When you were just starting in esthetics, what was the industry like?
LS: The spa industry in the U.S.A. was non-existent. There was Elizabeth Arden, but you could count the spas in the United States. I was surprised by how little there was. What I learned in Poland gave me the tools and skills to innovate and create spa services and products in the U.S. and to teach them. When I was first starting my line, I was able to reach out to all the spas in the U.S. since there weren't many. I consulted hotels and told them to bring in spas.
SI: How has the industry changed since then?
LS: Most estheticians are in the day spa, a medical spa or medical centers, since most hotel spas resort spas and destination spas cater more toward massage and wellness offerings. The way I see everything evolving is very different. You are going to have medical centers and the lifestyle/wellness centers. Unfortunately, everyone is doing injectables, which is driven by the medical community and not necessarily dermatologists. The industry will be dominated by massage therapists, with 10 massage therapists to one esthetician. Massage is an affordable luxury like nails. Professional skin care needs to be shaken up and revolutionized. It needs to go through an earthquake experience to go to the next level. We need to have a better scientific understanding of what we do. I think it needs to become more professional. In NY, an esthetician must have 640 hours, but a Florida esthetician needs 225 hours. Deep peeling is popular in Florida, but with the lack of training, people don't know what it is doing. This is where education comes in. The FDA is going to shut us all down if we don't have better scientific comprehension.
SI: Was starting a spa or a skin care company more challenging, in your mind?
LS: Everything is challenging. Anyone who tells you it is a piece of cake is lying. You need to have a proper planning in everything that you do. Even if you have planning, things can go wrong. My biggest role is to find a quick solution to everyday challenges. You succeed with quick, active resolutions. If you can't make up your mind, you are not going to be in business long. There is no such thing as no challenges in business.
SI: Do you think that starting a company is particularly difficult for women?
LS: I have absolutely taken advantage of being a woman every day of my life. I never had an obstacle in business because I am a woman. I love being a woman. If I found an obstacle, I found a way to overcome it. In manufacturing and distribution, it was all men. It never bothered me. For me, it was like a game. I had the two kings in my hand. I had two girls to bring up. I run my house like I run my business. Everyone knew where they were going and what they are doing. I feel like that avoids chaos. That helps you make decisions.
SI: What advice would you give a young esthetician who would like to open her own spa business?
LS: I would always recommend having at least 3-5 years of experience working for a leader in the industry. Even if you have to go and sweep the floor, you want to learn from the best. That is the master class. Never leave school and open your own business. Take classes in smart marketing, finance and accounting. You need to know health science. The fourth business element you need to improve is communication. If you can't define what you want, where you want it and how you want it, you aren't going to be successful. You have to have passion. This is hard work. I still work hard. That passion needs to be ignited. When it stops burning, you are burned out. You need to know how to deal with rejection, how to motivate people and how to deal with what you want. Don't be afraid to say what you want. You have to design the vision, and it is your money on the line. My husband always says, If you don't risk it, you risk it all.
SI: How does a young spa owner make a name for herself? How does she market her business?
LS: You have to be smart today to know what you don't know. That has been my gift in my life. Ten years ago, I did not have my own computer. I would not touch a computer. Then you realize that you need to surround yourself in every aspect of what you do. Surround yourself with people that bring to the table things you don't know. Find the right team. Social media is the way to go. In one way, it is fantastic, but it is a social problem. Co-brand the business with other local business establishments. Take your card to hotel concierges and salons. Social media is great, but relationships with local businesses is a key to success.
SI: What is your favorite treatment to perform?
LS: My favorite treatment to perform is still the Four Layer Facial. It is still a wow experience, even for me. It reminds me that I am cooking. When I am mixing everything together and applying it fresh on the skin, I am seeing my mother's beautician in her kitchen.
SI: Tell us something that we don't know about you?