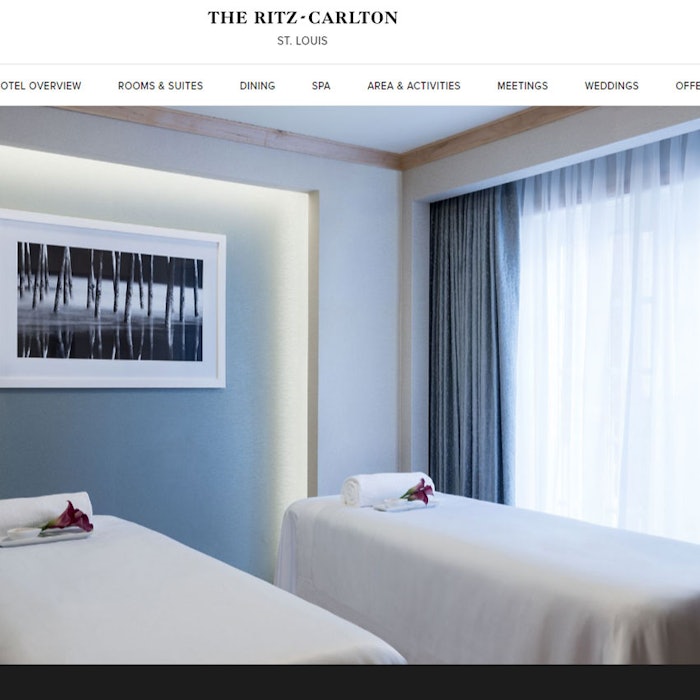 In St. Louis, Missouri, the Ritz-Carlton has opened a new spa and fitness facility that is offering unique massages and body therapy to its clients. The locally-inspired massages, facial, body treatments and ESPA skin care exclusives will not be available at any other hotel in the state.
The spa features treatment rooms where massages, body treatments, facials and a menu of ESPA skin therapies that can be reserved seven days a week. The fitness facility will house the latest in strength, balance and cardio equipment complemented by a dedicated stretch and free-weight zone and contemporary locker areas. Also, a new steam/sauna room will replace a prior swimming pool at the hotel.
A Missouri Red Rock or Black Walnut Massage will be offered in the spa. The Red Rock Massage is inspired by volcanic rocks and provide the benefits of sweet orange and Missouri red granite to soothe aching muscles and relax the body. The Black Walnut Massage uses the natural elements in sticks from locally sourced black walnut to stretch and elongate muscles and improve flexibility.
Other services that the Ritz-Carlton offers include a deep muscle massage, stress relief massage, relaxation massage, naturally-nurtured massage for mothers to be, personalized body wrap, body butter treatment, nourished body glow, body balancer and more.