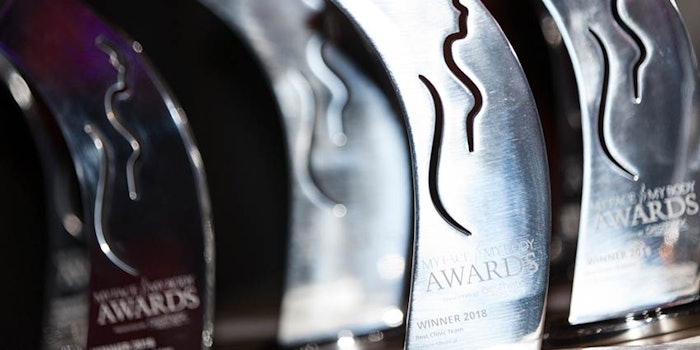 The MyFaceMyBody Awards are getting virtual.
For 2019, the awards—which now accepts entries from around the world—will be part of the Global Virtual Aesthetics Summit (GVAS), to be held November 10-11, 2019.
"Each year, we receive hundreds of inquiries from professionals and practices to run the MyFaceMyBody Awards in their respective countries," said Stephen Handisides, MyFaceMy Body and GVAS CEO. "We wanted to make this a reality. For eight years we have provided the industry with our respected and credible awards, and it was time to celebrate and recognize the amazing work of aesthetic practices, individuals and brands in all countries. So, in a brave new world, the 2019 MyFaceMyBody Global Aesthetic Awards are going virtual! It's a radical move and first of its kind. We will announce the winners using the latest technology in live video streaming."
Along with regional recognition, each local winner will be submitted for the chance to be awarded the accolade of the overall global awards winner. Winning individuals, clinics and brands will be not only be recognized for their achievements and excellence in their region, but also on an international scale.
Categories for 2019 are:
Aesthetic Practice Categories
Practice Design of the Year
Practice team of the Year
Customer Experience of the Year
Medispa of Year
Aesthetic Practice of the Year
New Practice of the year
Plastic/Cosmetic Surgery Practice of the Year
Male Grooming Spa of the Year
Dental Practice Categories
Dentist of the Year
Dental Practice of the Year
Dental Makeover of the Year
Individual Categories
Rising Star of the Year
Plastic Surgeon of the Year
Dermatologist of the Year
Medical Aesthetic Practitioner of the year
Aesthetic Nurse of the Year
Aesthetic Therapist of the Year
Receptionist of the year
Practice Manager of the year
Surgical Makeover of the Year – Face
Surgical Makeover of the Year – Body
Surgical Makeover of the Year – Breast
Non-Surgical Makeover of the Year – Face
Non-Surgical Makeover of the Year – Body
Media Categories
Journalist/Beauty Blogger of Year
Social Media Influencer of the Year
Practice Website of the Year
Brand/Supplier Categories
Cosmeceutical Range of the Year
Anti-Aging Treatment of the Year
Anti-Aging Product of the Year
New Product of the Year – Launched within 18 months
New Treatment of the Year – Launched within 18 months
Body Reshaping Treatment of the Year
Skin Tightening Treatment of the Year
Skin Tightening Product of the Year
Post-Surgery Product of Year
Hair Restoration Treatment of the Year
Hair Restoration Product of the Year
Skincare Device of the Year
Minimally Invasive Device of the year
Scar and Skin Repair Treatment of the Year
New Manufacturer or Supplier of the Year (launched within 24 months)
Manufacturer or Supplier of the Year 
Innovative Manufacturer or Supplier of the Year
Innovative Treatment of the Year
Innovative Product of the Year
PR Agency of the Year
Marketing Company of the Year
Sales Rep of the Year
Customer service support of the Year
Training Support of the Year
Brand Trainer of the Year
Practice Management software of the Year
Imaging Software of the Year