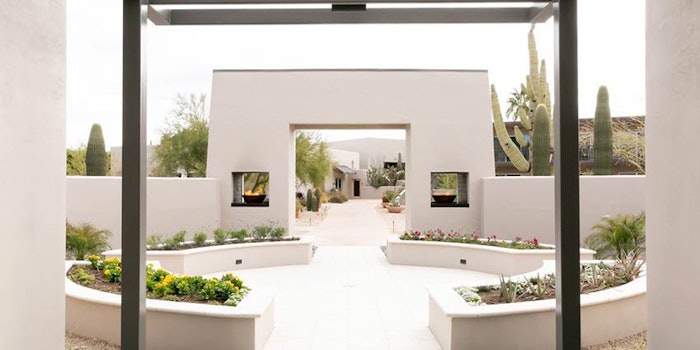 Talk about an upgrade—Civana resort, just outside of Scottsdale, Arizona, has completed a $50 million renovation and repositioning on its spa.
The two-story, 22,000 square foot spa features 28 treatment areas, including a Watsu therapy pool; two couples treatment rooms; three wet treatment rooms, including a Vichy shower; five facial rooms; and 13 massage rooms.
In the communal area of hydrotherapy immersions—the Aqua Vitality Circuit—guests can enjoy a European-designed Kneipp hot/cold wading pool, Tepidarium therapeutic soaking pool, cold deluge shower, or five-climate Klafs Sanarium.
Related: Civana Appoints Seasoned CEO
The treatment menu includes the spa's signature Wellbeing Therapies, which blend modalities for a more holistic experience; facial skin care and massage therapies; energy and Eastern-inspired therapies including Reiki, Thai massage and Craniosacral; body and water therapies, such as the Sonoran Rain Dance; and, for those looking to enjoy their experience with some company, Spa Journeys for Two.
Along with men and women relaxation areas, guests can enjoy a 1,600 square-foot, co-ed relaxation lounge, offering a balcony with views of Black Mountain and the Sonoran Desert. Swimmers can enjoy an Olympic outdoor lap pool; those looking to do a little more lounging can do so on the sun deck, which also offers healthy food and beverages (including organic cocktails).
"Our goal at Civana is to offer guests options and flexibility in all aspects of wellness, including at the spa," said CEO Maggie Lang. "We invested a lot of time in thoughtfully curating a wide-ranging menu of distinct and customizable treatments to allow each guest to uncover their own wellness journey. Wellness means different things to each person, and the addition of our new innovative spa allows our guests to customize an experience that is right for them."